News > Features
Grandmother takes grandkids on one-on-one trips via the Road Scholar grandparent program
Dec. 23, 2022 Updated Sun., Jan. 8, 2023 at 10:05 p.m.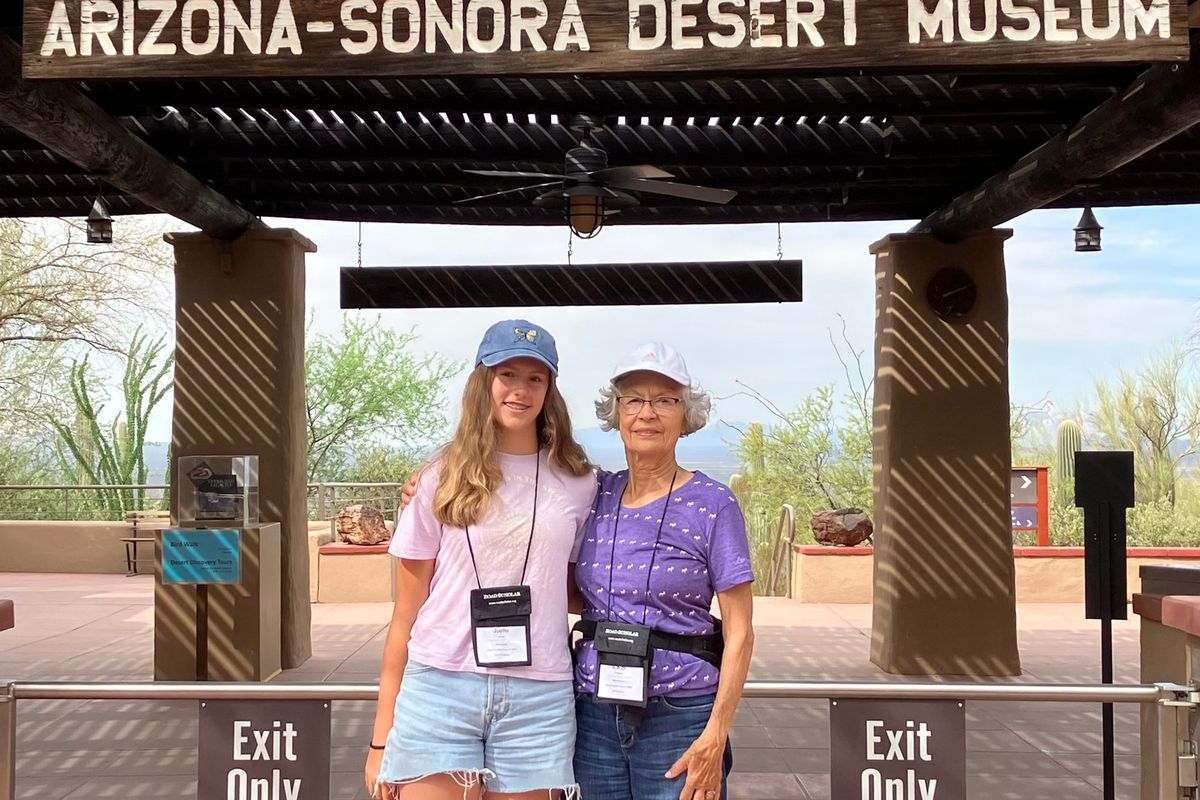 Joelle Lewis, 13, with her grandmother Carol Cressey of Spokane, on their trip this summer to Arizona, summer 2022. (Courtesy of Carol Cressey)
Some grandmothers prefer to spend time with their grandchildren indoors, baking cookies or reading in a comfy chair.
Not Carol Cressey. She's a grandma on the go and has taken five of her six grandchildren on unique one-on-one trips.
"I'm an outdoor girl – I always have been," said Cressey, 84. "And I've always loved to travel – the bug kind of bit me."
She'd enjoyed trips via Road Scholar (formerly Elderhostel), an educational travel program for Boomers and beyond. When she learned they had a slate of trips specifically for grandparents and their grandkids, she knew she'd found her next adventures.
Her first trip with the grandparent program was in 2004 when she took her granddaughter Maddy Myers to Costa Rica.
"My husband had passed away and I wanted to do something fun," she recalled. "Maddy was up for it."
The pair hiked through the rainforest and visited a butterfly farm as well as coffee and banana plantations.
"It's so cool to spend one-on-one time with your grandchildren away from their parents," said Cressey, whose grandkids call her "Nona."
The trips are organized by age and activity preference and Cressey was delighted to watch Maddy make new friends.
"She made a friend from California who later came to visit her in Spokane," Cressey said.
That trip proved so successful, she knew she had to plan more.
"I couldn't just take one grandkid," she said.
Road Scholar offers 68 experiences tailored to grandparents and grandchildren, including strolling the boulevards of Paris, exploring the expanse of the Grand Canyon, or searching for dinosaur fossils in Utah.
In 2006, Cressey took Maddy's sister, Brenna Hayes, to South Dakota.
"We saw Mount Rushmore and panned for gold," Cressey said. "When the kids went geocaching, the grandmothers had a slumber party. We had wine."
In 2015, she and her grandson, Jack Lewis, then 12, traveled to Jackson Hole, Wyoming.
"By this time all the grandkids were eagerly waiting for their turn," she said.
Cressey quickly discovered the difference between traveling with grandsons versus granddaughters.
"He was so busy!" she said, laughing. "There was only one girl on that trip and Jack really connected with the guys."
They stayed in a cabin in the Grand Tetons and enjoyed a BBQ-style ranch dinner.
Part of the allure of the Road Scholar programs is the educational component they offer. Cressey said her grandson learned wilderness survival skills like fire-making and rode a horse for the first time.
"It's all about the kids," she said. "Grandparents are having fun when their grandkids are having fun."
In Cressey's South Hill home, Jack's older sister, Ellie Lewis, 17, mentioned another activity her brother enjoyed – knot tying.
"He tied knots for the rest of the year!" she said.
Ellie had her own adventure in 2016 when she and her Nona traveled to Tucson. The trip included visits to Sedona and the Grand Canyon.
"We went whitewater rafting on the Colorado River," she said. "We got to get out of our raft and climb a 30-foot rock and jump into the river!"
Her grandma declined to jump but was ready to board a waiting helicopter that flew them over the Grand Canyon. They also took a tour of the area in a pink Jeep.
A wildlife expert brought native species like scorpions, snakes and tarantulas.
"I held the scorpion and the snake, but not the tarantula," Ellie said. "This summer one of the friends I made on the trip came to visit me from Boston."
Her earliest memories of her grandmother involve activity.
"Every Friday when my brother and I were little she would take us on a hike with the Hobnailers (a local outdoor adventure club)," said Ellie. "She's always been very adventurous."
But her time with her Nona in Arizona left a lasting impression.
"It definitely made us closer," she said, smiling at Cressey. "We'll always have that memory."
The adventure continued this summer when Cressey took her granddaughter Joelle Lewis, 13, to the White Stallion Ranch in Tucson.
Knowing this excursion featured horseback riding and Joelle had never ridden, she had Joelle try horseback riding at Riverside State Park before the trip. She enjoyed it, so Cressey booked the trip.
"I talk with the kids to find out what they'd like to do," she said.
Sitting next to her cousin Ellie, Joelle grinned.
"My horse was named Red Rock and we started with a slow ride," she said. "You had to take lessons to qualify for the faster group."
She qualified and those rides were the highlight of her trip.
"Once, Red Rock lost a shoe and I got to keep it as a souvenir."
Cressey smiled.
"It was so much fun to watch her ride fast."
That wasn't the only activity Joelle enjoyed.
"We went to the Arizona-Sonora Desert Museum, did archery and target shooting with rifles and pistols," she said. "I was really busy. There was so much to do!"
Cressey still has one more grandkid to take on an adventure.
"My grandson, Charlie, and I are going to the Grand Canyon this summer," she said.
For her, sharing these unique experiences with her grandchildren is what travel is all about.
"The joy is being alone with each grandchild and watching them experience something new and different," she said. "I feel blessed. Every one of my grandchildren is special to me."
Cindy Hval can be reached at dchval@juno.com.
Local journalism is essential.
Give directly to The Spokesman-Review's Northwest Passages community forums series -- which helps to offset the costs of several reporter and editor positions at the newspaper -- by using the easy options below. Gifts processed in this system are not tax deductible, but are predominately used to help meet the local financial requirements needed to receive national matching-grant funds.
Subscribe now to get breaking news alerts in your email inbox
Get breaking news delivered to your inbox as it happens.
---