News > Washington
Police searching for suspect in deadly Richland Fred Meyer shooting
Feb. 7, 2022 Updated Mon., Feb. 7, 2022 at 9:31 p.m.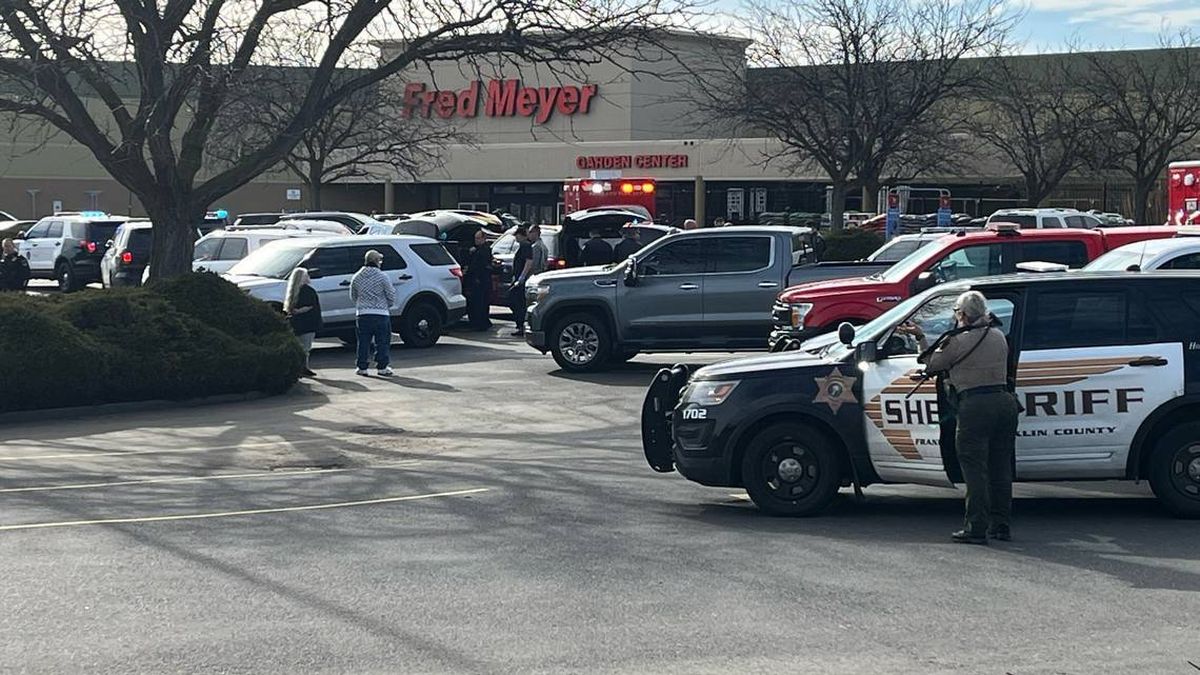 At least one person was reported wounded in a shooting inside the Richland Fred Meyer store on Wellsian Way on Monday morning. Police are searching for a suspect. (BOB BRAWDY / BBRAWDY@TRICITYHERALD.COM)
Associated Press and Tri-City Herald
RICHLAND – A $1 million nationwide arrest warrant has been issued for a 39-year-old suspect in Monday morning's deadly shooting at a Fred Meyer store in Richland.
The warrant was signed Monday by Judge Dave Petersen, who found probable cause for the arrest of Aaron Christopher Kelly.
Kelly is charged in Benton County Superior Court with premeditated first-degree murder, online court records show.
The Richland Police Department did not identify the alleged shooter, the customer who was killed or the store employee who was hospitalized with critical injuries.
However, an internal Richland Police Department "officer safety" memo, issued by Interim Police Chief Brigit Clary, identifies Kelly as the man who allegedly shot the two people inside the Wellsian Way store at 11 a.m.
While police did not publicly post the memo, Tri-Cities residents have been sharing it on their personal Facebook pages after someone got hold of the document.
Clary said police are confident they can track down the shooting suspect.
"We want to assure our community that we are taking every measure to locate the suspect," Clary said in a late-afternoon press briefing at the Richland Police Department. "We will not rest until he is in custody."
Kelly is described as being 6-feet tall and weighing 190 pounds with blond hair and blue eyes. He drives a silver 2005 Honda Civic, according to the officer safety memo.
Police say Kelly was last seen wearing a "black puffy sleeveless shell/vest over black and gray plaid shirt and light colored pants or jeans."
It was not known if the shooter fled the store by foot or in a vehicle, Richland police Commander Chris Lee said. The suspect has had contact with law enforcement in the past, police said.
Dispatchers received a call reporting yelling and possible gunshots in the store at 11:03 a.m. The responding first officers arrived just one minute later, police said.
Clary said responding officers found the two victims in close proximity to one another in the store. Although life-saving measures were tried, one had already died, she said. The other, a store employee, was taken to a hospital. He underwent surgery and was listed in critical condition, police said Monday afternoon. Both shooting victims were described as white males.
"What happened in our city today was a senseless and tragic act," Clary said.
The suspect and the man who died had an interaction before the shooting, according to store video footage seen by police. Police said they don't know what the apparent conversation entailed and don't know if the two people knew each other.
Screenshots from store surveillance footage showed the suspect was wearing a plaid shirt with a dark-colored down vest, a black gaiter or scarf pulled over his nose, light-colored pants and athletic shoes, the Tri-City Herald reported. He was described as a "middle-aged white male."
Employees and customers were escorted out of the store to a parking lot while officers went aisle by aisle searching for the shooter or other victims. No other victims were found, nor was the shooter, police said. .
Richland police were being assisted by law enforcement from throughout the Tri-Cities, along with officers from Walla Walla, Umatilla County, Boardman, Oregon, Spokane and the Washington Department of Fish & Wildlife.
Fred Meyer officials said in a statement on Twitter they were deeply saddened and cooperating with law enforcement.
"The entire Fred Meyer Family offers our thoughts, prayers, and support to all affected individuals and families during this difficult time, and we have initiated counseling services for our associates," the statement said.
Richland is about 200 miles southeast of Seattle. It's part of the Tri-Cities area, which includes Kennewick and Pasco and has a combined population of more than 280,000.
Local journalism is essential.
Give directly to The Spokesman-Review's Northwest Passages community forums series -- which helps to offset the costs of several reporter and editor positions at the newspaper -- by using the easy options below. Gifts processed in this system are not tax deductible, but are predominately used to help meet the local financial requirements needed to receive national matching-grant funds.
Subscribe now to get breaking news alerts in your email inbox
Get breaking news delivered to your inbox as it happens.
---