Sports > Gonzaga basketball
Recap and highlights: No. 1 Gonzaga outpaces Pepperdine, avoids upset with 86-66 win
Feb. 16, 2022 Updated Wed., Feb. 16, 2022 at 11:03 p.m.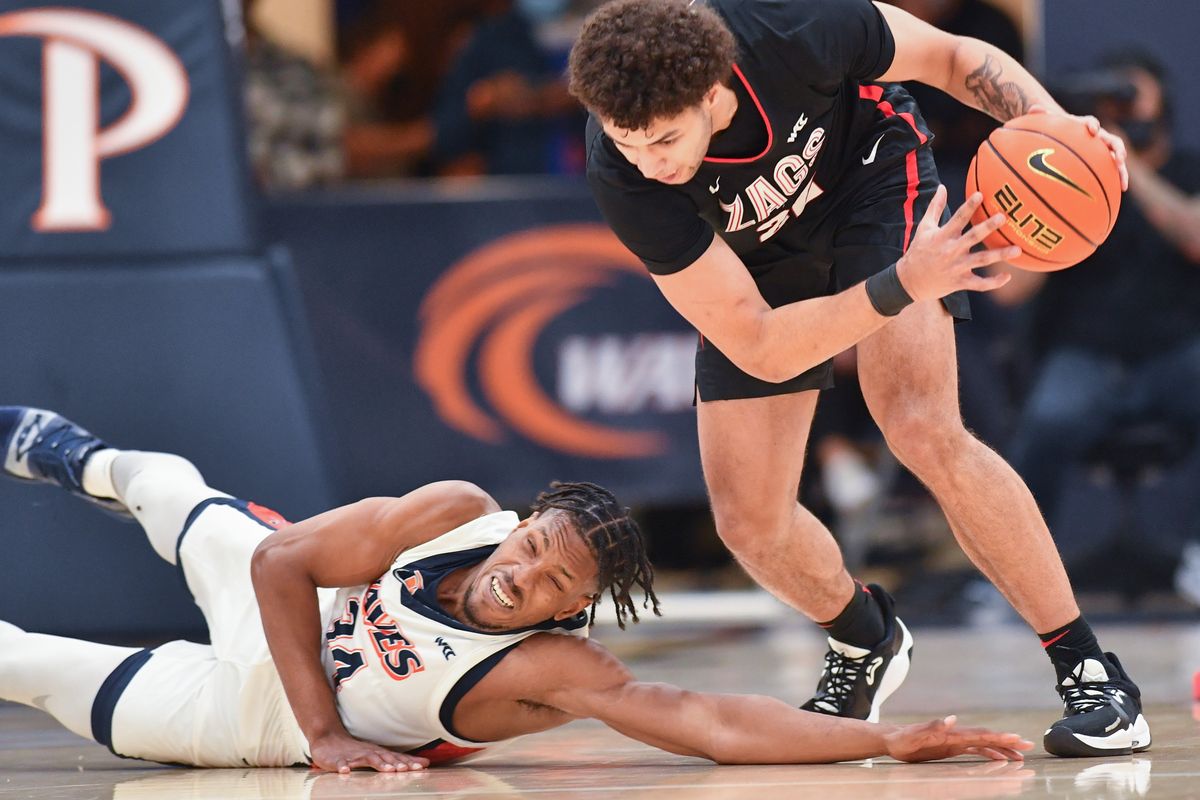 Pepperdine Waves center Victor Ohia Obioha (34) reacts as he hits the floor chasing a loose ball as Gonzaga Bulldogs forward Anton Watson (22) picks it up during the first half of a college basketball game on Wednesday, Feb 16, 2022, at Firestone Fieldhouse in Malibu, Calif. (Tyler Tjomsland/The Spokesman-Review)
Pepperdine closed the gap to as little as eight points with 7:57 remaining in the second half, but Gonzaga showed its strength with a 12-1 run over the next four minutes en route to a 86-66 win on Wednesday in Malibu, California.
The No. 2 Bulldogs (22-2, 11-0 West Coast) extended its win streak to 15 games, behind impressive performances from Chet Holmgren and Andrew Nembhard.
Holmgren scored 18 points with 17 rebounds and four blocks. Nembhard didn't have his shooting touch – 1 of 8 from the field – but facilitated the offense with a career-high 14 assists.
The Waves (7-21, 1-12) gave an inspired performance for a team last in the WCC Standings. Houston Mallette seemed to knock down tough shots one after another, scoring a team-high 25 points.
Pepperdine ultimately didn't have enough firepower and bowed out shooting 37.5% from the field and 6 of 20 on 3-pointers.
Gonzaga shot 51.5% from the field, but struggled on 3s, going 4-for-18. The Zags also had 14 turnovers, which head coach Mark Few will be sure to address before Saturday's meeting with Santa Clara in the Kennel at 6 p.m.
It will be Gonzaga's final home game of the season and senior night, where some former Zag stars are expected to return to Spokane.
First half
14:03 - GU 14, PU 9: Fast pace in the opening six minutes, as the Zags hold a slight advantage at the U16 media timeout.
Pepperdine hanging close through Mallette's seven points, making his first three attempts from the field.
Gonzaga has looked a little sloppy, but have made 6 of 12 shots from the field. Bolton leads with five points on a 3-pointer and break-away layup off a steal.
10:40 - GU 22, PU 11: Gonzaga breaking away, on a 12-2 run leading into the U12 media timeout.
Pepperdine struggling to score inside on Holmgren, making 1 of its last 7 attempts. The Zag freshman has two blocks and two steals to go with seven points and five rebounds. 
7:22 - GU 30, PU 17: Both teams trade dunks leading into the U8 media timeout.
Zags have seven scorers, led by Holmgren's seven points. The Bulldogs are shooting 54.2% from the field and 2-for-8 on 3-pointers, as they start to pull away from Pepperdine.
3:25 - GU 38, PU 24: Pepperdine cuts the lead to eight, but the Zags go into the U4 media timeout on a 6-0 run to extend their lead.
Like in the first meeting between these teams the post players are leading the way. Holmgren has a team-high with nine points, while Watson and Timme add eight apiece. 
Halftime
Gonzaga took control in the final 10 minutes of the first half, after Pepperdine opened the game keeping it close.
The Zags closed on a 13-5 run over the final 4:36, though the Waves made the final five points, including a 3-pointer with three seconds remaining.
Gonzaga's post trio of Chet Holmgren, Anton Watson and Drew Timme dominated – like they did in these teams' first meeting.
Holmgren had nine points, eight rebounds and three blocks, while Watson and Timme added eight points apiece.
The Bulldogs shot 51.4% from the field, but 3 of 11 on 3-pointers, which it will look to improve upon in the second half.
Meanwhile, the Waves were contained, shooting 39.4% from the field and 3 of 8 on 3-pointers. 
Second half
15:20 - GU 57, PU 39: Pepperdine make two 3-pointers to start the second half, doing everything it can offensively, but are still outscored 12-10 leading into the U16 media timeout.
Holmgren knocks down a 3-pointer before the timeout, after the Zags missed their first four 3-point attempts of the half.
Holmgren and Pepperdine's Mallette lead all scorers with 14 apiece. The Zags' offense is going through Nembhard, who has 10 assists.
13:25 - GU 57, PU 47: Pepperdine goes on an 8-0 run, Hickman is called for a charge and Gonzaga calls a timeout.
Mallette has scored six of the Waves' last eight points and is up to 20 in the game.
All the momentum is with Pepperdine, as Gonzaga will need to break a 2:11 scoring drought to stop the bleeding.
10:47 - GU 62, PU 51: Gonzaga gets a couple of big steals from Timme and Bolton to hold onto a double-figure lead at the U12 media timeout.
The Waves are shooting 50% from the field in the second half and have six points off of three Gonzaga turnovers.
6:58 - GU 70, PU 56: Pepperdine and Gonzaga both with three players in double figures at the U8 media timeout, as the Zags are looking like they'll be able to avoid the upset.
Gonzaga is led by Timme's 15 points, while Holmgren adds 14 and Watson 10. Pepperdine is led by Mallette's 22 points, while Zidek adds 12 and Polk Jr. has 10.
Nembhard has a career high 14 assists.
4:09 - GU 76, PU 56: Pepperdine takes a timeout as the Zags are on an 8-0 run and the Waves have missed their last six attempts.
Gonzaga should cruise through the final four minutes for the win, after the upset scare has subsided.
Pregame
Gonzaga is back on top for its make-up game against Pepperdine.
The No. 1 Bulldogs (21-2, 10-0 West Coast) take on the Waves (7-20, 1-11) in Malibu, California, at 8 p.m. on ESPN2. 
The Zags are closing in on an undefeated run through its conference schedule, with four games remaining. Gonzaga will play its last home game of the season on Saturday against Santa Clara, before a road trip at San Francisco and Saint Mary's next week.
The Bulldogs are on a 14-game win streak and passed Auburn in the AP Top 25 poll on Monday, returning to the top-ranked team in the country. The Zags are also ranked No. 1 in the NET Rankings, Kenpom and the coaches poll.
Meanwhile, Pepperdine is the worst team in the WCC. Gonzaga beat the Waves 117-83 to open conference play. 
Series history
Gonzaga holds a 62-31 series advantage over Pepperdine, and are on a 42-game win streak dating back to Jan. 18, 2002.
The Zags dominated the Waves in its first meeting this season, as six players reached double figures. The post combination of Anton Watson, Chet Holmgren and Drew Timme combined for 55 points and 20 rebounds.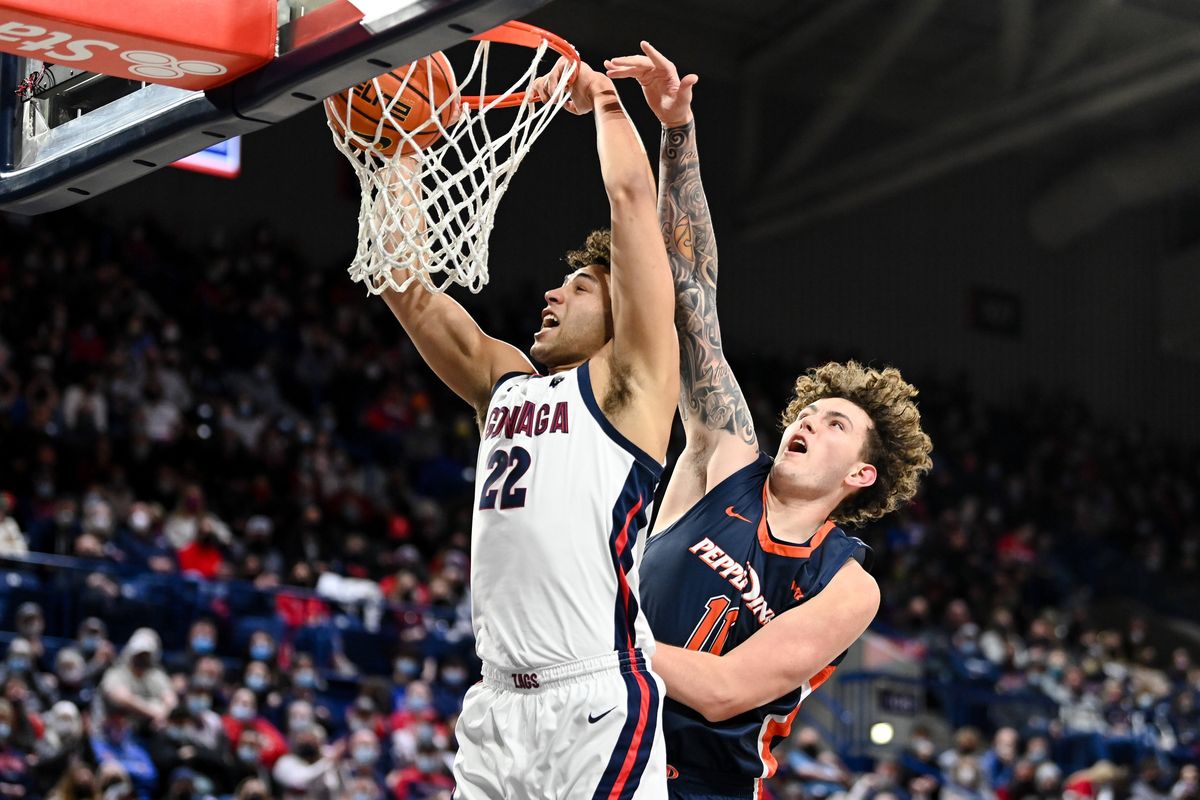 Gonzaga Bulldogs forward Anton Watson (22) dunks the ball against Pepperdine Waves center Carson Basham (11) during the first half of a college basketball game on Saturday, Jan 8, 2022, at McCarthey Athletic Center in Spokane, Wash. (Tyler Tjomsland/The Spokesman-Review)
Team stats
Individual leaders
Game preview
More on the Zags
Local journalism is essential.
Give directly to The Spokesman-Review's Northwest Passages community forums series -- which helps to offset the costs of several reporter and editor positions at the newspaper -- by using the easy options below. Gifts processed in this system are not tax deductible, but are predominately used to help meet the local financial requirements needed to receive national matching-grant funds.
Follow along with the Zags
Subscribe to our Gonzaga Basketball newsletter to stay up with the latest news.
---