'It's going to be emotional': Gonzaga's group of seniors ready to complete long, winding journey in regular-season finale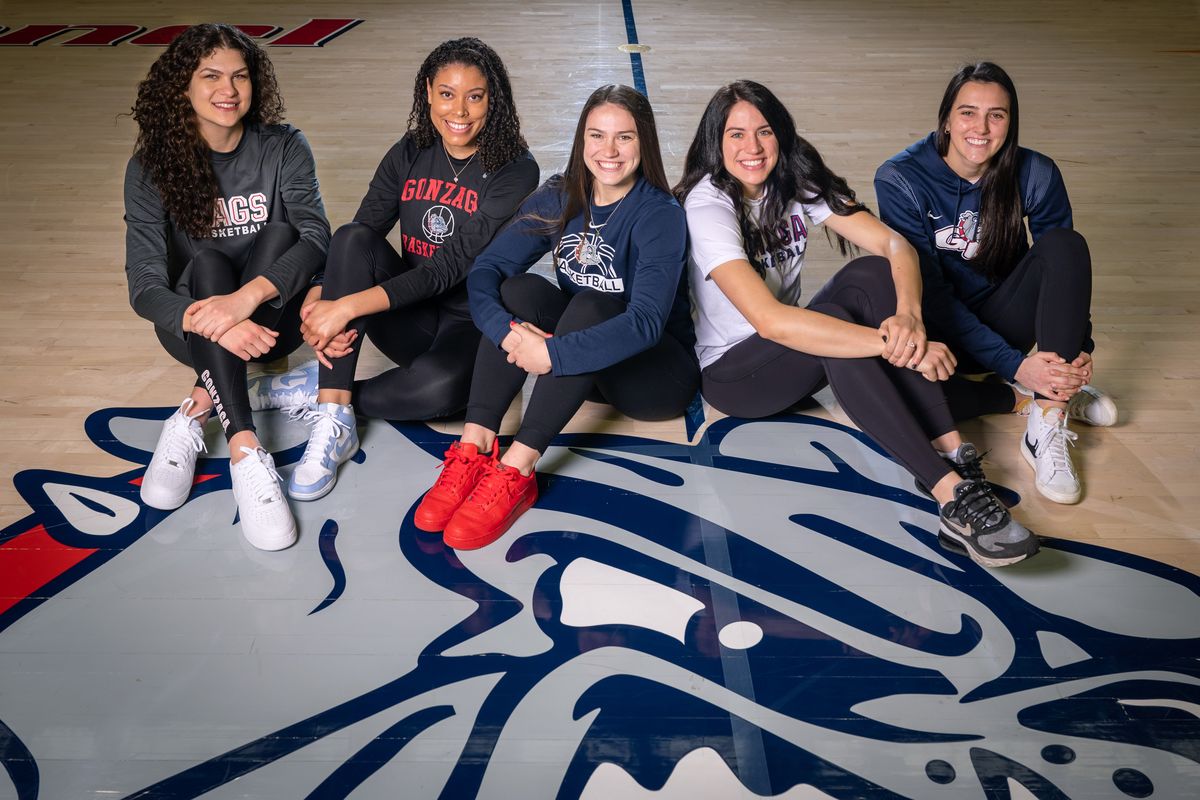 If life is about the journey, then the seniors on the Gonzaga women's basketball team have come a long way.
It's an adventure measured in miles, hard work and plenty of wins on the basketball court – but also float trips on the Spokane River or just hanging out.
On Saturday – Senior Day at the Kennel – the journey will be punctuated by cheers and tears, a fitting ending for Melody Kempton, Cierra Walker, Abby O'Connor, Anamaria Virjoghe and Kylee Griffen.
"It's going to be emotional," Kempton said.
The Class of 2022 is one of the most successful in program history, with three West Coast Conference regular-season titles and an overall record of 102-18.
And these Zags aren't done yet. Four are starters, and they're still fighting for a title and a spot in the NCAA Tournament.
Senior Day, however, is a milestone in that journey, the finish line of a long and circuitous one for most of the players.
Three of them – Walker, O'Connor and Virjoghe – began their collegiate careers at other schools, while Kempton, a star at Post Falls, saw that her future lay just down the highway.
The fifth player, Griffen, wasn't able to play because of injury, but has been with the team at every step.
"It's going to be pretty hard to leave this group of girls," Griffen said.
How they got here is perhaps the most interesting part of the story, a lesson in rewards of believing in yourself.
Walker, an all-state guard in Oregon City, Oregon, signed with Vanderbilt before returning to the Northwest to be closer to family and to play for a winner.
Not only did she become a two-year starter and the Zags' top outside shooter, Walker has helped the Zags to a pair of stellar seasons.
O'Connor, who grew up in Indiana and started her college career at nearby Loyola Chicago, took a chance by coming out to Spokane with only one guaranteed year on the court.
Granted an extra year by the COVID-19 exemption, O'Connor made the most of it and has started 27 games this year.
Virjoghe had barely heard of Spokane when she left her native Romania in the fall of 2017 to play at a tiny Northwest Christian College in Eugene.
By luck and coincidence, her first collegiate game was an exhibition at the Kennel. The Zags coaches liked what they saw, and a year later Virjoghe was a Zag.
Kempton arrived in Spokane that same summer after an outstanding career at Post Falls. A regular since her freshman year, Kempton has been fearless in the paint and one of the toughest players in recent GU history.
"Just doing what it takes," Kempton said recently. "I would hope people would remember me as being super consistent in life and in basketball."
Looking back on her career, Kempton said her favorite moment on the court was last year's WCC title game, when the Zags overcame stomach flu for a last-second win over BYU in the WCC title game.
That was great, said Kempton, who last year took home the WCC's first Sixth Woman of the Year award. "But it's all the little things – hanging out with teammates and listening to music, and just being together."
Kempton will surely draw a crowd on Saturday, when she'll be joined by her parents, Darrell and Teresa, two brothers, grandparents and her fiancé. After her final game, she's ready to "get on with life" and put her physiology degree to work in medical sales.
Walker said she expects to be "crying the whole day" before Saturday's ceremony and the game against LMU.
"But I'll be excited to be with my teammates," said Walker, whose favorite memory was an inner tube float with teammates.
"When one of the tubes sprung a leak, we just doubled up – that was pretty cool," Walker said.
Walker said she'd like to be remembered for "knocking down shots and being there for my teammates."
She doesn't plan to stop now; after GU, Walker will try to play professionally overseas.
O'Connor didn't know what to expect in Spokane after spending her childhood in the Midwest.
"It's definitely been different here, but a lot of fun," said O'Connor, who hopes fans remember her for practicing and playing hard and doing the little things that maybe don't always show up on the scoreboard.
O'Connor's parents are already here. Able to work remotely, they moved here last fall "and have made it to almost every game," said O'Connor, who said she's not overly emotional but concedes that the emotion of Senior Day "will probably get the better of me."
Like O'Connor, Virjoghe broke into the starting lineup this year and made the most of it. With Romania so far away, she also tried to make the most of friendships in Spokane.
Her parents won't be at the Kennel, but will watch remotely.
"I'm sure I'm going to cry the entire day, and super emotional because I know my parents will want to be there," Virjoghe said.
The day will also be bittersweet for Griffen, who came out of Lake Stevens, Washington, as one of the Zags' top recruits in the fall of 2018.
Her college career was derailed by a shoulder injury, however, then halted by neurovascular issues.
Griffen already has her degree and plans to earn a master's in clinical counseling.
"I've definitely had a different experience than the other girls," said Griffen, who has tried to support her teammates at games, practices – "being there for people whenever they needed it," Griffen said.
With friends like that, the journey is that much easier.
---