Man who stole BMW, crashed into school bus sentenced to two years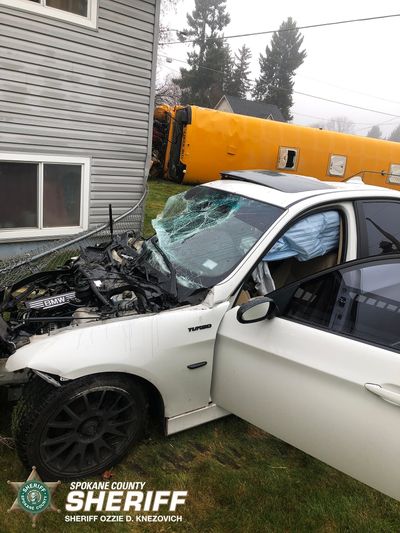 The 30-year-old who crashed a stolen BMW into an East Valley School District bus, ran from the scene and hid in a shed was sentenced last week in Spokane County Superior Court.
Judge Rachelle Anderson sentenced Jeffrey S. Schelin to 25 months in prison and $17,773.37 in restitution after he pleaded guilty to second-degree burglary, possession of a stolen motor vehicle, failure to remain at the scene of an accident with an injured person and second-degree malicious mischief.
Schelin crashed into the school bus Nov. 22, tipping it over on East Wellesley Avenue and North Kenney Road in Otis Orchards, according to court documents.
No children were on the bus and the driver was checked at a local hospital and appeared to be uninjured, the Spokane County Sheriff's Office said at the time.
Blackhawk Delgado, the bus driver, told The Spokesman-Review in January that he has lasting effects from the crash. 
About one month after the crash, Delgado said he went to the hospital after he had a seizure in bed.
Doctors told him his brain had been bleeding since around the time of the crash. 
Delgado and his wife, Kelli Krueger-Delgado, said Wednesday they were disappointed in the sentence Anderson imposed. Both said they gave victim impact statements to the court during the sentencing hearing.
"I felt like she just slapped us in the face," Delgado said.
He said Schelin deserved a stiffer sentence because of the serious injuries or deaths that could have resulted if children were on the bus at the time of the crash, as well as the damage he caused to people and their property. 
Delgado said his progress is slow but he is expected to make a full recovery. He said he also has knee and hip problems because of the crash. He said his memory issues that resulted from the crash seem to be improving .
He said the earliest he can drive a school bus or car is in late June. Delgado said he has to be cleared by a doctor and the state Department of Transportation before he drives. 
He said he loves driving school buses. Delgado, 70, said he has driven trucks and buses since he was a young man. He's driven for East Valley School District almost 13 years. 
"Transportation has been pretty much all my life, and for something to take it away just like that in a couple seconds and then possibly permanently, is a tough thing for me," Delgado said. 
The almost $18,000 in restitution went to another person or persons who were affected by Schelin's actions, Krueger-Delgado said. She said her husband's restitution is to be determined.
---