Coeur d'Alene, Cheney among districts that canceled school Friday; Spokane, Central Valley, Mead delayed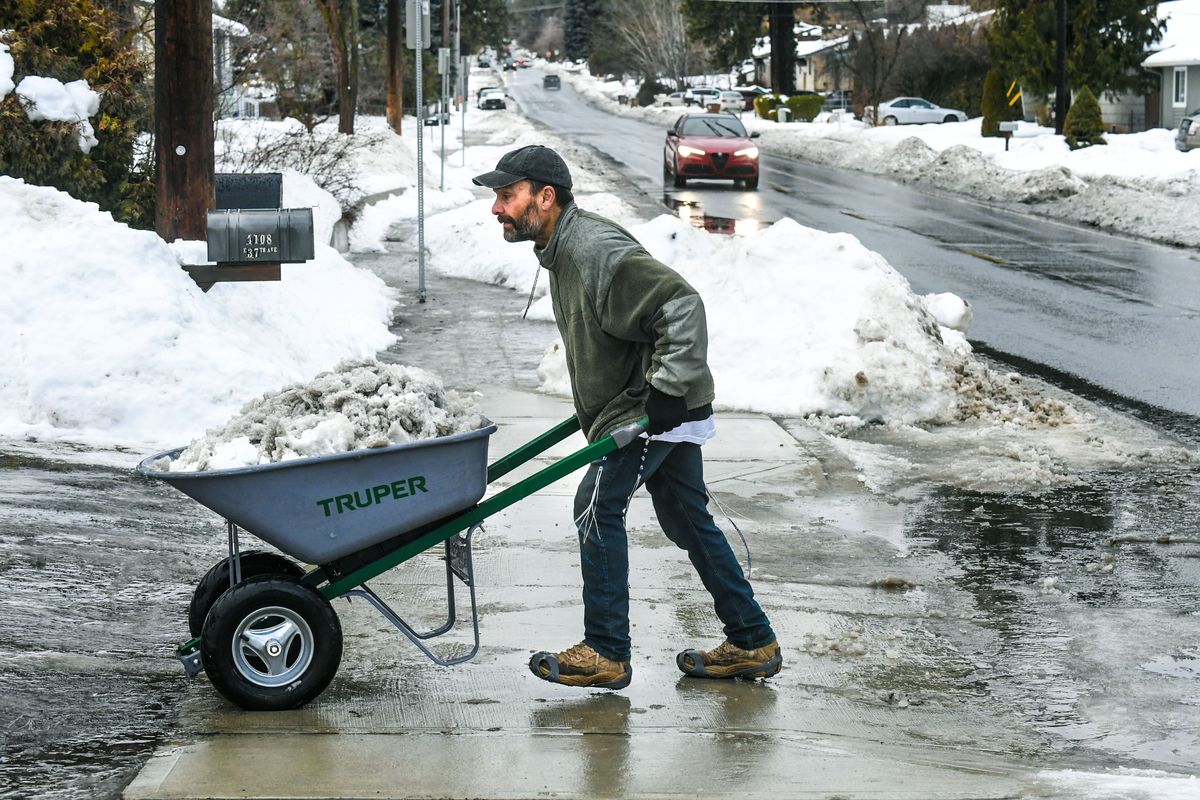 From staff reports
Freezing rain on top of a significant snowfall led many local school districts to cancel or delay school on Friday, but warming temperatures let the Spokane area start getting back to normal later in the day.
Most arterials in Spokane were clear by mid-morning.
Overnight Thursday into Friday, no new snowfall was recorded at Spokane International Airport, with temperatures just above freezing, said Ken Daniel, meteorologist at the National Weather Service Spokane.
Freezing rain fell in Spokane Thursday evening, but as temperatures remained above freezing, it turned into rain, making existing snowpack heavy, Daniel said.
"Overnight, there was a bit of ice on top of the snow early," Daniel said.
On cleared roads, the rain did little more than make things wet. But on side roads covered in snow, the rain and snow mixed, Daniel said.
"It's a little slushy concoction with the rain on top of snow," Daniel said.
There were a few collisions early Thursday night, but the warmer it got, the less collisions there were, said Trooper Ryan Senger with the Washington State Patrol.
"I think as the temperature warmed up things got a bit better," Senger said.
Most main roads were wet, while side streets still had some snow cover Friday morning, he said. There were just a couple of crashes during the Friday morning commute, Senger added.
The next weather threat Friday was wind.
The weather service's 12-hour wind advisory expired at 10 p.m. Friday.
Daniel said Friday afternoon that gusts topped out at 46 mph at the Spokane International Airport. Gusts consistently blew in the 35 to 40 mph range, Daniel said. They reached 58 mph at the Pullman-Moscow Regional Airport.
The biggest concern with the high winds in Spokane was snow blowing out of trees or problems with power lines, he said.
Hundreds lost power Friday in the region.
As of 5:30 p.m., 160 customers were without power on the Palouse, down from 629 earlier Friday, according to Avista Utilities. In the Silver Valley, 453 Avista customers had no power.
Inland Power and Light had 81 customers without power around 5:30 p.m., down from 414 customers earlier in the day. Pend Oreille Public Utilities District had three customers in the dark and Northern Lights reported 441 customers without power.
Friday night temperatures were expected to drop below freezing again, Daniel said.
"Where there is standing water on area roadways, there could be additional refreezing," he said. "That's just something to be wary of."
A dry weekend will help Spokane recover from the midweek snowstorm, Daniel said.
There could be persistent but lighter precipitation in the Cascade Mountains, he said.
However, in Spokane, high temperatures are expected to be around freezing with little precipitation, he said.
"It will be a weekend to recover from the last storm," Daniel said.
As for plowing Spokane streets, city spokesperson Kirstin Davis said neighborhoods will be the focus.
"We still have all those neighborhoods to hit, and there's still a lot of deep slush in the neighborhoods that our crews are really working hard to get through," Davis said. "Unfortunately, when it gets like this, it just takes them longer because it's heavy and, you know, we have 2,200 miles to try to plow, so that's still going to take a couple days, and that's really what the focus will be over the weekend."
Davis said crews will continue to treat the streets with sand, salt or de-icer as the water freezes and refreezes on the streets.
Davis reminded residents to park away from the street or on the odd-numbered addresses side to allow plows to clear streets.
The melting snow Friday caused standing water in many places, and Davis asked that residents help crews by clearing snow away from storm drains to relieve standing water on roads.
Davis said the city had not received many calls to clear drains as of Friday afternoon. She said there are over 12,000 storm drains in Spokane and the city cannot respond to each one, which is where residents can assist. If you see a flooded intersection or street in Spokane, don't drive through it, a city news release said. Report street flooding or standing water by calling (509) 625-7900.
Meanwhile, Davis said the city had not received reports of the strong winds wreaking havoc. She said typically wind damage does not occur until they reach 55 to 60 mph, which is higher than what Spokane received Friday.
Strong winds blew a semitruck on its side Friday afternoon on State Route 195 about 5 miles south of Pullman, according to the Washington State Patrol. The crash, which resulted in minor injuries, blocked northbound and southbound lanes for about four hours.
While winds were a challenge in some areas, the fallout from the snowstorm still continued to wreak havoc in other parts of the region Friday.
The Montana Department of Transportation reported that I-90 westbound lanes were closed from St. Regis to the Idaho state line due to avalanche activity Friday. It said the lanes would be closed into Saturday morning, then crews will re-evaluate the conditions.
Snoqualmie, Stevens, White and Blewett passes remain closed in Washington and will likely remain that way until Sunday, according to the Washington State Department of Transportation.
In Spokane County, the Cheney, Deer Park, Freeman, Liberty, Medical Lake, Newport, Nine Mile Falls, Reardan-Edwall and Riverside school districts canceled on Friday.
The Central Valley, Mead, Orchard Prairie, Spokane and West Valley school districts started school two hours late.
Among districts in Kootenai County affected by the road conditions were Coeur d'Alene, Lakeland and Post Falls, all of which canceled classes Friday.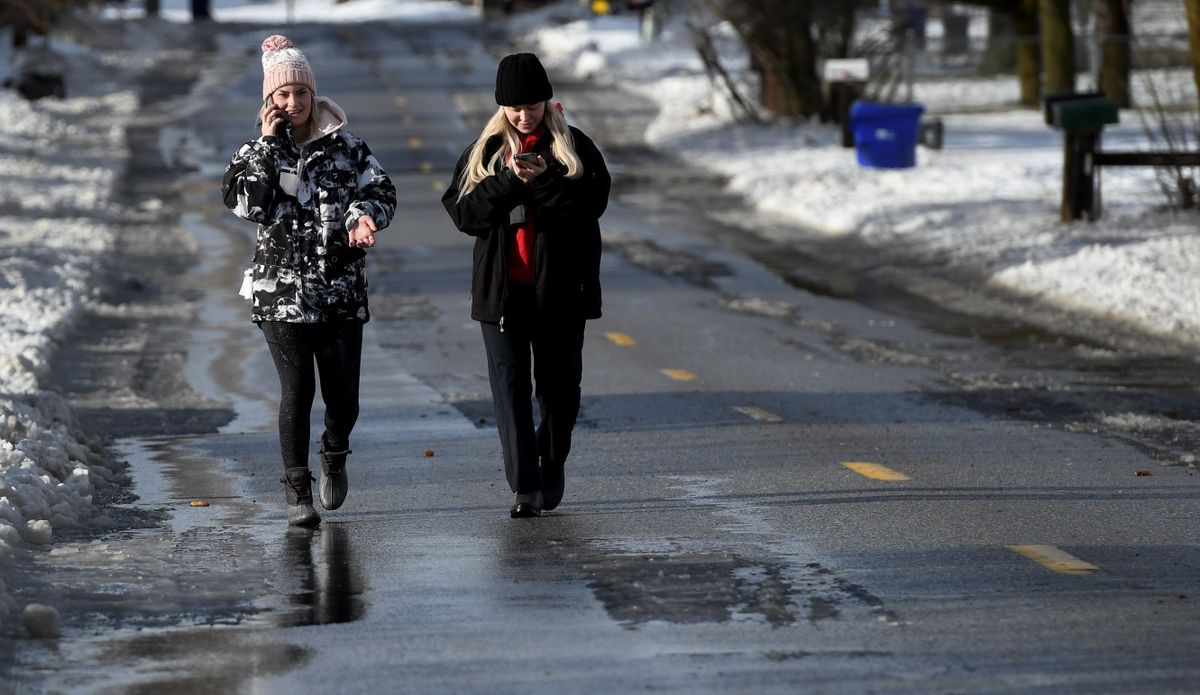 ---