Sports > Gonzaga basketball
Recap and highlights: No. 2 Gonzaga puts on dominant offensive performance in 110-84 win over BYU
Jan. 13, 2022 Updated Thu., Jan. 13, 2022 at 10:49 p.m.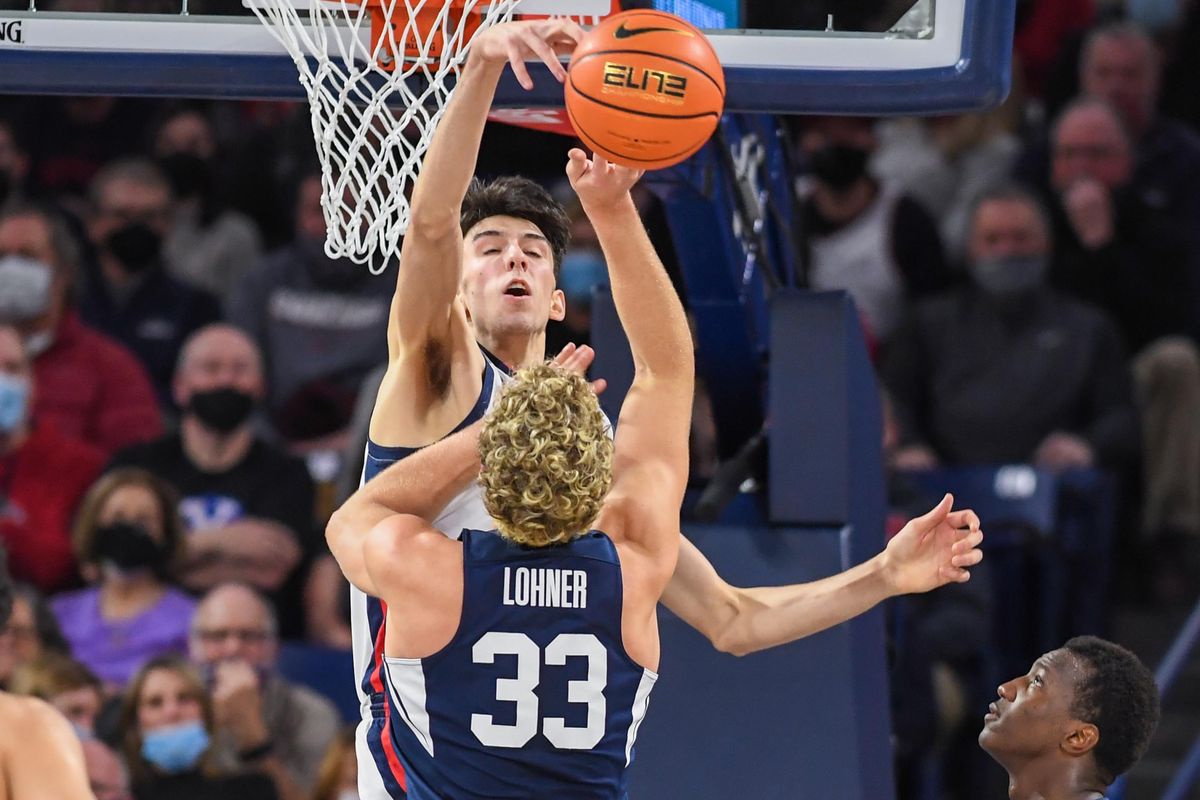 Gonzaga center Chet Holmgren rejects a shot by BYU forward Caleb Lohner, Thursday, Jan 13, 2022 in the McCarthey Athletic Center. (Dan Pelle/THE SPOKESMAN-REVIEW)Buy a print of this photo
After weeks of talk and speculation about a new and improved West Coast Conference field, Gonzaga showed its still a cut above the rest.
The No. 2 Bulldogs (13-2, 2-0 WCC) put on an offensive showcase in a 110-84 win over Brigham Young (14-4, 2-1), who is anticipated to be the Zags best competition in the conference this season.
Drew Timme led all scorers with 30 points, followed by 22 from Andrew Nembhard with 12 assists and 20 points from Julian Strawther.
GU shot 69.4% from the field and went 11-for-21 on 3-pointers. The Bulldogs converted 18 of 22 attempts in the second half leading to the 5:39 minute mark where most of its starters had been pulled.
Joe Few even put the icing on the cake, scoring his first career point on a free throw to give the Zags a round 110 total.
Chet Holmgren was the fourth Zag in double figures with 12 points, seven rebounds and five blocks.
Up next the Bulldogs have a 1 p.m. tipoff at Santa Clara on Saturday.
First half
18:45 - BYU 7, GU 0: The Cougars jump out to a quick lead, making three-straight baskets after a Holmgren block. The Bulldogs have missed two quick 3-pointers from Nembhard and Bolton.
16:49 - GU 13, BYU 10: The Zags answer the Cougars' run with a 10-0 run of their own. Barcello ends the run with a 3-pointer for BYU, which is answered by a 3-pointer from Strawther.
Strawther has scored 10 of the Zags' 13 points, shooting 4 of 4 from the field and 2 of 2 on 3-pointers.
11:20 - GU 26, BYU 22: Both teams shooting red hot at the U12 media timeout, but nobody more than Strawther who is 5 of 5 from the field and has 14 points.
Nembhard made back-to-back 3-pointers to put the Zags at 67% on the night, making 6 of 7 since missing its opening two attempts from beyond the arc.
Barcello leading BYU with eight points, as the Cougars are shooting 4 of 7 on 3-pointers. 
7:54 - GU 35, BYU 25: Timme makes a layup under the basket to give the Zags a 10-point lead at the U8 media timeout.
Timme and Holmgren each have five points apiece, as Holmgren adds five rebounds and a block.
Bulldogs hold a 14-8 scoring advantage on points off turnovers and lead 6-2 on fast break points. BYU has six turnovers to GU's four.
4:47 - GU 46, BYU 27: The Cougars take a timeout as the Zags assert their dominance with a 15-2 run over the last 4:23.
Nembhard is up to 13 points, while Holmgren adds eight with five rebounds and two blocks. Strawther still leads with 14.
2:05 - GU 53, BYU 40: The Cougars force a GU timeout, as they score a quick five points out of the U4 media timeout.
Halftime
Gonzaga had as impressive an offensive performance as its had in recent memory, shooting 67.6% from the field and 66.7% on 3-pointers to lead BYU 61-49 at halftime.
The Cougars trailed by 19 with 4:55 remaining in the half, but cut the lead to 12, shooting 5-for-5 on 3-pointers.
The Zags have four players in double figures, led by Strawther with 16. Nembhard added 13 points with five assists, while Timme had 12 and Holmgren had 10 points, five rebounds and two blocks.
GU is averaging 1.6 points per possession, while BYU has 1.23.
Impact performance
Second half
15:54 - GU 71, BYU 58: The Zags hold onto its lead after several transition layups. Timme jumps into a tie for the team high in scoring with 18, shooting 8 of 9 from the field.
Nembhard is nearing a double-double with eight assists.
12:00 - GU 84, BYU 62: Hickman makes a nice move and passes inside to Watson, who scores his first points of the night on a dunk. 
Zags are getting everything they want against the Cougars, now shooting 70.2% from the field and 10 of 13 in the second half.
Timme leads all scorers with 25 points, while Strawther has 20 and Nembhard adds 15 with 10 assists. 
7:54 - GU 93, BYU 67: This one is all but over, as the Zags take a commanding lead into the U8 media timeout.
GU has put on an offensive clinic against a team that came into this game with the No. 18 rated defense in the country. 
3:58 - GU 106, BYU 72: Sallis throws down a dunk as the Zags hit the U4 media timeout. 
The Bulldogs need 11 points over the final four minutes to surpass their season high set on Saturday against Pepperdine.
Starting 5
Same starting five for the Zags of Holmgren, Timme, Strawther, Bolton and Nembhard as tipoff is pushed back to 8:10 p.m. to accommodate the end of another game on ESPN2.
Pregame
Gonzaga hosts Brigham Young tonight for the first of the WCC rivalry series, which will be ended when the Cougars join the Big 12 Conference starting in 2023.
The No. 2 Zags (12-2, 1-0 WCC) started its conference schedule with a 117-83 rout of Pepperdine last Saturday, after it had three games postponed due to COVID-19. They will tipoff with the Cougars (14-3, 2-0) at 8 p.m. on ESPN2.
BYU got off to a hot start, beating San Diego State and dominating then-No. 12 Oregon in its first three games. The Cougars peaked at No. 12 in the AP top 25 poll, before an overtime loss to Utah Valley dropped them to No. 24 and a loss to Creighton knocked them off the list.
BYU also lost to Vanderbilt 69-67 on Dec. 23, but has won its last four including conference wins over Pacific and Saint Mary's. The Cougars received two top 25 votes in last week's AP poll, are No. 29 in the NET rankings and are No. 24 in Kenpom.
Series history
Gonzaga holds a 20-7 series lead over BYU in its short history dating back to the first meeting in 2011, where the Bulldogs lost 89-67 as a No. 11 seed to the No. 3 seed Cougars behind 34 points from National Player of the Year Jimmer Fredette.
The Zags have won 9 of the last 10 meetings.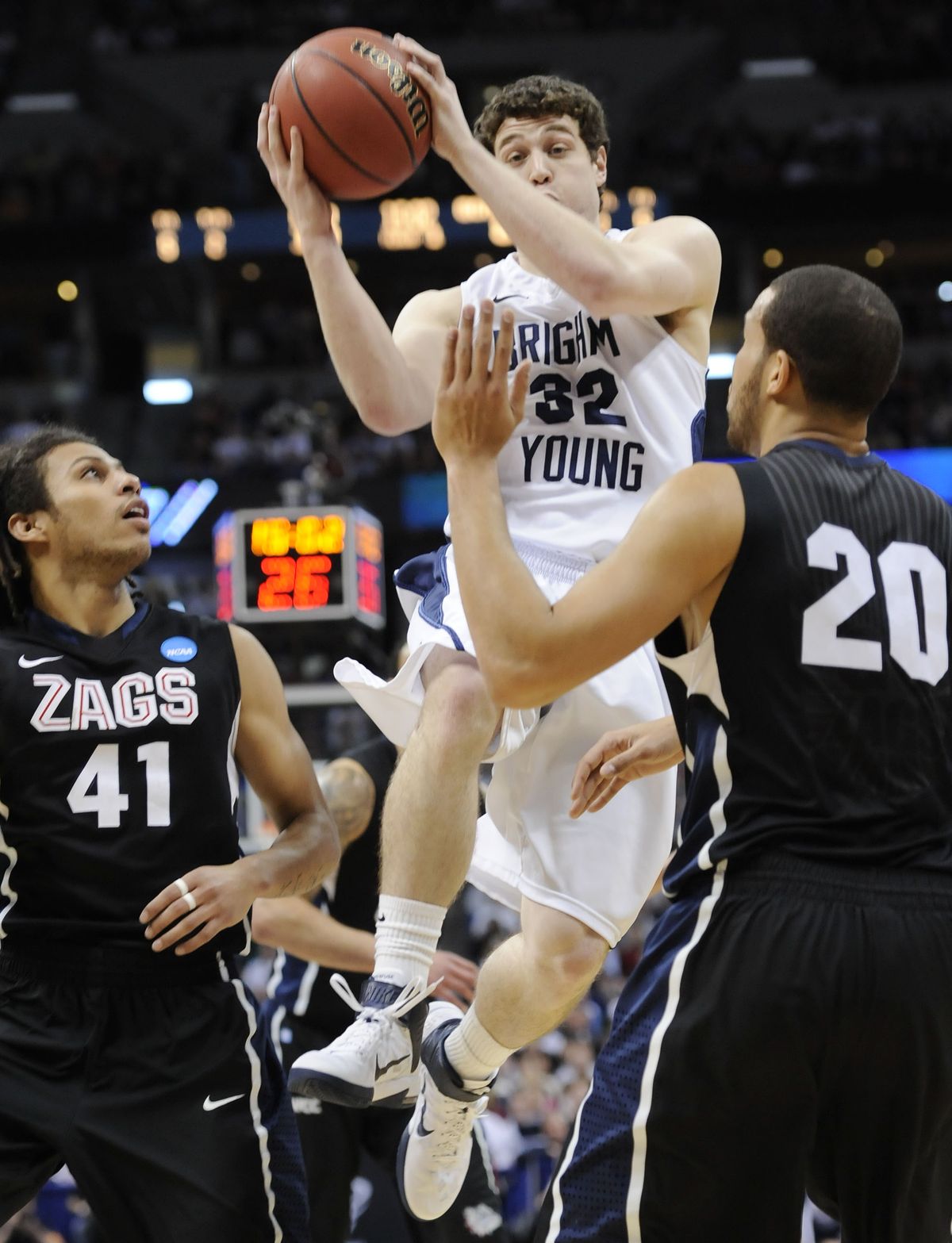 BYU guard Jimmer Fredette (32) goes up for a shot against Gonzaga guard Steven Gray (41) and Gonzaga forward Elias Harris (20) in the first half of a Southeast regional third round NCAA tournament college basketball game, Saturday, March 19, 2011, in Denver. (Jack Dempsey / Associated Press)
Team stats
Individual leaders
Game preview
More on the Zags
Local journalism is essential.
Give directly to The Spokesman-Review's Northwest Passages community forums series -- which helps to offset the costs of several reporter and editor positions at the newspaper -- by using the easy options below. Gifts processed in this system are not tax deductible, but are predominately used to help meet the local financial requirements needed to receive national matching-grant funds.
Follow along with the Zags
Subscribe to our Gonzaga Basketball newsletter to stay up with the latest news.
---