Sports > Gonzaga basketball
Recap and highlights: No. 1 Gonzaga breaks away in second half to beat San Francisco 78-62
UPDATED: Thu., Jan. 20, 2022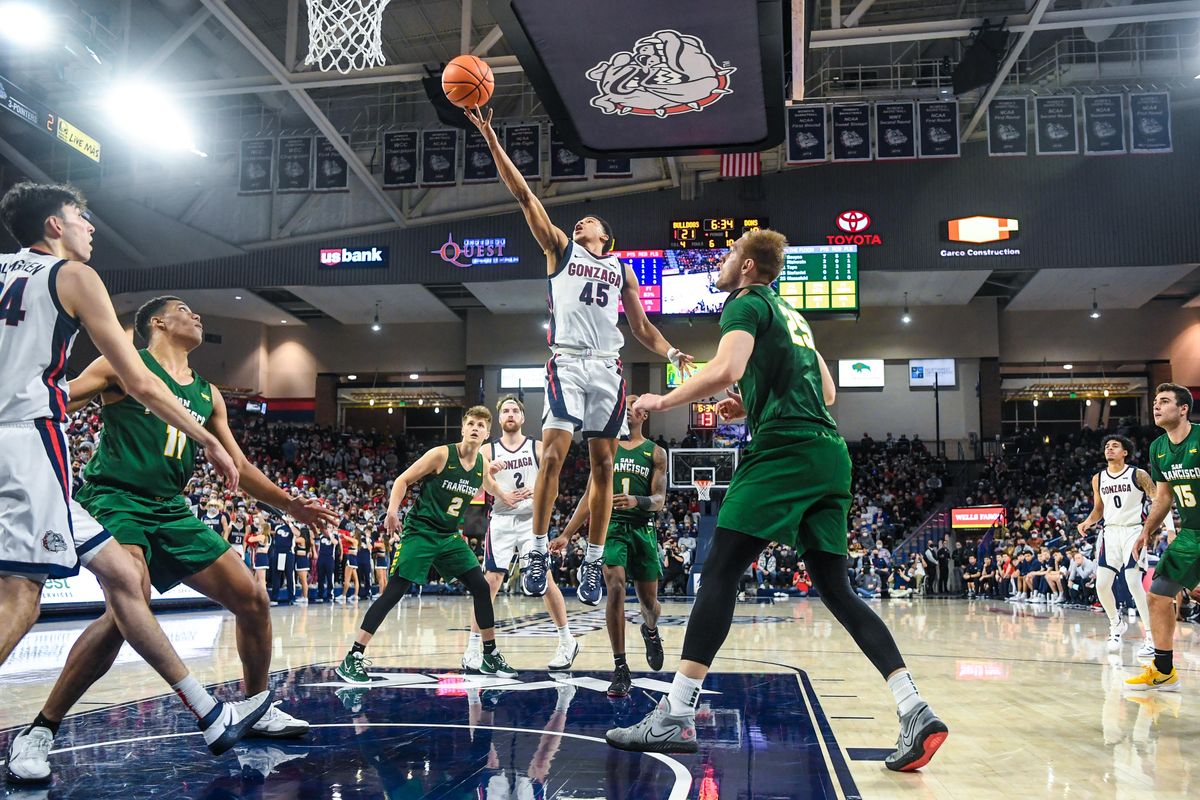 Gonzaga guard Rasir Bolton launches a finger roll down the lane against San Francisco, Thursday, Jan. 20, 2022 in the McCarthey Athletic Center. (Dan Pelle/THE SPOKESMAN-REVIEW)
At times San Francisco looked like it could challenge Gonzaga for the West Coast Conference crown on Thursday.
The Bulldogs (15-2, 4-0 WCC) righted the ship in the second half and showed why they're the top-ranked team in the country with a 78-62 win over the Dons (15-4, 2-2) in Spokane. 
USF started the game on a 10-2 run, and led 17-9 before the Zags had a 12-0 run of their own to take the lead for the first time with 9:07 minutes remaining in the first half.
The Dons battled to trail 36-33 at halftime, while the Zags' leading scorer Drew Timme struggled shooting 1 of 8 from the field. He went on to shoot 8 of 12 in the second half and finished with a team-high 23 points.
Chet Holmgren scored a career-high 22 points to go with eight rebounds and four blocks.
USF guards Jamaree Bouyea and Khalil Shabazz combined for 40 points, as most of the Dons' offensive production. USF shot 36.1% from the field and 28.6% on 3-pointers.
GU shot 46.7% from the field and 27.8% on 3-pointers – a large drop-off from its incredible scoring pace to start WCC play.
The Zags will have a week-long break before its next game against Loyola Marymount on Jan. 27 at 8 p.m. on CBSSN. 
First half
16:41 - USF 6, GU 2: Dons get one the board first and the Zags go on a 2:43 minute scoring drought after Nembhard scores on a mid-range jumper.
Timme 0 of 3 from the field early, including two 3-pointers.
15:57 - USF 8, GU 2: Dons take a 6-0 run into the first media timeout, as the Zags have struggled from the floor to start the game.
GU won't score over 100 points for a fourth consecutive game at this rate, shooting 1 of 7 from the field, while USF is 4 of 7. Dons led by Massalski's four points and are out-rebounding the Bulldogs 7 to 2.
11:40 - USF 17, GU 11: Bouye starting strong for the Dons, scoring seven points with five rebounds as USF takes a lead into the U12 media timeout.
GU snapped a long scoring drought to make its last three field goals, as Watson has a team-high five points. Timme is struggling at 1 of 6 shooting.
7:33 - GU 21, USF 17: Zags take control at the U8 media timeout, on a 17-2 run over the last 5:07 minutes.
Nembhard leads with seven points, as Watson and Holmgren add five apiece. GU still not shooting well from the field at 36.8% and 2-for-7 on 3-pointers. Dons have made one of their last eight field goals and are on a 4:12 minute scoring drought.
3:53 - GU 28, USF 25: Back-to-back buckets from Holmgren gives the Zags the lead at the U4 media timeout.
Holmgren leads with nine points, but its been a tough first half for his post-playing teammate Timme, who is 1 of 6 from the floor and was put on a poster by Tape.
Halftime
Gonzaga took a slight lead into halftime, after being outplayed by San Francisco for a large part of the game.
The Dons opened the game on a 10-2 run, and led 17-9 before the Zags had a 12-0 run of their own to take the lead.
Both teams traded baskets for the remainder of the half that ended on a 3-pointer from USF guard Jamaree Bouyea.
Bouyea leads the Dons with a team-high 12 points and has made two of the teams' three 3-pointers.
Chet Holmgren leads GU with 12 points, while Anton Watson and Andrew Nembhard have added seven apiece. After a dominating start to conference play, Drew Timme has struggled, shooting 1 of 8 from the field and giving up the highlight play of the game on a poster dunk from Patrick Tape.
Second half
15:35 - GU 44, USF 38: The Zags take a 6-0 run into the U16 media timeout after a Bouyea turnover.
Holmgren is playing one of his best games of the season with a team-high 16 points with five rebounds and three blocks.
Bouyea trying to keep the Dons in it with 17 points on 6 of 14 shooting.
11:45 - GU 53, USF 40: The Bulldogs on a 13-2 run over the last 6:40, as Holmgren makes back-to-back baskets to give GU its largest lead of the night at the U12 media timeout.
Holmgren has a team-high 20 points, including eight in the second half. Still a poor shooting night for the Zags, who are 5 of 15 in the second half and 39.5% in the game.
6:57 - GU 63, USF 49: Dons snap their scoring drought, as Bouyea is up to 23 points, but the Zags are in control at the U8 media timeout.
Holmgren at a career-high 21 points on 7 of 10 shooting. Timme bouncing back from a poor night, up to 12 points on 4 of 15 shooting. 
4:17 - GU 68, USF 56: Timme makes a jumper from the free throw line, which is answered by a basket from Shabazz as the Dons call a timeout.
Bulldogs just need to avoid a USF run to remain undefeated in WCC play. Timme has 16 points, as Holmgren leads with 22.
Starting 5
Same starting five of Nembhard, Bolton, Strawther, Timme and Holmgren for the Zags, as USF will start Bouyea, Shabazz, Stefanini, Massalski and Tape.
Pregame
Gonzaga will play its first game as the country's top-ranked team since November, in a West Coast Conference make up game tonight against San Francisco.
The No. 1 Zags (14-2, 3-0 WCC), host the Dons (15-3, 2-1) at 8:11 p.m. on CBS Sports in place of Pacific, who the Bulldogs were scheduled to play tonight, but was postponed late last week due to COVID-19 issues with the Tigers. GU and USF were originally scheduled to play on Jan. 6 in San Francisco, but that game was also postponed.
The Zags have been on a roll to start WCC play, averaging 114 points across its first three games. Meanwhile, the Dons – who started the season 10-0 – won their first two conference games against San Diego and Loyola Marymount, before losing to BYU 71-69 on Saturday.
GU beat BYU 110-84 last Thursday.
Series history
Gonzaga has won its last 21 meetings with San Francisco, dating back to Feb. 18, 2012, where the Dons won 66-65 on a go-ahead layup with 3.3 seconds remaining.
The Bulldogs played the Dons twice last year winning 100-61 and 85-62.
GU hasn't lost a home game to USF since Feb. 10, 1989.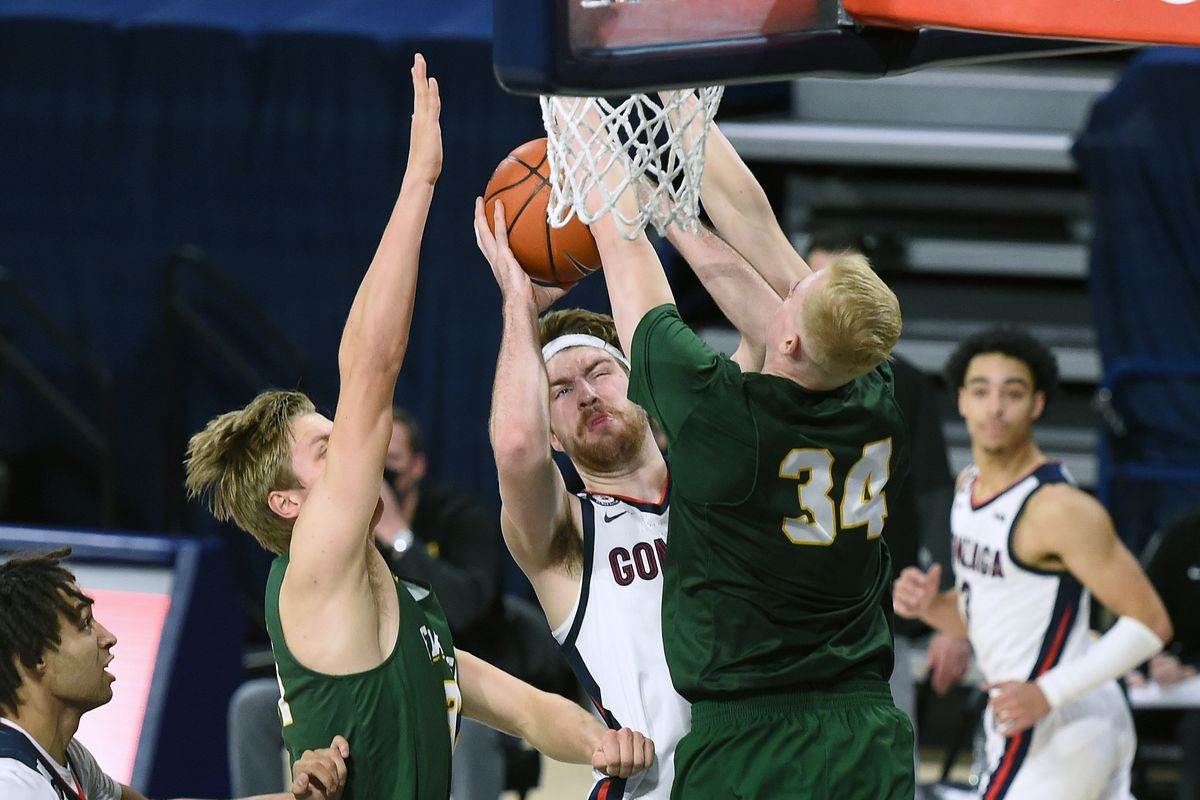 Gonzaga forward Drew Timme (2) struggles to line up a shot as San Francisco center Jonas Visser (31) and San Francisco forward Taavi Jurkatamm (34) defend during the first half of an NCAA college basketball game, Sat., Jan. 2, 2021, in the McCarthey Athletic Center. (Colin Mulvany/THE SPOKESMAN-REVIEW)
Team stats
Individual leaders
Game preview
More on the Zags
Local journalism is essential.
Give directly to The Spokesman-Review's Northwest Passages community forums series -- which helps to offset the costs of several reporter and editor positions at the newspaper -- by using the easy options below. Gifts processed in this system are not tax deductible, but are predominately used to help meet the local financial requirements needed to receive national matching-grant funds.
Follow along with the Zags
Subscribe to our Gonzaga Basketball newsletter to stay up with the latest news.
---