News
New Spokane housing organization Take Up The Cause, a spinoff of the East Central Community Organization, to be helmed by Chauncey Jones
July 1, 2022 Updated Mon., July 11, 2022 at 10:50 p.m.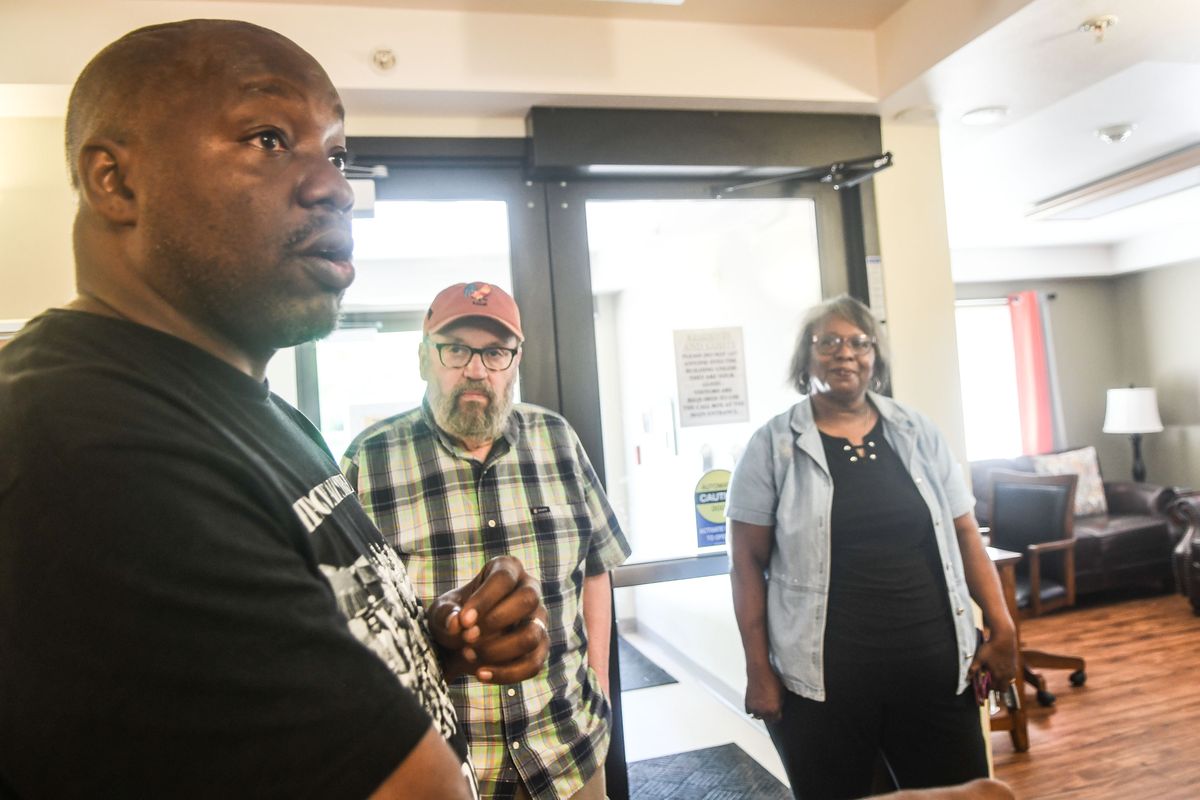 Chauncey Jones, left, talks Friday about housing in East Central along with Chris Venne, center, and the Rev. Betsy Williams at Friendship Gardens. (Kathy Plonka/The Spokesman-Review)
Chauncey Jones understands that, as an advocate for equitable housing access, he must rest on the legacy of others.
His grandmother, Hannah Jones, a dedicated church mother and his father-in-law, Williams Sterling, a former pastor at Calvary Baptist Church "had that sense of serving the community" and giving back, Jones said.
It is the same ancestral strength that the East Central Community Organization leans into, as they honor their founding members like Lee Wade and Eileen Thomas and their mission to be community advocates.
"We stand on the shoulders of so much legacy," said Betsy Williams, one of ECCO's founding members who is still active in East Central. "As African Americans, we bring things to each other and we forget who came to the table with you and before you, then we lose our perspective. I can't forget those ladies, because they were tough and strict on being in service to this community."
Forty years later, with housing one of Spokane's most pressing concerns, ECCO wanted to modernize their mission. After months of community deliberation, ECCO has partnered with Jones to merge into a new organization, Take Up the Cause, which looks to provide equitable housing options in the East Central area.
"I was really, really happy when they accepted to be part of this too," Jones said. "We have to continue in the direction that they've set forth. We're missing that a lot in our community."
The East Central Community Organization began as a multipurpose community service entity in 1982 but soon found the need to disperse financial benefits to the community. ECCO became a nonprofit that strengthened their ability to serve the area.
Chris Venne and Williams said some of ECCO's board wanted to revamp their connection to the community to become more effective. They've been part of ECCO since its inception.
"A lot of our board was looking to retire, slow down or do something different, so we said, 'Well, what we should do is see if we can pass this housing … onto another organization,' " Venne said. "We put out a request for proposals, Chauncey put in his proposal."
So, after months of deliberation, and originally declining his offer, they decided Jones was the best fit to lead Take Up the Cause.
"The more we talked to him, the more it seemed like Take Up the Cause reminded us of what ECCO looked like in its earlier years: a group of people who were intent on helping the neighborhood, had lots of energy and a good spirit, someone who could put together lots of resources," Venne said. "It just seemed like a good fit."
Take Up the Cause is rooted in the Bible verse Isaiah 1:17: "Learn to do right; seek justice, defend the oppressed, take up the cause of the fatherless; plead the case of the widow."
Jones interprets the verse as a call to action for overlooked community members. Today, the housing crisis is a prominent issues that affects underserved communities in Spokane.
"One of the things we talked about was the bridging of the gap and passing of the torch to be a natural thing," Jones said. "For that to happen, it doesn't happen if I just take over something. It's not taking over the cause, it's taking up the cause."
Anna Franklin, a diversity, equity and inclusion specialist, and Jerrall Haynes, who serves as the City of Spokane's first Civil Rights Coordinator, sit on ECCO's original board and are still assisting Jones as he enters a new space.
"Everyone part of our board is in the trenches," Jones said. "Even (Venne and Williams) were part of that mission, and they're going to continue to be part of Take Up the Cause moving forward."
Haynes lives in East Central and sees Take Up the Cause as a way to bridge the equity disparity.
"When one community organization is willing to pass the torch onto another, especially by a Black man and a board that is majority of color, it's powerful," Haynes said. "Chauncey doing this work in Take Up the Cause honors the work of ECCO and honors the work of that legacy, and I think that's beautiful."
Take Up the Cause acquired all of ECCO's assets, including the three East Central properties, a fitting acquisition for Jones, who provides real-estate experience.
The first building is the seniors-only subsidized housing built in 2005. It consists of a 24 one-bedroom units for low-income residents. An incentive from the United States Department of Housing and Urban Development pays part of the rent.
"It's kind of the gold standard of affordable housing," Venne said. "It's very rare for new units to get that kind of subsidy."
Take Up the Cause is also acquiring the straw bale houses that were built by the Spokane Neighborhood Action Program to ensure low-income housing was available in the '90s.
Built in 1910, the Rose Building is one of Spokane's historic houses. The building was moved from Third Avenue to Fourth Avenue to avoid demolition for the proposed North Spokane Corridor.
The Rose Building is now repurposed for equitable living with eight 450 square-foot rooms.
Jones said he is thrilled that Take Up the Cause has an opportunity to lead the East Central community into a new equitable housing landscape, especially during the national housing crisis.
"I know what this can mean to this community," Jones said. "This is just the beginning, and it's going to take all of us. (ECCO's) legacy will continue on, and we will not fail something that was started in 1982, especially for what it meant to this community."
Local journalism is essential.
Give directly to The Spokesman-Review's Northwest Passages community forums series -- which helps to offset the costs of several reporter and editor positions at the newspaper -- by using the easy options below. Gifts processed in this system are not tax deductible, but are predominately used to help meet the local financial requirements needed to receive national matching-grant funds.
Subscribe now to get breaking news alerts in your email inbox
Get breaking news delivered to your inbox as it happens.
---