Sports > High school sports
Mead girls suffer another rough shooting night, fall to Arlington in State 3A third-place game
March 5, 2022 Updated Sat., March 5, 2022 at 6:16 p.m.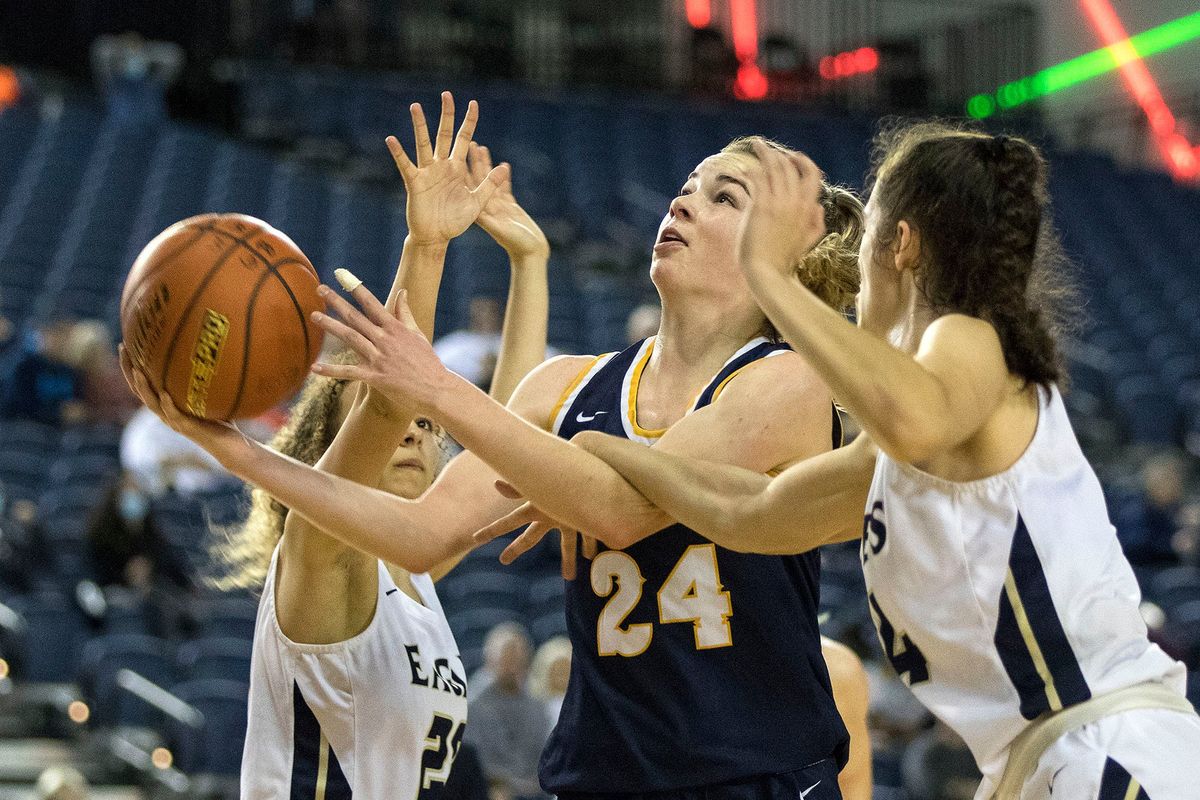 Mead's Teryn Gardner splits the defense of Arlington's Samara Morrow, left, and Jenna Villa on a drive during Saturday's State 3A game for third and fifth places in Tacoma. (Patrick Hagerty)
TACOMA – Basketball is a game of streaks. Unfortunately for Mead, which entered the girls State 3A tournament as the No. 1 seed, its cold streak at the Tacoma Dome extended into the third-place game on Saturday.
The Panthers shot 26%, going 2 of 12 from beyond the arc, and were held to fewer than 45 points for just the second time this season – but on consecutive nights.
Considering those numbers, the result was inevitable.
Jenna Villa scored 23 points, going 11 of 14 at the line, and third-seeded Arlington topped the Panthers 61-44 to earn the third-place trophy.
Keira Marsh had 15 points and Hannah Rork added 11 for the Eagles (21-3).
Senior Parker Brown led Mead (23-2), which finished fifth in state, with nine points. Greater Spokane League MVP Olivia Moore, a senior, went 0 for 7 and fouled out with 5 minutes left in the game. Fellow first-team all-league guard sophomore Teryn Gardner settled for seven points on 2-of-13 shooting.
"We've worked so hard to get here," Mead senior Alicia Suggs said. "This was our goal, to play in the Dome. Even though we didn't finish like we wanted to, we still have a record to be proud of. And we came out representing Spokane for the girls, so we're happy."
"We struggled putting the ball in the hoop this weekend, but our effort never wavered," Mead coach Quantae Anderson said. "I told them before the season started, 'No matter where we end, as long as we play as hard as we can play for as long as we can play, I'm going to be as proud of you as I could ever be.' "
Suggs and junior Teyonna Hoard also fouled out as Mead was called for 28 fouls to 19 for Arlington.
"It's definitely tough," Brown said, "It's hard. That's our last game and we have three girls foul out like that. That's maybe people's last game ever. And that's how you end. It's just so sad for everyone."
The Panthers missed their first seven shots, went 2 of 12 from the field and trailed 17-8 after one quarter, with Marsh scoring eight for the Eagles.
"We're a 3-point-shooting team," Suggs said. "When we come to a place like this, and we're not used to the court, we've got to adjust and I think we tried to adjust, but it was a little bit too late."
It didn't get any better for the Panthers in the second quarter, but it could have been worse – Arlington also ran into a dry spell and it turned into a free-throw shooting contest with both teams in the bonus for most of the quarter.
Mead made 6 of 10 at the line and trailed 25-18 at halftime. The Panthers shot 4 of 19 from the field in the first half with 11 turnovers.
The Panthers had a quick spurt at the start of the third quarter to get the deficit to four, but a 3-pointer from Rork put it back to eight.
Arlington only made two baskets in the quarter but went into the bonus with 3:30 left and made 12 of 14 at the line. The Eagles led 42-35 entering the fourth quarter.
Early in the fourth quarter, Sophie Willis hit a corner 3 to stretch the lead to 12. With just under 5 minutes to go, Moore fouled out.
Anderson hugged his star for almost a minute before play resumed.
"I just told her I love her," he said. "I'm proud of her and just saw growth over the four years. And she's special. So I just wanted her to know all those things."
Mead made one basket in the fourth quarter, a layup by backup sophomore Isabel Sterner late in the game, and was outscored 19-9 down the stretch.
"We proved it in the second half yesterday that we can do so much better," Brown said. "And that's not what we came out with today."
Arlington went 20 of 25 from the line in the second half.
"Our girls, I felt like, there was a point where we felt a little hopeless," Anderson said. "No matter what we did on defense, there was going to be a foul, and we had to go through some stuff (on offense) without getting a foul. But we just had to be mentally tough and (the final score) just didn't show as much as it should have."
"We all get along so well, and no one cares what we look like – we just have fun with each other," Brown said. "And that's like the best you could ever ask for."
Local journalism is essential.
Give directly to The Spokesman-Review's Northwest Passages community forums series -- which helps to offset the costs of several reporter and editor positions at the newspaper -- by using the easy options below. Gifts processed in this system are not tax deductible, but are predominately used to help meet the local financial requirements needed to receive national matching-grant funds.
Subscribe to the sports newsletter
Get the day's top sports headlines and breaking news delivered to your inbox by subscribing here.
---