Sports > Gonzaga basketball
Recap and highlights: No. 1 Gonzaga hangs on to beat San Francisco in WCC Tournament semifinal 81-71
March 7, 2022 Updated Mon., March 7, 2022 at 9:31 p.m.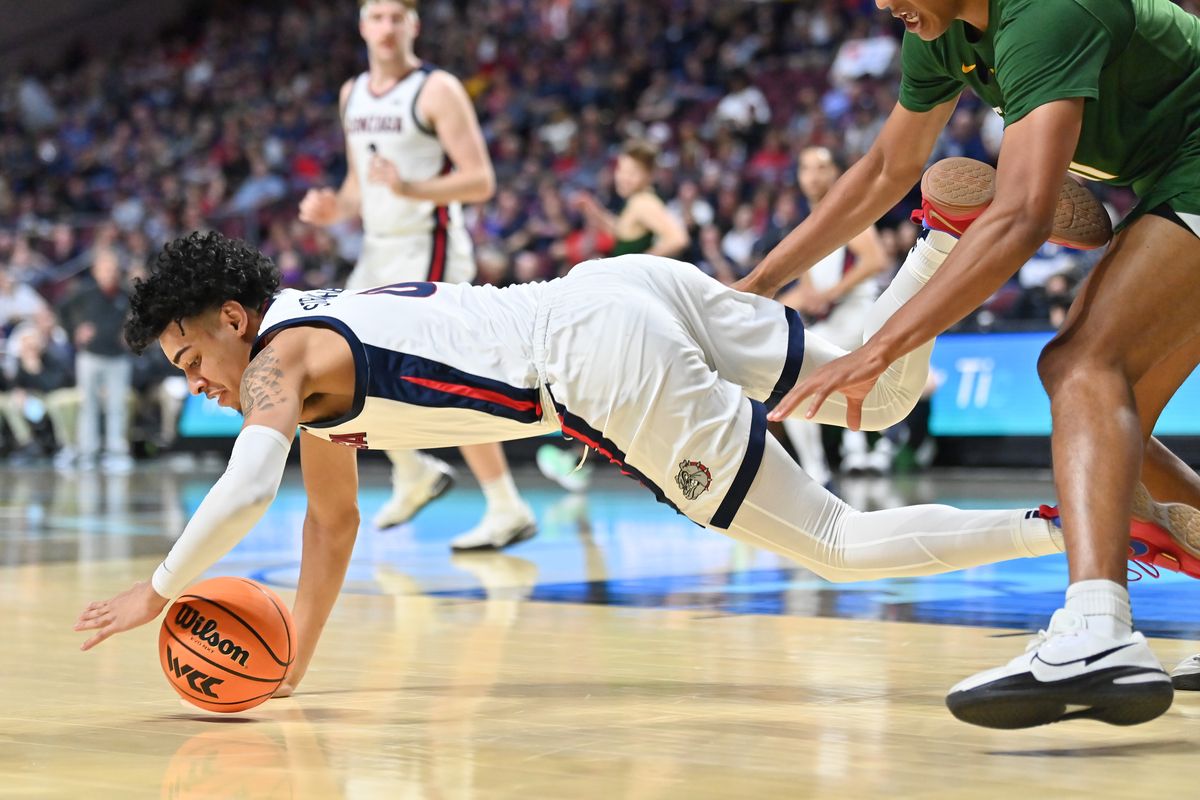 Gonzaga Bulldogs guard Julian Strawther (0) dives for a loose ball against the San Francisco Dons during the first half of the WCC Men's Semifinal basketball game on Monday Mar 7, 2022, in Las Vegas, Nev. (Tyler Tjomsland/The Spokesman-Review)Buy a print of this photo
Gonzaga controlled a majority of the game, but fell apart late, holding on to beat San Francisco 81-71 in the West Coast Conference Tournament semifinals to make the championship game for the 25th consecutive year.
The Bulldogs (25-3) held a 24-point lead with 8:45 remaining – their largest of the game – but did not make a field goal over the final 5:33 minutes, as the Dons (24-9) cut the game to single digits with 2:57 left.
The lead was ultimately enough for Gonzaga to hang on, but the meltdown isn't a good sign for a remainder of the postseason.
The first 30 minutes pointed a completely different direction.
Chet Holmgren was on fire on both ends of the court, racking up 17 points with eight rebounds, six blocks and three steals. Drew Timme shook off his bad performance against Saint Mary's with 22 points, four rebounds and four assists. Andrew Nembhard was ultra efficient, knocking down 8 of 12 attempts for 17 points to go along with nine assist and one turnover.
The Zags that were playing freely and with pace for a majority of the game can compete with and beat any team in country. The ones that shrunk at the end of the game, trying desperately to preserve its lead could get sent home early.
Gonzaga awaits the winner of the other semifinal between second-seeded Saint Mary's and third-seeded Santa Clara in the WCC championship on Tuesday at 6 p.m. on ESPN.
First half
15:03 - GU 11, USF 3: After a terrible start to Gonzaga's last game, missing his first eight shots from the field, Timme throws down a dunk in the opening 11 seconds and follows that up with a team high nine points at the U16 media timeout.
Holmgren also got involved in the dunk party.
ESPN missed the start to the Zags' game with the SoCon Championship in overtime, but it might've been worth it … 
11:47 - GU 20, USF 5: Gonzaga looks like a team on a mission. Holmgren up to seven points and two blocks in the early going, as the Zags are getting anything they want, shooting 9 of 13 from the field. Nembhard has five assists.
7:43 - GU 25, USF 16: Dons chip away at the early Gonzaga lead, as the Zags are on a 2:07 minutes scoring drought at the U8 media timeout.
Timme leads with a team-high 12 points, but picked up a quick second foul. USF just 6 of 20 from the field and 3 of 12 on 3-pointers.
3:25 - GU 36, USF 20: Holmgren up to nine points, five rebounds, four blocks and two steals at the U4 media timeout.
Watson and Shabazz were called for double technical fouls after there was contact by Watson on a play away from the ball, who knocked Shabazz down and stood over him for several seconds before the two players got tangled up.
Zags shooting 60% from the floor, while the Dons are at just 27.6%.
Halftime
Gonzaga took a commanding lead into halftime over fourth-seeded San Francisco in the WCC semifinal, as Chet Holmgren is turning in another exceptional performance and Drew Timme appears to have his groove back.
Timme wasted little time getting over his poor performance against Saint Mary's on Feb. 26, scoring the first points of the game on a dunk and collecting a team-high 12 points at the half.
Holmgren has been all over the court with 11 points, six rebounds, four block and three steals.
Andrew Nembhard has been facilitating the offense with eight points and eight assists, as Gonzaga is shooting 64.5% from the field.
Second half
15:27 - GU 55, USF 39: The Dons with a 12-8 advantage to start the second half, knocking down 3 of 5 3-point attempts.
Holmgren up to 15 points, seven rebounds, four blocks and three steals but has three fouls and is on the bench at the U16 media timeout.
11:38 - GU 67, USF 43: Nembhard switching from facilitator to scorer and is up to 15 points in a blink of an eye to go with his nine assists.
Timme has a team-high 19 points as Holmgren remains on the bench in foul trouble.
8:28 - GU 71, USF 50: Rishwain knocked down a 3-pointer and the Dons call a timeout, as the Zags still have a commanding lead, making 7 of their last 9 attempts.
Watson having a solid outing with eight points and 10 rebounds, after struggling for most of February.
5:06 - GU 77, USF 59: Dons cut Gonzaga's lead on a deep mid-range jumper by Rishwain and call for a timeout.
Zags are outscoring USF 52-16 in the pain and have 10 more points off turnovers.
4:03 - GU 77, USF 64: Dons on a 7-0 run over the last 1:04 and have made their last four attempts from the field, as the Zags call for a timeout. 
Gonzaga led by as much as 24 with 8:45 remaining in the second half, now at just 13.
2:30 - GU 79, USF 68: Dons cut the lead to nine, but the Bulldogs get a pair of free throws from Strawther and an air-balled 3-point attempt from Shabazz on the other end.
1:20 - GU 79, USF 71: San Francisco calls a timeout as the Zags hold possession, but haven't made a field goal in the last 4:13 minutes, switching to a much more conservative approach in attempt to save its lead and kill clock.
Pregame
Gonzaga hadn't lost to a conference opponent in just over two years, before falling to then-No. 23 Saint Mary's on Feb. 26.
With over a week to sit and wait after the loss, the No. 1 Bulldogs (24-3) get a chance at redemption today in Las Vegas against fourth-seeded San Francisco in the West Coast Conference Tournament semifinal.
Gonzaga enters the game a 12-point favorite, having appeared in every WCC championship since 1997.
The Dons (24-8) almost certainly earned themselves an at-large bid to the NCAA Tournament with a 75-63 win over BYU in the quarterfinals Saturday. USF hasn't made the big dance since 1998, where they lost to Utah in the first round.
The winner of today's semifinal will take on the winner of second-seeded Saint Mary's and third-seeded Santa Clara, tipping off at 8:30 on ESPN2.
Series history
Gonzaga beat San Francisco by 16 points twice this season, 89-73 on Feb. 24 on the road and 78-62 on Jan. 20 in the Kennel.
Aside from Saint Mary's, who beat Gonzaga on Feb. 26, The Dons and Santa Clara have come the closest to the Bulldogs. The Zags have beaten all its other conference foes by a combined average of 30.9 points a game.
Gonzaga holds a 67-22 series lead over USF and haven't lost to the Dons since Feb. 18, 2012 – a 23 game win steak.
The last USF win over Gonzaga in Spokane or a neutral court was at the 1998 WCC Tournament Championship, where the Dons won 80-67 at the Toso Pavilion in Santa Clara, California.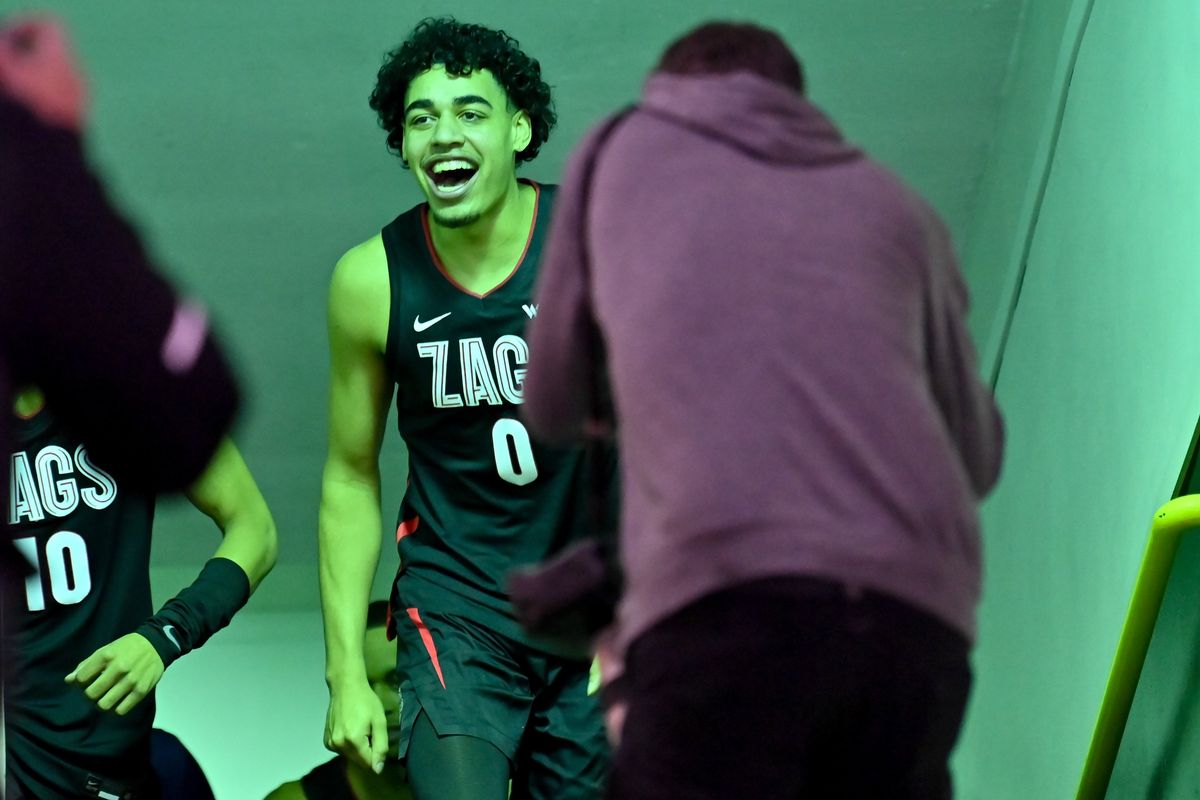 Gonzaga Bulldogs guard Julian Strawther (0) smiles as he heads to the court to face the San Francisco Dons during the first half of a college basketball game on Thursday, Feb 24, 2022, at War Memorial Gym in San Francisco, Calif. (Tyler Tjomsland/The Spokesman-Review)Buy a print of this photo
Team stats
Individual leaders
Game preview
More on the Zags
Local journalism is essential.
Give directly to The Spokesman-Review's Northwest Passages community forums series -- which helps to offset the costs of several reporter and editor positions at the newspaper -- by using the easy options below. Gifts processed in this system are not tax deductible, but are predominately used to help meet the local financial requirements needed to receive national matching-grant funds.
Follow along with the Zags
Subscribe to our Gonzaga Basketball newsletter to stay up with the latest news.
---