News > Nation/World
Israeli minister pledges full probe into killing of reporter
UPDATED: Wed., May 11, 2022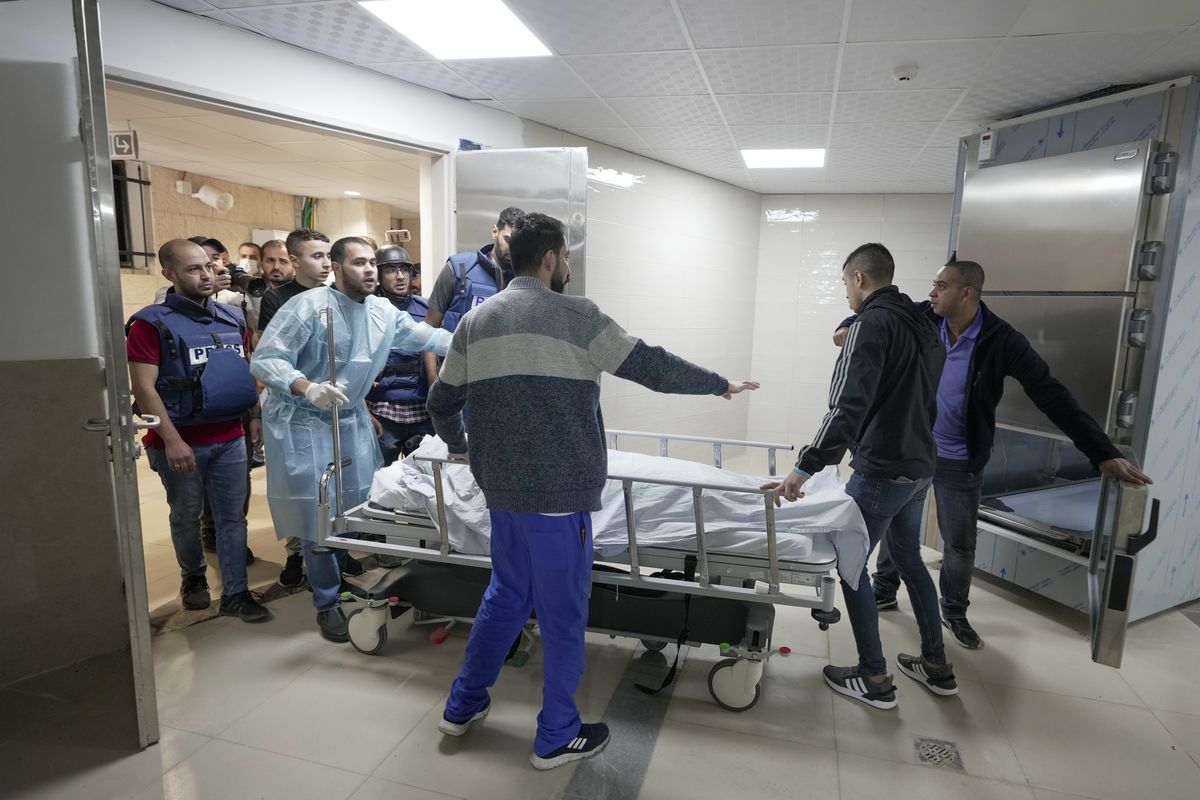 Journalists and medics wheel the body of Shireen Abu Akleh, a journalist for Al Jazeera network, into the morgue inside the Hospital in the West Bank town of Jenin, Wednesday, May 11, 2022. The well-known Palestinian reporter for the broadcaster's Arabic language channel was shot and killed while covering an Israeli raid in the occupied West Bank town of Jenin early Wednesday, the Palestinian health ministry said. (Majdi Mohammed)
JERUSALEM — Israel's defense minister promised a thorough investigation of the killing of Al Jazeera reporter Shireen Abu Akleh on Wednesday and asked that Palestinian officials hand over the bullet that killed her.
Benny Gantz told reporters that Israel has been in touch with U.S. and Palestinian officials, and said all parts of the investigation would be made public.
While the military initially suggested Abu Akleh might have been killed by stray fire from Palestinians, while she was covering an Israel raid in the West Bank, Gantz was more cautious Wednesday evening. "We are trying to figure out exactly what happened….I don't have final conclusions."
"I am very sorry for what happened," Gantz told reporters. "Currently we do not know what was the direct cause of Shireen's death. We are very decisive to have a full-scale investigation of this process, and we hope to get Palestinian cooperation on this issue. Without the report of the pathological findings and the forensic findings, it would be very hard for us to find out what happened on the ground."
"We investigated all the troops that were part of the operation," he added. "So far, we don't have any final conclusion."
Local journalism is essential.
Give directly to The Spokesman-Review's Northwest Passages community forums series -- which helps to offset the costs of several reporter and editor positions at the newspaper -- by using the easy options below. Gifts processed in this system are not tax deductible, but are predominately used to help meet the local financial requirements needed to receive national matching-grant funds.
Subscribe now to get breaking news alerts in your email inbox
Get breaking news delivered to your inbox as it happens.
---