News > Crime/Public Safety
25-foot flames burn north Spokane Home Depot's home and garden aisle
May 20, 2022 Updated Fri., May 20, 2022 at 8:24 p.m.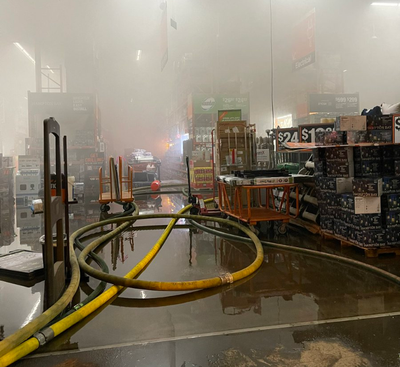 Firefighters battled 25-foot flames Thursday night inside the north Spokane Home Depot, which suffered damage estimated to cost millions of dollars.
Customers and employees safely evacuated the home improvement store, which remained closed Friday as crews worked to clean up the aftermath.
Firefighters were called to the store at 9116 N. Newport Hwy. at about 9:25 p.m., and the first fire company arrived in three minutes, Spokane Fire Chief Brian Schaeffer said.
He said arriving crews noticed smoke as employees frantically exited. Flames were visible in aisle 2, which is in the home and garden area.
The massive amounts of highly combustible and flammable liquids and materials, like gasoline and battery-powered leaf blowers and lawn mowers, stacked high toward the ceiling fueled the tall flames in the aisle, Schaeffer said.
The building is equipped with fire suppression and alarm systems, which Schaeffer credited in saving lives and significant property damage.
"Without the sprinkler system, the building would have been lost," he said.
Schaeffer said people inside the store started to exit when the smoke alarms activated. The intense heat from the flames activated multiple sprinkler heads, which prevented the fire from spreading past the contents of aisle 2 and allowed firefighters to safely search the store and use large hose lines to confine the flames to the aisle.
Schaeffer estimated the aisle to be 50 feet long, with products stacked on pallets 25 feet high.
It took about an hour to declare the fire under control, mainly because of how dense the products were, he said. Schaeffer said it was extremely challenging to rotate more than 60 firefighters to battle the blaze, calling it "pretty taxing" on their bodies.
One firefighter was injured by a falling box that struck him from behind, Schaeffer said. The firefighter was treated at the scene.
A number of law enforcement agencies and the Spokane Fire Department are investigating the cause of the fire, Schaeffer said.
Schaeffer said firefighters worked Friday to restore the sprinkler system and clean up areas damaged by fire. Yellow caution tape cordoned off entrances to the store.
Schaeffer said he is optimistic the store will reopen soon.
He estimated property damage, including cleanup costs, to be millions of dollars.
Spokane County Fire District 9 also responded to the fire Thursday night.
Local journalism is essential.
Give directly to The Spokesman-Review's Northwest Passages community forums series -- which helps to offset the costs of several reporter and editor positions at the newspaper -- by using the easy options below. Gifts processed in this system are not tax deductible, but are predominately used to help meet the local financial requirements needed to receive national matching-grant funds.
Subscribe now to get breaking news alerts in your email inbox
Get breaking news delivered to your inbox as it happens.
---