Sports > Area sports
Mead senior Ty Anderson authors unique success story with fast rise to one of area's best
UPDATED: Sat., May 21, 2022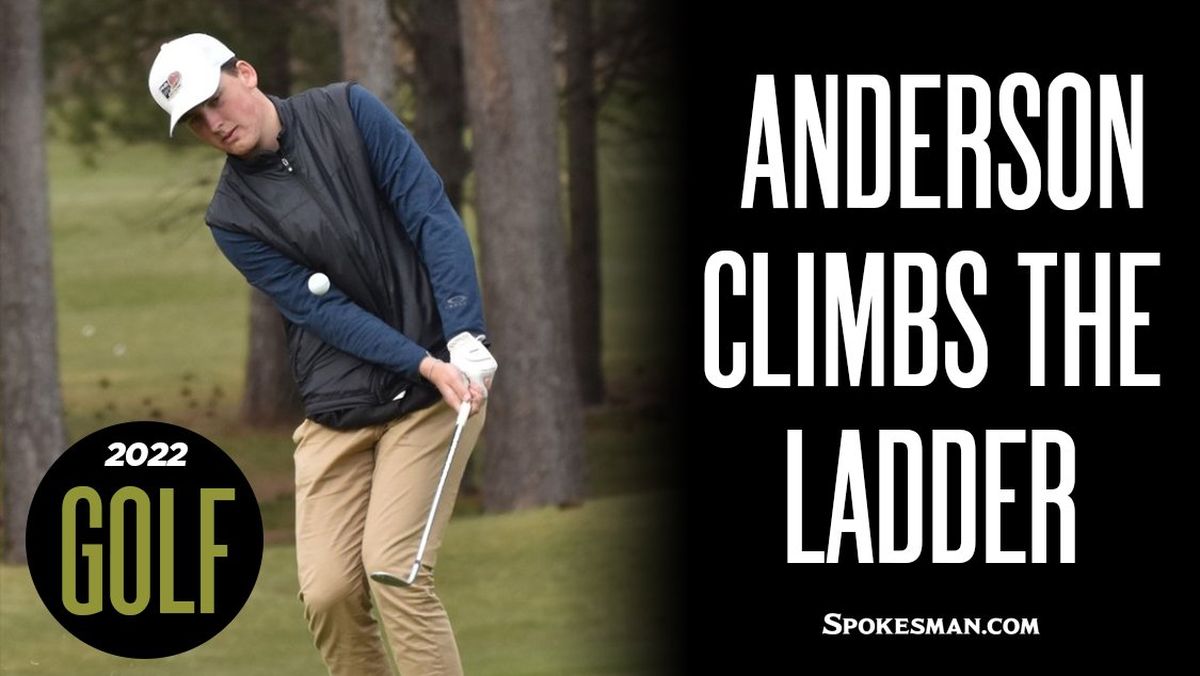 Paul Peters has guided the Mead High boys golf program for more than three decades, so he knows a good story when he sees one.
Senior Ty Anderson, the veteran coach said, is "a story and a half," and offers a story illustrating what he means.
Peters typically holds a team meeting every spring, outlining plans for the upcoming season and learning more about the players, particularly newcomers, and their games. Anderson, an accomplished soccer goalkeeper but relatively new to golf, was one of those newcomers three years ago.
"After I'd looked at all the information, I told the kids I had an idea of how they stacked up with each other," Peters said. "I wouldn't say it out loud, but if they wanted to know, come up and ask me later. Ty was a freshman, he had practically no competitive experience. I don't think the kids knew much about him as a golfer. His best round was around 90.
"He comes up and asks and I said, 'You're maybe 14th, 15th.' He looked at me like I was nuts. He came back later and asked me what it takes to be in the top six (varsity). The short story is he had enough desire and talent – he went from zero to 60 in about 3 seconds. I've never really seen a kid do that."
Anderson took some lumps during his freshman season, but he caught the golf bug in a big way.
"Looking back (at that meeting), it is a little funny, especially in the shoes I was in back then," Anderson said. "My experience level was low and my scores were pretty high. I guess that I showed him I wasn't necessarily ready then, but I was ready to put the work in."
And that's what he did, working tirelessly to become one of the top players in the region while earning a scholarship to Weber State.
Anderson is part of a talented Panthers squad – Bradley Mulder won the District 8 3A title earlier this week, followed by Benjamin Mulder and Anderson sharing second and Ben Jones in fourth – that figures to be a title contender at the State 3A tournament Tuesday and Wednesday at Liberty Lake.
Anderson's swift ascension was evident by the first tournament of his sophomore season. Unfortunately, it turned out to be the last event before the remainder of the schedule was erased by the COVID-19 pandemic.
"As I freshman I shot 96 at Sun Willows (in Pasco)," he said. "I shot 77 exactly a year later."
Anderson immersed himself in golf, so much so that he quit soccer because "every time I was at soccer practice, I wished I was playing golf."
"It was actually crazy. My dad started to get not necessarily worried, but he wanted me to balance my life out a little bit," he said. "I had to put everything into it to get caught up."
Anderson said another factor in his improvement was his dad surprising him with a Kalispel Golf and Country Club membership shortly after he chose golf over soccer.
"One Friday evening, I asked him if we could go play at Deer Park," Anderson said. "We're in the car and I said, 'Dad, you took a wrong turn.' He didn't say anything. He pulls into the country club, points to the member parking sign and pulls in. I was like, 'You are kidding me.' "
Anderson broke 80 for the first time as a freshman at a JV tournament. He broke par for the first time at a WJGA tournament the summer before his junior year with a 67 at Palouse Ridge.
Along the way, he transitioned from bashing balls on the range as far as possible to dedicating most of his time on his short game. He'd never had a lesson until reaching out to former Manito pro Steve Prugh, who helped develop more consistency in Anderson's swing. Prugh also emphasized wedges, chipping and putting. Anderson soon was practicing 4-foot putts for hours.
Anderson's promising junior season was interrupted with 14 days in quarantine from being in close contact to someone with COVID. That afforded him time to build a putting plank topped with a mat so he could practice putts up to 8 feet on a swifter surface than the carpet at the house.
The 6-foot-5 Anderson has had an interesting senior season. His scores in Greater Spokane League events haven't been as low as he'd like, but he's been strong in nearly every other tournament, winning five times.
"I don't think, competition-wise, I can ever remember a kid doing that," Peters said.
The Panthers have been pointing toward the state tournament after the last two were called off due to COVID.
"We've been building up for this for so long," Anderson said. "Everyone is putting in as much work as we can."
Which is essentially what Anderson has been doing since his freshman season.
Local journalism is essential.
Give directly to The Spokesman-Review's Northwest Passages community forums series -- which helps to offset the costs of several reporter and editor positions at the newspaper -- by using the easy options below. Gifts processed in this system are not tax deductible, but are predominately used to help meet the local financial requirements needed to receive national matching-grant funds.
Subscribe to the sports newsletter
Get the day's top sports headlines and breaking news delivered to your inbox by subscribing here.
---