Sports > NCAA basketball
College basketball 2022-23: As Washington State aspires for more, even more will fall on Charlisse Leger-Walker
Thu., Nov. 3, 2022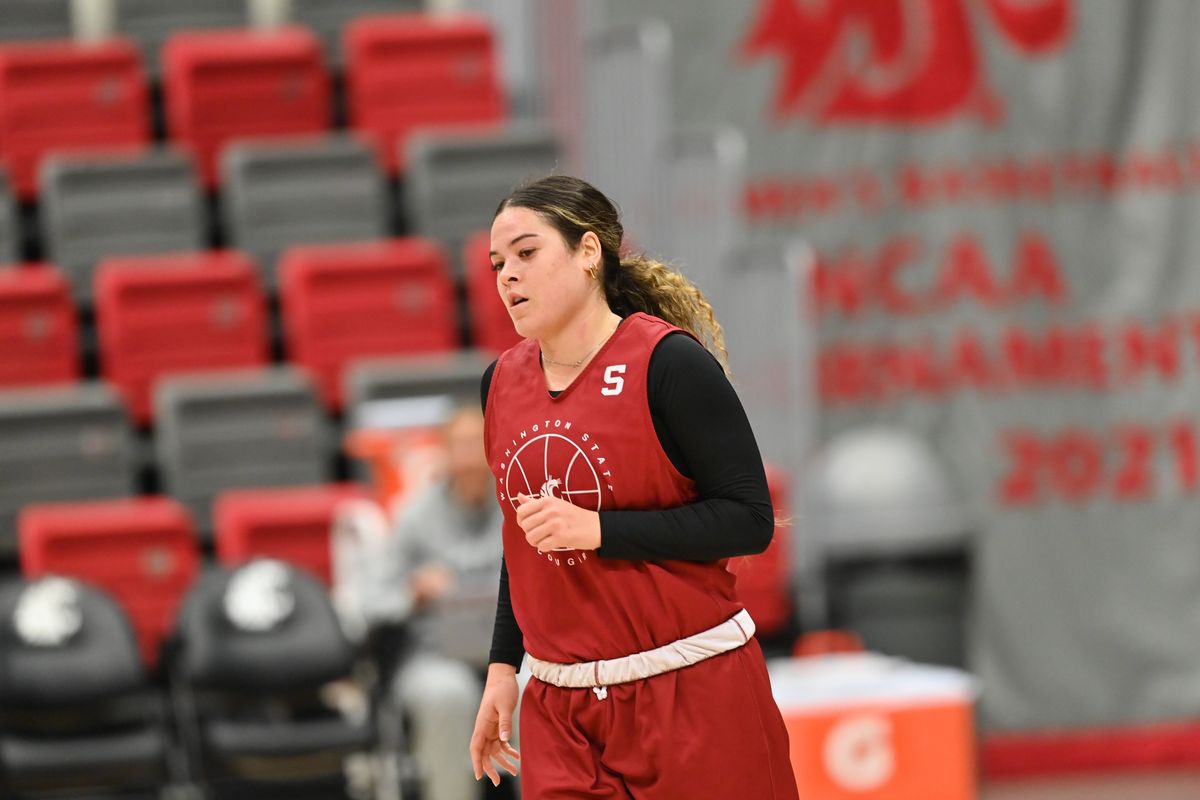 Washington State guard Charlisse Leger-Walker averaged 16.1 points and 5.2 rebounds per game a season ago. (Tyler Tjomsland/The Spokesman-Review)
Can Charlisse Leger-Walker do even more this year for Washington State?
It hardly seems possible. In the last two seasons, no one in the Pac-12 Conference has scored more points or made more of an impact than the junior guard from New Zealand.
Yet last week, WSU women's basketball coach Kamie Ethridge spoke of Leger-Walker becoming more of a leader – of raising her voice as well as her long-range shooting percentage.
And ideally that would happen with Leger-Walker spending less time on the floor than the 36 minutes she averaged last year.
That's quite a wish list, as Ethridge acknowledged during Pac-12 media days.
Last season, the Cougars won 19 games, tied for second in the Pac-12 and reached the NCAA Tournament for the second straight year.
However, the big minutes for the starters added up down the stretch as the Cougars fell early in the Pac-12 tournament and in a first-round NCAA loss to Kansas State.
There lies the conundrum.
"You want to be playing your best at the end of the year," Ethridge said. "But with how hard the Pac-12 is, they didn't get a lot of rest. But a shorter bench helps us win games, and if our bench isn't at that level, (the starters) will be playing long minutes again."
Considering where the Cougars have been, that's not the worst problem to have.
WSU has taken major strides since Ethridge was hired in 2018 to replace June Daugherty. After winning 20 games combined in her first two years, WSU went 12-12 in 2020-21 while dealing with the pandemic and a young squad.
The Cougars' 19 wins last year (11-6 in the Pac-12) were a major breakthrough, but Ethridge isn't satisfied.
"Three years ago, we had a really young team," she said. "Now we have four starters back. … I look at our team, and we're really experienced with better skills, better competitiveness and fitness.
"And we're hungrier than we've ever been before," said Ethridge, whose squad is picked to finish seventh in the Pac-12 by her fellow coaches and the media.
The returning starters are on par with the top tier of the Pac-12, except for Stanford.
Post Bella Murekatete, a 6-foot-3 senior and the first player from Rwanda to compete in the NCAA, is coming off a strong year and is on the Lisa Leslie Award national watch list for top center.
"She's worked hard on being in shape, and worked on being more explosive," Ethridge said. "You guys are going to see a different Bella this year."
Senior guard Johanna Teder of Estonia is a lock to start alongside Leger-Walker after averaging 10.2 points and shooting 33% from long range.
Teder also saw long minutes on the court, averaging 32 for the year. Still she scored in double figures in eight of 10 games during a crucial stretch of the Pac-12 season.
Forward Ula Motuga of Australia is back for a fifth year. Last year, she averaged six rebounds while shooting 47% from 3 on 47 attempts. Despite playing 31-plus minutes per game, Motuga was steady down the stretch and finished with a career-high 14 rebounds in the NCAA game against Kansas State.
However, the Cougars lose Charlisse's older sister, starting point guard Krystal Leger-Walker – hence the coaches' desire for Charlisse to raise her leadership role.
Leger-Walker is eager for the challenge.
"It's going to be hugely different without our floor general," Leger-Walker said of her sister. "For me personally, that means I have to step into that role."
Leger-Walker is among the most versatile players in the conference. No Pac-12 player has scored more points than Leger-Walker's 935 points over the last two seasons, and she's averaged 17.3 points in that span.
The Waikato, New Zealand, native has scored double-digit points in 47 of 54 of her career games and she has collected the most 20-point games for an active Pac-12 player with 23.
Those numbers were rewarded last year with a spot on the All-Pac-12 team.
Leger-Walker also vows to improve her 3-point shooting (27.2% last year) to ease Ethridge's fears that opponents will take away her drive game.
Others will need to pick up the slack on the perimeter. As a team, WSU shot 31.5% from long range last year.
"We have to do a better job of shooting the 3," Ethridge said.
WSU opens the season Nov. 7 at noon against Loyola Marymount of the West Coast Conference.
The Pac-12 season begins on Dec. 11 at Washington.
Local journalism is essential.
Give directly to The Spokesman-Review's Northwest Passages community forums series -- which helps to offset the costs of several reporter and editor positions at the newspaper -- by using the easy options below. Gifts processed in this system are not tax deductible, but are predominately used to help meet the local financial requirements needed to receive national matching-grant funds.
Subscribe to the sports newsletter
Get the day's top sports headlines and breaking news delivered to your inbox by subscribing here.
---