Sports > Gonzaga basketball
Recap and highlights: Gonzaga bounces back with 88-72 win over Kentucky in front of record crowd at Spokane Arena
Nov. 20, 2022 Updated Sun., Nov. 20, 2022 at 9:29 p.m.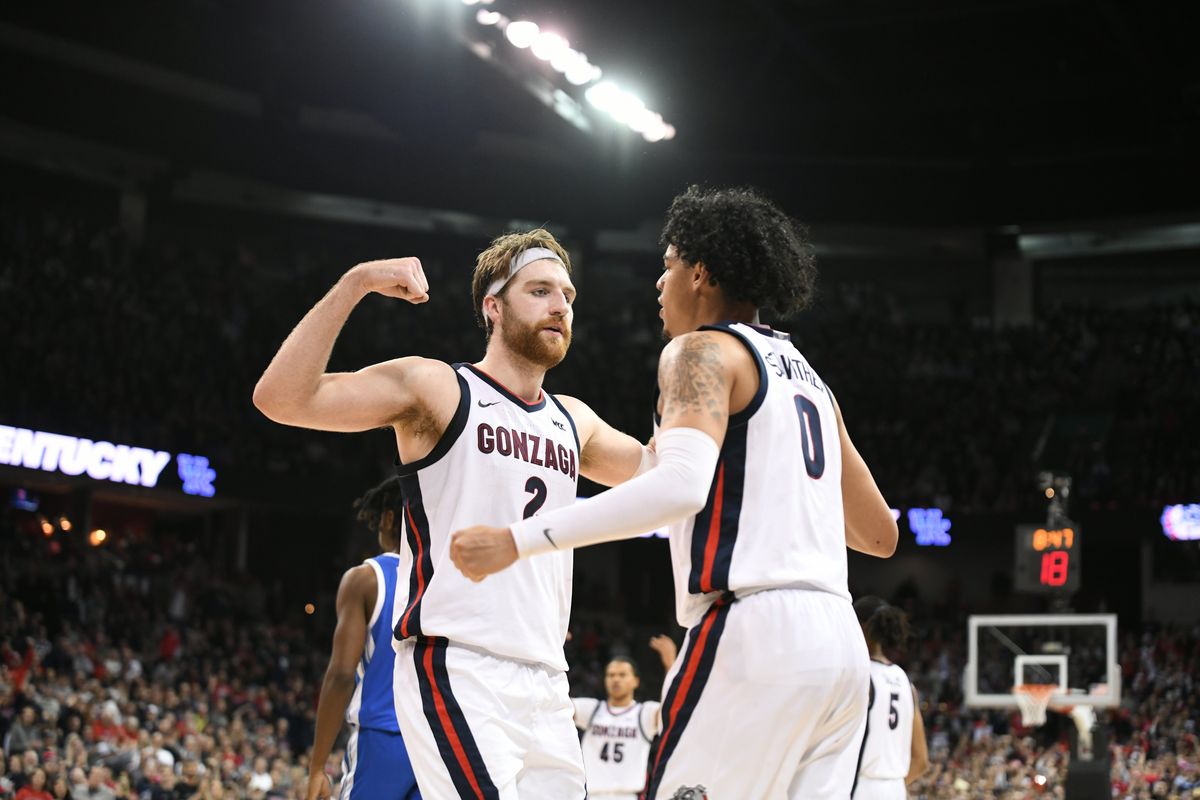 Gonzaga's Drew Timme, left, celebrate's Julian Strawther late game basket in the final minutes of the Kentucky-Gonzaga showdown game at the Spokane Arena Sunday, Nov. 20, 2022. (Jesse Tinsley/THE SPOKESMAN-REVIEW)
Gonzaga proved Wednesday's loss to Texas was a thing of the past, storming to a 16-point halftime lead and powering through the second for a 88-72 win over Kentucky in front of a historic crowd of 12,333 at the Spokane Arena.
The No. 2 Bulldogs (3-1) may take a hit in tomorrow's AP poll, but it won't drop far after the wire-to-wire win over the No. 4 Wildcats (3-2).
Julian Strawther had one of his best games as a Bulldog with 20 points and a career high 14 rebounds. Drew Timme and Rasir Bolton also turned in 20-point efforts, with 22 and 24, respectively.
The win wasn't without resistance. Kentucky shot a meager 25% from the field in the first half, but doubled that effort in the second, pulling within four points in the second period.
Reigning player of the year Oscar Tshiebwe was as advertised with 20 points and 15 rebounds.
Kentucky's comeback effort was stifled when Tshiebwe was sent to the bench around the 13-minute mark with four fouls.
Gonzaga extended its lead back to double figures and held off the Wildcats from there.
Anton Watson added to the strong performance with 10 points, 10 rebounds, two steals and a block. 
Gonzaga will continue to test itself in its nonconference slate with a trip to Portland to play in the Phil Knight Legacy tournament. The Bulldogs open against Portland State (2-2) on Thursday at 9:30 p.m. and with a win, will take on the winner of West Virginia and Purdue the following night.
ESPN / Youtube
First half
19:06 – GU 3, UK 0: Bolton dials up a 3-pointer to get the game going in the Spokane Arena. Packed house to watch Zags-Cats and not much of a "neutral" crowd.
14:40 – GU 12, UK 6: Zags start a perfect 5 of 5 from the field, before Hickman and Bolton miss a pair of a 3-pointers at the first media timeout.
Turnovers still an issue for GU with four in the first five minutes, but Kentucky struggling from the field, 2 of 9 to open the game. 
Timme leads with four points.
12:40 – GU 19, UK 6: Kentucky calls for a timeout as Strawther makes a 3-pointer to give the Zags a 9-0 run. 
11:11 – GU 21, UK 10: Strawther carrying the load with eight points at the U12 media timeout. Wildcats will shoot a pair of free throws when play resumes.
Zags have a 13-2 rebound advantage – aided by the Wildcats poor shooting in the early going. Five assists in the first nine minutes is a welcome sight for the Bulldogs, that are averaging 13 a game, much lower than last season.
7:46 – GU 25, UK 15: Scoring has slowed, but Gonzaga holds onto a 10-point lead at the U8 media timeout. Turnovers hurting the Bulldogs with eight to Kentucky's 0.
The Wildcats can't buy a shot though, just 4 of 21 from the field. They're getting points at the free throw line, making 7 of 8.
Strawther and Tshiebwe game-high scorers at eight apiece.
3:39 – GU 35, UK 21: Zags dictating the pace here at the U4 media timeout, looking to take a double-digit lead into halftime. 
Strawther up to 12 points, Timme at eight. Zags 15 of 26 from the field, while Wildcats are 7 of 28. Forced a pair of turnovers from Tshiebwe to get transition baskets.
Halftime
A statement has been made. Gonzaga has its energy back.
The Zags dominated the first half against Kentucky to take a 41-25 halftime lead at the Spokane Arena, punctuated by a high-flying dunk from Anton Watson.
Gonzaga shot 55.2% from the field and had 10 more rebounds than the Wildcats, who couldn't buy a shot in the first 20 minutes, shooting just 8 of 32 overall and missing all 10 3-point attempts.
Julian Strawther leads Gonzaga with 12 points and nine rebounds, ahead of Drew Timme with eight and Watson with six.
Aided by a ruckus home crowd, the Bulldogs will hope to keep its momentum in the second half and claim a bounce-back win after being rolled by Texas earlier in the week.
Second half
15:34 – GU 47, UK 35: Kentucky opens the second half strong and cuts into the Gonzaga lead at the U16 media timeout.
Wildcats convert 4 of 8 attempts in the period and make their first 3-pointer of the game.
14:26 – GU 47, UK 39: Few wants to talk about it as the Zags lead shrinks to eight on a dunk from Tshiebwe. 30 second timeout GU.
Tshiebwe has 18 points and 12 rebounds. Crowd has been taken out of it a bit on the past few possessions.
12:48 – GU 51, UK 45: Kentucky cuts the lead to four on a pair of 3s, but Strawther drives and gets Tshiebwe to commit his fourth foul and will head to the bench.
Strawther made both free throws.
8:48 – GU 67, UK 55: Gonzaga taking back control, extends its lead with Tshiebwe on the bench, back into double figures ahead of the U8 media timeout.
Timme leads with 21 points, Strawther follows with 17.
3:27 – GU 76, UK 67: Bonus free throws coming after the break, as Gonzaga is in control at the U4 media timeout.
Baring a late Kentucky run, the Zags should go on to win this one, holding off a second-half charge by the Wildcats and bouncing back from a midweek loss to Texas.
Starting 5
Pregame
Kentucky and Oscar Tshiebwe, Gonzaga and Drew Timme. It's a matchup made for March.
Early season losses aside, the No. 4 Wildcats (3-1) and No. 2 Bulldogs (2-1) will have the billing of a top five showdown at the Spokane Arena – at least until Monday's new AP Poll is released. The game tips off at 4:30 p.m. and will be broadcast on ESPN.
Gonzaga and Kentucky both lost last week, with the Wildcats dropping a 86-77 2OT result to Michigan State at the Champions Classic and the Bulldogs being rolled by Texas 93-74.
Gonzaga beat Michigan State 64-63 on the deck of the USS Abraham Lincoln on Nov. 11. A win would be a big boost either team as they continue challenging nonconference schedules.
Series history
A Gonzaga-Kentucky meeting is long overdue, with the two teams playing once before on Nov. 27, 2002. In that game No. 15 Kentucky beat No. 20 Gonzaga 80-72.
Team stats
Individual leaders
Game preview
More on the Zags
Local journalism is essential.
Give directly to The Spokesman-Review's Northwest Passages community forums series -- which helps to offset the costs of several reporter and editor positions at the newspaper -- by using the easy options below. Gifts processed in this system are not tax deductible, but are predominately used to help meet the local financial requirements needed to receive national matching-grant funds.
Follow along with the Zags
Subscribe to our Gonzaga Basketball newsletter to stay up with the latest news.
---