Sports > Gonzaga basketball
Recap and highlights: No. 24 Purdue stifles No. 6 Gonzaga 84-66 in semifinals of Phil Knight Legacy tournament
Nov. 25, 2022 Updated Sat., Nov. 26, 2022 at 12:02 a.m.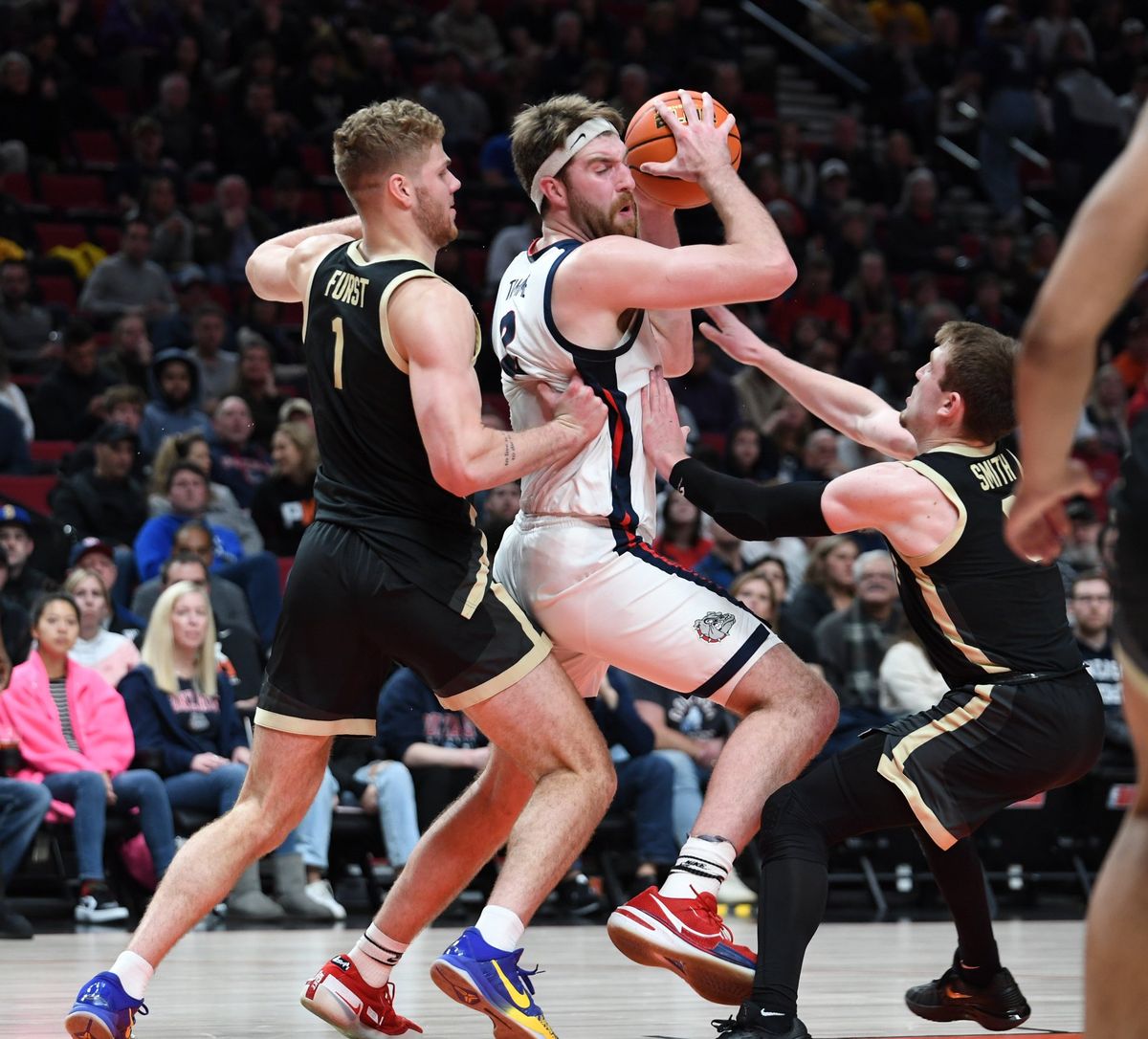 Gonzaga's Drew Timme, center, is doubleteamed in the paint by Purdue's Caleb Furst (1) and Braden Smith, right, early in the second round game between Gonzaga and Purdue at the Moda Center in Portland, Oregon. (Jesse Tinsley/The Spokesman-Review)
PORTLAND – Zach Edey proved to big of a challenge.
The 7-foot-4 center led a suffocating defensive effort for Purdue, which ran away with a 84-66 win over Gonzaga in the semifinals of the Phil Knight Legacy tournament at the Moda Center. 
Edey and the No. 24 Boilermakers (5-0) outrebounded the No. 6 Bulldogs (4-2) 46-31 and enjoyed a 12-point advantage on paint points.
Edey scored a team-high 23 points, while a pair of freshman guards, Loyer Fletcher and Braden Smith added 14 apiece behind him. 
Purdue, which advances to Sunday's championship against Duke, limited Gonzaga to 40% from the field and many inconsistent jump shots. The Zags didn't shoot a free throw until there was 9 minutes remaining in the second half. 
Drew Timme led Gonzaga with 22 points and Nolan Hickman added 15. The Bulldogs will play Xavier in the third place game at 4:30 p.m. on Sunday. That game will be broadcast on ESPN.
First half
15:43 – GU 10, PU 4: Gonzaga starts strong at the first media timeout, as Hickman leads with five points and Timme comes up with a big block on Edey. 
Gonzaga 4 of 6 from the field, while Purdue is 1 of 8.
11:29 – GU 14, PU 7: Strawther sinks a mid-ranger jumper and Smith commits a turnover at the U12 media timeout.
Gonzaga's hot shooting slowed a bit, especially on 3s, missing their last five 3-point attempts.
7:18 – GU 16, PU 14: Loyer connects on his second 3-pointer, to cut into the Zags lead and Timme is called on an over-the-back foul on the other end to reach the U8 media timeout. 
Gregg checked into the game and put in a good defensive shift on Edey, who is 1 of 5 and has no rebounds. 
Earlier a collision on the sideline sent a fan's beer flying through the air.
6:03 – PU 18, GU 16: Purdue takes its first lead of the game on a 9-0 run.
3:22 – PU 25, GU 23: Edey starting to get going to keep Purdue in front, now with eight points and two blocks at the U4 media timeout. 
1:33 – PU 31, GU 23: Gonzaga has gone ice cold, sending Purdue on an 8-0 run over the last 2:15 and forcing Few to call a timeout.
Halftime
Gonzaga led by as many as eight in the first half, but a 15-3 Purdue run sent the Boilermakers to a 33-28 lead over the Bulldogs at the Moda Center in Portland.
Gonzaga shot 34.3% from the field and converted 4 of 15 3-point attempts. Drew Timme leads with 11 points and Nolan Hickman added eight. Not much else working for the Zags on the offensive end.
Purdue's Zach Edey and Braden Smith lead with eight points apiece. The Boildermakers are shooting 38.7% and made 4 of 15 3s.
Gonzaga is yet to attempt a free throw.
Second half
15:38 – PU 42, GU 38: Timme pulling it back for Gonzaga, up to a team-high 15 points at the U16 media timeout.
A 7-0 run featuring back-to-back baskets from Timme and a transition 3-ponter from Bolton got the Zags back into it iin less than a minute. 
13:04 – PU 49, GU 40: Few goes with a smaller lineup to try and spread the floor and Purdue takes advantage, feeding Edey inside to extend its lead.
8:36 – PU 57, GU 45: Furst buries a corner 3 and the Boilermakers taker a 12-point lead and force Few to call for timeout.
Gonzaga's offense can't get anything going and will need a major turnaround to make a comeback. Zags shooting 35.8% and are yet to attempt a free throw.
4:48 – PU 68, GU 56: Gregg doing his best to keep Gonzaga in it with the Zags' last nine points, but Edey is proving too much.
The big man has 20 points, six rebounds and two blocks and will head to the free throw line for a pair.
3:41 – PU 72, GU 60: Gregg heads to the bench with his fifth foul at the U4 media timeout. Purdue will shoot bonus free throws when play resumes, looking like the Boilermakers will go on to win this one.
Starting 5
Pregame
Assuming the majority of Gonzaga fans were deep in the middle of a turkey-fueled slumber during last night's win over Portland State, here's what you missed:
• A comfortable 102-78 win over the Vikings, where the Zags took a 24-point lead in to halftime and shot 60% of the field and 50% on 3-pointers.
• Breakout games in the back court for Malachi Smith and Hunter Sallis, who totaled 23 and 12 points, respectively, thriving in a new-look small ball lineup.
• A season-high mark in assists at 24 and limiting turnovers to 11.
The win sets the stage for the No. 6 Bulldogs (4-1) to play No. 24 Purdue (4-0) in the semifinals of the Phil Knight Legacy tournament at 8:30 p.m. at the Moda Center in Portland. The game will be broadcast on ESPN.
The Boilermakers lost last year's leading scorer Jayden Ivey to the NBA draft, after a disappointing loss to St. Peter's in the Sweet 16.
Coach Matt Painter returned 7-foot-4 center Zach Edey to lead this years team, which handled West Virginia in the first round of the PKL 80-68. Purdue also has wins over Milwaukee, Austin Peay and Marquette. 
The winner will advance to Sunday's championship game at 12:30 p.m. against No. 8 Duke, which beat Xavier earlier today 71-64. The Blue Devils (6-1) beat Oregon State in the first round 54-51.
The loser of Gonzaga-Purdue will play Xavier in the 3rd place game at 4:30.
Series history
Gonzaga and Purdue have played twice in their all-time series, with the Boilermakers winning both games. Purdue beat Gonzaga in consecutive seasons, 83-68 on Nov. 18, 1998 and then in the Sweet 16 of the 2000 NCAA Tournament, where Purdue won 75-66.
Team stats
Individual leaders
Game preview
Last time out
Local journalism is essential.
Give directly to The Spokesman-Review's Northwest Passages community forums series -- which helps to offset the costs of several reporter and editor positions at the newspaper -- by using the easy options below. Gifts processed in this system are not tax deductible, but are predominately used to help meet the local financial requirements needed to receive national matching-grant funds.
Follow along with the Zags
Subscribe to our Gonzaga Basketball newsletter to stay up with the latest news.
---