Sports > Gonzaga basketball
Recap and highlights: Julian Strawther makes key shots to lift No. 6 Gonzaga past Xavier despite shaky second half
Nov. 27, 2022 Updated Sun., Nov. 27, 2022 at 8:55 p.m.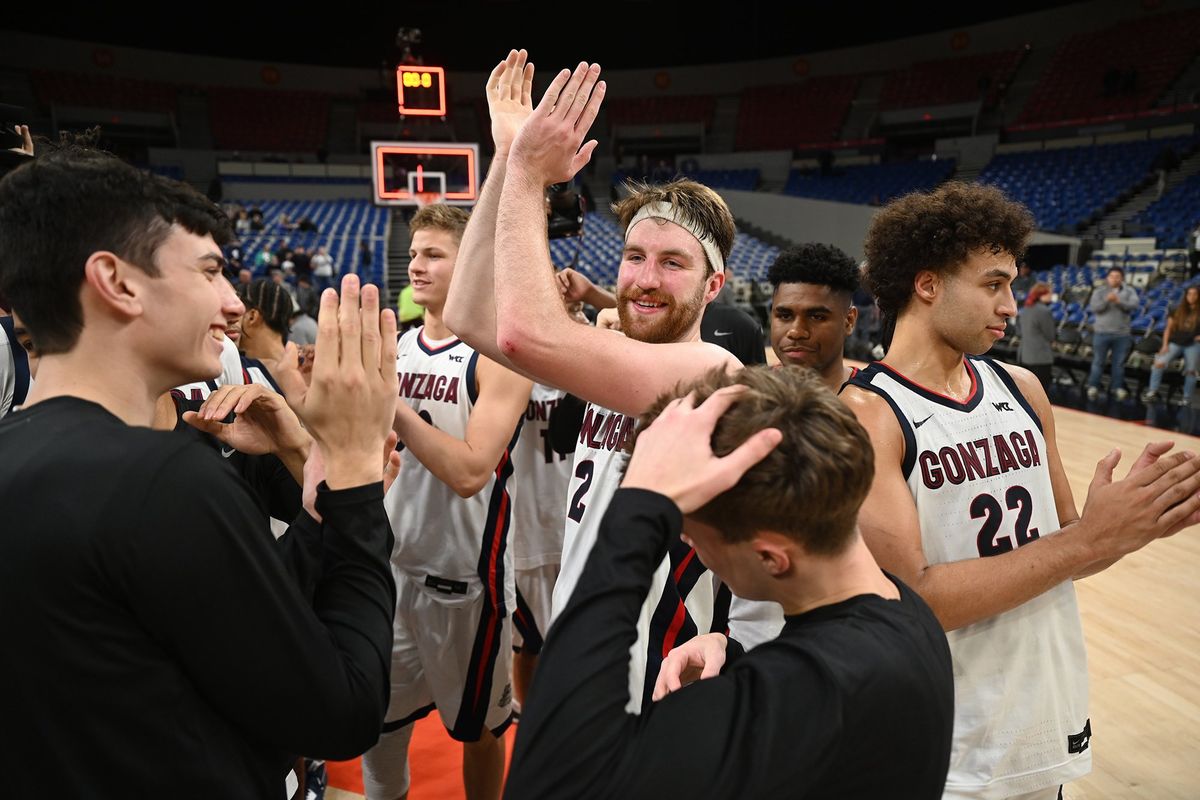 Gonzaga forward Drew Timme, center, and his teammates celebrate after a postgame huddle after Gonzaga beat Xavier for third place in the Phil Knight Legacy tournament in the Veterans Memorial Coliseum in Portland, Oregon Sunday, Nov. 27, 2022. (Jesse Tinsley/The Spokesman-Review)
PORTLAND – Gonzaga allowed another team to hang around and take the lead in the second half.
The difference this time?
The Bulldogs answered.
Julian Strawther made a pair of late 3-pointers as Gonzaga surged to a 88-84 win over Xavier for third place at the Phil Knight Legacy tournament.
The Musketeers (4-3) trailed by as many as 10 points in the second half, but went on an 18-4 run to take a 71-63 lead over the No. 6 Bulldogs (5-2) at the 6:19 minute mark.
Rasir Bolton and Nolan Hickman answered with back-to-back 3s and Drew Timme tied it at 71 with a pair of free throws.
Xaiver retook the lead with 3:46 remaining, then came Strawther's 3s to put the Zags in front for good.
Strawther finished with a team high 23 points and made five 3s on eight attempts.
Drew Timme added 18 points, but was far from his usual self, committing seven turnovers.
Xavier forward Jack Nunge scored 25 points with six rebounds.
Gonzaga will undoubtedly take a tumble in Monday's AP top 25 poll ahead of Friday's meeting with No. 7 Baylor (5-1).
That game will stream exclusively on Peacock at 5 p.m.
Youtube
First half
18:31 – GU 3, XU 2: Strawther gets the Zags on the board with a 3-pointer and play is stopped so Timme can put his shoe back on after it fell off on an earlier play.
15:28 – GU 11, XU 4: Zags jump out to an early lead, making 5 of 9 shot attempts. Musketeers just 2 of 8 from the field.
Timme and Watson lead with 4 points apiece.
11:27 – GU 16, XU 6: Xavier finally gets some points on a layup from Nunge, who will shoot a free throw when play returns from the U12 media timeout.
Musketeers start 2 of 13 from the field. Zags spreading the ball around with six assists on their seven baskets and five different scorers.
7:56 – GU 21, XU 16: Xavier starts to settle in and cuts the Zags lead to five at the U8 media timeout.
Gonzaga racking up turnovers and fouls now, up to five and six, respectively.
6:20 – GU 29, XU 18: Zags go on a quick 6-0 run and Xavier calls fir a timeout.
5:01 – GU 31, XU 23: Xavier comes back with five quick points and Gonzaga calls for a timeout.
2:54 – GU 37, XU 30: Both teams trading baskets and misses and a good pace when Timme commits his second turnover of the game to reach the U4 media timeout.
Fairly even half with the Zags making six 3-pointers to Xavier's three leading to the edge. Timme just 2 of 7 from the field.
Halftime
Gonzaga started strong, jumping out to a 10 point lead over Xavier, but got sloppy with the ball and let the Musketeers get back into the game and settled for a 40-34 lead at halftime.
Ben Gregg ended the half on a high note, coming in off the bench in place of turnover-prone Drew Timme, and making a 3-pointer a couple second before the buzzer.
Anton Watson leads seven Gonzaga scorers with 10 points. The Zags are shooting 46.9% from the field and are 7 of 14 on 3-pointers.
Xavier started just 2 of 13 from the field, but settled in for a 41.2 shooting percentage. Zac Freemantle leads Musketeer scorers with 10 points. 
Second half
17:40 – GU 48, XU 39: Timme shakes out of the funk and scores the Zags first eight points of the half. Xavier calls for a timeout.
15:52 – GU 50, XU 43: Xavier isn't going away as Freemantle gets a block on Gregg at the U16 media timeout.
11:41 – GU 58, XU 53: Gregg coming away with a lot a hustle plays and rebounds to keep Gonzaga in front. He has six rebounds (3 offensive) and two blocks.
9:17 – XU 62, GU 61: Nunge steals it from Timme – his sixth turnover – and makes a layup on the other end to give Xavier its first lead of the game. Gonzaga calls for a timeout.
6:58 – XU 69, GU 63: Xavier is on a 12-2 run and the Zags are stunned. Few calls for another timeout.
Xaiver now up to 57% on 3-pointers and 5 of 7 in the second half. Gonzaga has 13 turnovers, 7 by Timme.
5:03 – XU 71, GU 69: Xavier losses it out of bounds and the Zags have a chance to tie after going on a 6-0 run.
3:56 – XU 73, GU 73: Should be a good finish as Nunge and Strawther trade baskets going into the U4 media timeout.
Nunge has been the best player on the floor with 25 points on 11 of 16 shooting and six rebounds.
Timme leads five Zags in double figures at 16. Behind him is Strawther (15), Hickman (14), Bolton (12) and Watson (10).
1:29 – GU 81, XU 75: 8-0 run for Gonzaga as Strawther makes a pair of 3-pointers. Big answer by the Zags after going down in the second half.
0:30 – GU 83, XU 77: Zags getting to the free throw line and should pull this one out.
Starting 5
Pregame
Gonzaga has been hit-or-miss through its first six games.
The No. 6 Bulldogs (4-2) are bound for another tumble in the top 25 rankings following a loss to Purdue on Friday, but much like its first loss to Texas, has a chance at redemption and will face Xavier at 4:30 p.m. The game will be broadcast on ESPN.
The Musketeers (4-2) and Zags will play for third place in the Phil Knight Legacy tournament. Xavier lost to No. 8 Duke in the semifinal 71-64.
Things won't get easier for Gonzaga with a trip to Sioux Falls to play No. 7 Baylor coming Friday. 
Series history
Gonzaga holds a 4-1 all-time series lead over Xavier, winning the past four meetings since 2006. The Musketeers lone win came during the 1960-61 season.
Team stats
Individual leaders
Game preview
Last time out
Local journalism is essential.
Give directly to The Spokesman-Review's Northwest Passages community forums series -- which helps to offset the costs of several reporter and editor positions at the newspaper -- by using the easy options below. Gifts processed in this system are not tax deductible, but are predominately used to help meet the local financial requirements needed to receive national matching-grant funds.
Follow along with the Zags
Subscribe to our Gonzaga Basketball newsletter to stay up with the latest news.
---