News > Spokane
Crews will plow all residential streets in aftermath of record snow
Nov. 30, 2022 Updated Wed., Nov. 30, 2022 at 9:20 p.m.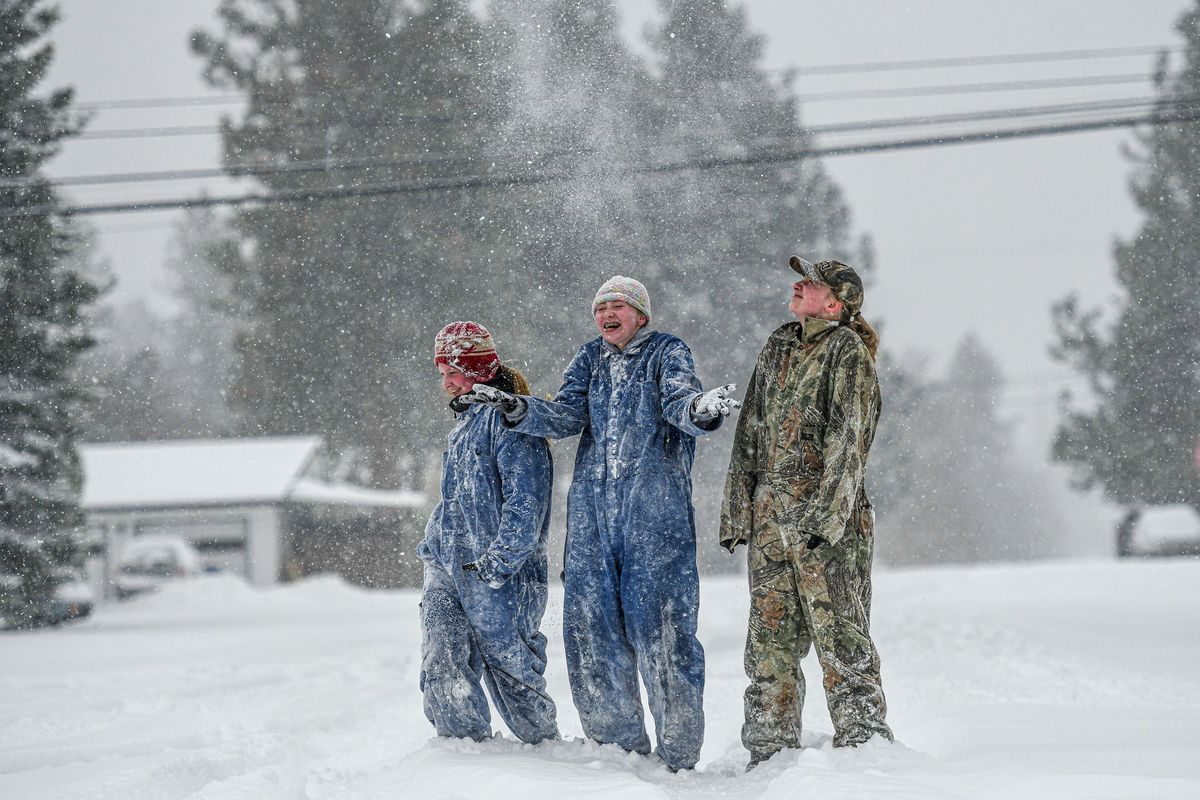 "We don't get very many (Kathy Plonka/The Spokesman-Review)
From staff reports
More than 7 inches of snow blanketed the Inland Northwest on Wednesday, closing schools and making for treacherous commutes as plows worked to clear main roads.
The Spokane International Airport measured 7.5 inches of snow as of 4 p.m., setting a record snowfall for the day. By mid-afternoon, above-freezing temperatures led to slushy streets.
Overnight lows in the 20s portend an icy start to Thursday.
Spokane Public Schools and others in the region are taking a wait-and-see approach before announcing whether to declare a second-straight snow day. A decision should come by 6 a.m.
Every school district in Spokane and Kootenai counties closed Wednesday, and most colleges also canceled classes.
Spokane, Spokane County and Spokane Valley announced they would begin plowing residential streets once arterials were fully clear. City of Spokane officials said that likely would happen early Thursday morning.
The National Weather Service doesn't expect much more snow from the storm, but 1 to 3 inches are possible through Thursday morning, said Ken Daniel, National Weather Service meteorologist, early Wednesday evening.
"The bulk has already fallen for us," he said.
Snow amounts varied, but the weather service received readings from observers of 8.3 inches on the South Hill, 11 inches on the Five Mile Prairie, 11 inches in Deer Park, 10 inches in Post Falls, 17 inches in Rathdrum and 11 inches near Sandpoint.
Plowing efforts across Spokane
Spokane public works spokeswoman Kirstin Davis said city crews were out since Tuesday night treating the roads. Thirty-eight city vehicles were working across the city's 2,200-lane miles to improve road conditions on Wednesday morning, she said.
"It certainly helps a lot when schools are canceled, because it reduces the traffic that is out there and it allows our plows to do the work they need to do and not get stuck in traffic," she said.
Plowing won't stop until all streets have been cleared, which usually takes about three days.
The city prioritizes its main arterials and hills before moving to work on schools and hospitals, and then on to neighborhoods, she said. Residential plowing is expected to begin early Thursday, the city said in a news release.
Drivers are asked to park their vehicles on the side of the street with odd-numbered addresses to make room for plows.
Spokane County snow plows are working on clearing priority routes in all four county districts, the county public works department said in a release. It could take several days before residential areas are plowed, the release said.
Spokane Valley was scheduled to begin a full plow of 624 miles of its city streets beginning at 5 p.m. Wednesday, according to a release from City Hall. Valley plow crews will work through the night. Full residential plows in Spokane Valley can take two to three days.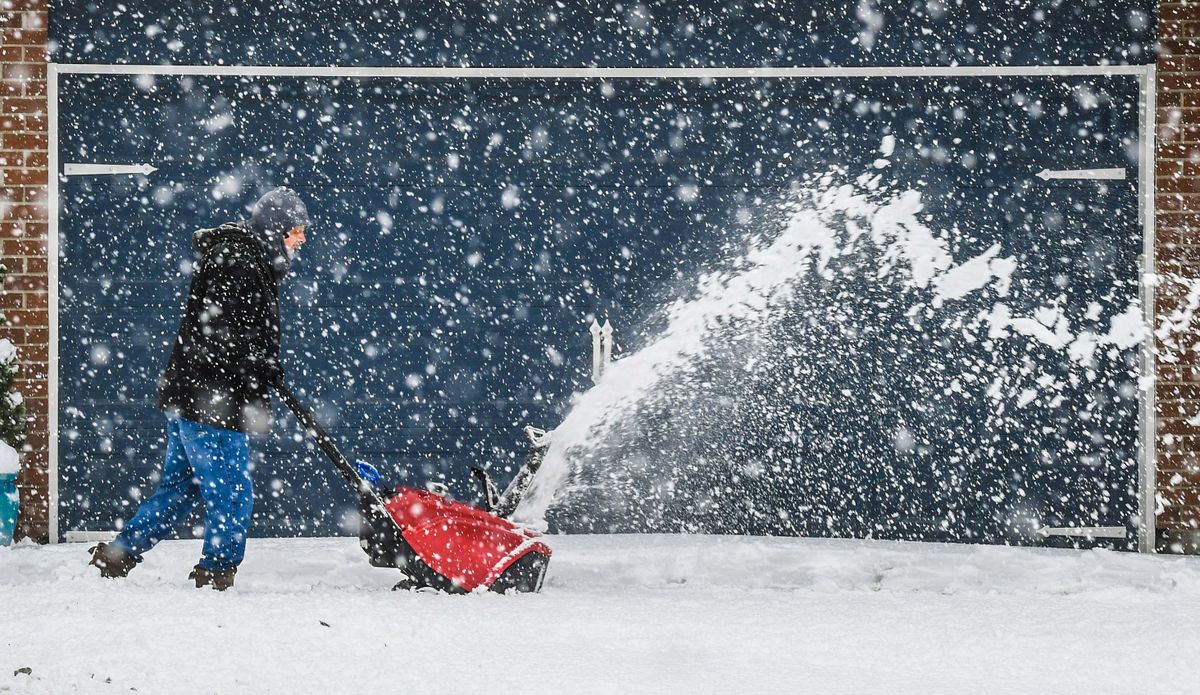 Tom McCulloch battles the Wednesday storm that dumped several inches of snow as he blows six driveways for his South Hill neighborhood near Chase Middle School, Nov.30, 2022 in Spokane. (DAN PELLE/THE SPOKESMAN-REVIEW)
Road conditions
Interstate 90 was covered with snow early Wednesday, along with most streets in the Spokane area. But I-90 was mostly wet through Spokane and Spokane Valley by mid-day.
A semitruck jack-knifed eastbound on I-90 at about 1 p.m. and blocked multiple lanes at the top of Sunset Hill, Washington State Patrol Trooper Ryan Senger said. Collisions were also reported at the interchange of U.S. Route 2 and I-90, he said. Snow drifts affected some commuters west of Cheney early on Wednesday, he said.
As of noon Wednesday, there were 32 collisions reported to the state patrol in Spokane County and 21 others throughout Adams, Ferry, Lincoln, Pend Oreille, Stevens and Whitman counties, Senger said.
Overall, the number of accidents wasn't "too bad," he said.
"If you don't have to go out, don't," he said. "If you do absolutely have to go somewhere, your commute could take twice as long with roadway conditions."
There were six collisions in the city of Spokane between midnight and 9 a.m., police department spokeswoman Julie Humphreys said. The roads were mostly covered in compacted snow and not ice, which helped reduce the number of collisions, she said. People are also used to avoiding the roads and working from home during COVID when necessary, she said.
By mid-afternoon, arterials downtown were mostly wet and slushy.
Other closures
Spokane Public Schools and Central Valley School District both said they would assess the road conditions early in the morning before making a decision on whether to open schools, spokespeople for the districts said.
Snow also fell Wednesday morning on the West Side and in the Cascades. Snoqualmie Pass was closed eastbound Wednesday morning. It was back open Wednesday evening, but chains were required in both directions. Chains also were required Wednesday evening on Stevens Pass.
There were a few flight cancellations and multiple delays at the Spokane International Airport by Wednesday afternoon, although many flights were still scheduled.
So many calls came into the city's 311 system Wednesday requesting sidewalk shoveling assistance for qualifying elderly residents that a volunteer organization was overwhelmed, said city spokesperson Brian Coddington. The city instead recommended that people seek assistance from family and neighbors.
Records
Official readings of snowfall for Spokane are recorded at the airport. Wednesday's reading as of 4 p.m., 7.5 inches, breaks the record for Nov. 30 in Spokane. The previous record was 6.1 inches in 1975. The most that ever has fallen in a single November day in Spokane is 9 inches in 1973.
Including Wednesday's snow, about 18 inches fell in November. Depending on the final readings, that will make the month the seventh-snowiest November since records began in 1893.
Local journalism is essential.
Give directly to The Spokesman-Review's Northwest Passages community forums series -- which helps to offset the costs of several reporter and editor positions at the newspaper -- by using the easy options below. Gifts processed in this system are not tax deductible, but are predominately used to help meet the local financial requirements needed to receive national matching-grant funds.
Subscribe now to get breaking news alerts in your email inbox
Get breaking news delivered to your inbox as it happens.
---