A&E
You know Daniel McLay's face but until now you didn't know his name
Oct. 22, 2022 Updated Thu., Oct. 27, 2022 at 7:57 p.m.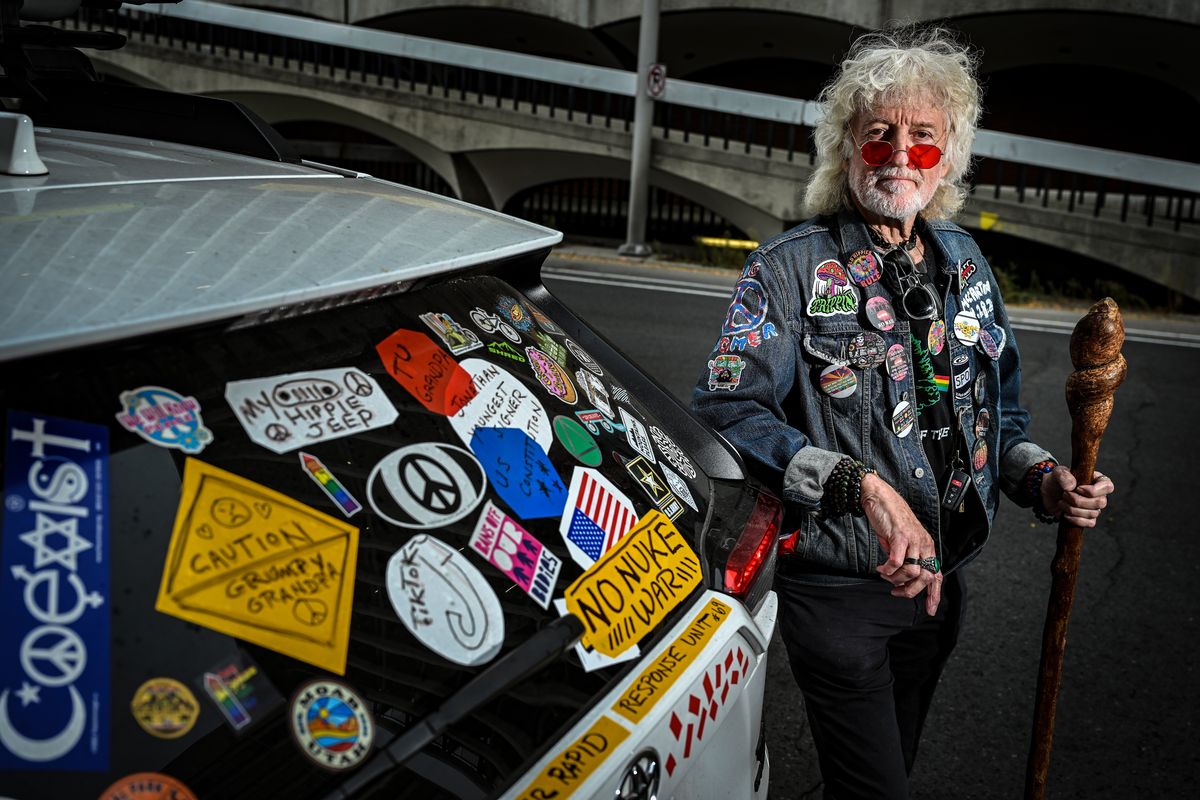 Daniel McLay, one of Spokane's true characters, has lived on the South Hill since 1984. McLay is a retired nurse, who is now a DJ and attends just about every protest in the city. (COLIN MULVANY/THE SPOKESMAN-REVIEW)
There's a reason Daniel Wallace McLay looks familiar.
The retired nurse turned DJ is
ubiquitous at local protests. Recently McLay, 70, was front and center at a threat of nuclear war demonstration in front of the Federal Building.
"It's an important issue," McLay said while relaxing at Indaba Coffee. "We're looking at some big conflicts with Russia and China. So I took to the streets to demonstrate against nuclear war and militarism here. I feel sorry for young people since they have so many challenges. A lot of people came out to demonstrate but there weren't many young people present. But I was there and I didn't care about being arrested. I've been arrested a number of times. I love civil disobedience."
The Detroit native, who has lived in Spokane since 1984, just doesn't talk a good game. McLay, who has been present at local Black Lives Matter and abortion rights demonstrations, has been placed behind bars on a number of occasions.
The South Hill resident was arrested in 2014 along with 15 other people who were protesting immigration laws on Post Street. "When I was being fingerprinted the policeman there said, 'Sir, you should do what the po po (the police) says," McLay said while laughing.
McLay could publish a coffee table book on the various jails he's inhabited across the country. The Forrest Gump of demonstrations was first arrested in the Motor City in 1968 after Martin Luther King Jr. was assassinated.
"There were 150 of us demonstrating and we were all arrested," McLay said. "I had no problem with it."
In 1981 McLay was detained in a San Luis Obispo, California cell after participating in a "No Nukes" demonstration. McLay did time along with a couple of new celebrity friends, singer-songwriter Jackson Browne and the late actor Robert Blake.
"There were 1,800 of us and we were stuck in a gym," McLay said. "It was funny seeing Jackson Browne and Robert Blake, who was a big star at the time because (his TV show) 'Baretta' was popular at the time."
Jac Archer, who organizes for Spokane Community Against Racism and Progressives of Spokane County, is impressed with McLay's dedication to demonstrating.
"Anyone who takes the time to really be involved in protests like him is impressive," Archer said. "It's a level of dedication that is certainly needed in our community."
Liz Moore, the Peace and Justice Action League of Spokane executive director, concurs with Archer. "You're talking about long-term engagement when you're talking about him (McLay) and that's really important," Moore said. "Demonstrating is never a sprint. It's more of a continuous relay race."
When McLay isn't behind bars he leads an interesting life. When McLay turned 18 he tried to sign up for service in the Vietnam War. "But they wouldn't take me," McLay said. "I was a high school drop out who smoked weed and had long red hair."
McLay left Detroit to become a whitewater guide in North Carolina before the activity was popular. "I love nature," McLay said. "I love the outdoors. I learned whitewater rafting down around where the film 'Deliverance' was shot (in Georgia) and the red necks wondered what we were doing."
McLay backpacked across the country. "I climbed a mountain in Colorado and hit the peak at 14,000 feet," McLay said. "I saw so much."
The freewheeling hippie moved to San Francisco during the late '70s. When the cost of living became exorbitant in the Bay area, McLay relocated to Spokane.
"When I first visited here in 1983, I just loved it," McLay said. "The Pacific Northwest felt like home. I knew this is where I wanted to live and work, and so I've spent more than half of my life here with no regrets."
The retired nurse is a huge proponent of Spokane. "I love this city," McLay said. "It's changed so much since I arrived here. A lot of people forget what Spokane was like during the mid-80s. People forget that the historic Davenport Hotel was almost torn down. I remember what it was like in there during the '80s since I worked with the Visiting Nurse Association for 16 years. I remember going to the Davenport and it was so depressing. … It's so different than it is today where folks from out of town and want to stay at the Davenport and for good reason. As depressing as it was back then it wasn't scary or creepy then like the Merlin (Hotel) was."
McLay recalls what it was like visiting patients in downtown hotels, such as the Merlin, where guests lived week to week. "It was terrible," McLay said. "People lived in single rooms with a bathroom down the hall. Retired loggers, ranch hands and railroad workers would live in those flophouses."
(The Merlin is now home to the Spokane Dream Center, 29 W. Second Ave., and houses men in an addiction recovery program.)
Conditions were so grim that McLay probably should have demonstrated but he was busy toiling as an angel of mercy.
"But so much has been gentrified downtown," McLay said. "You can't live downtown unless you have money now. Nothing is cheap there. Downtown is a place for young people."
However, often inside a crowd of young adults a tall man with a shock of gray hair is right in the middle of a gathering in the center of the city.
"That's me, and I love being around young people," McLay said. "There is so much excitement that they generate."
Since becoming vegan three years ago, McLay has plenty of energy.
"I had a bunch of health issues until I changed my diet dramatically," McLay said. "Since I've eliminated animal fats and all of the stuff we poison ourselves with, I feel great."
So Spokane will see more of McLay but not necessarily at demonstrations. "I like being with my grandchildren downtown," McLay said. "One of my children, Dee Dee, she lives on the North Side with her husband and children. So I'll take my grandkids to the parks here, which are world class. I just love how this city has developed. It's beautiful. When I was growing up in Detroit, it was like the Paris of the Midwest. People forget that or are unaware of it. My grandparents used to take me to amazing museums and department stores and now I return the favor."
McLay has a fascinating family tree. He is a descendant of Jonathan Dayton, the youngest signer of the Declaration of Independence and from whom the city of Dayton, Ohio is named. Henry Wallace, his great uncle, was President Franklin Delano Roosevelt's secretary of agriculture during the '30s and vice president during the '40s. "I have some intersting people in my family who are deceased," McLay said. "I have some interesting people in my family who are alive, like my grandchildren. I love being with my grandchildren in Spokane. It's so great to be part of this city. There is no place I'd rather be than Spokane."
When he's not out with his grandchildren, look for McLay on the streets protesting climate change, racism and the threat of nuclear war. But you also might see the colorful, energetic glad hander spinning records.
"I have a gig coming up at Rose Pointe Assisted Living," McLay said. "I'll be playing material from the '40s and some classic rock. I give them whatever they want to hear. I love to get in front of people and perform."
The entertainment bug bit McLay during the late '90s when his children attended Ferris High School. McLay took part in the Ham on Regal productions, an annual show in which parents and staff present original music and comedy bits.
"I tap danced, sang and acted in skits," McLay said. "I realized that I didn't have to be a professional entertainer to entertain. I'm not embarrassed that I'm not a pro and that I'm goofy and I have fun."
McLay has a blast creating Tik Tok videos. His creations are comprised of messages, which are serious, such as support for Ukraine, and anti-nuclear war clips and the wacky give seniors an embrace. "We need hugs too," McLay said. "Hugs are good. So is social media. I embrace what young people are into. I embrace life here in Spokane."
Local journalism is essential.
Give directly to The Spokesman-Review's Northwest Passages community forums series -- which helps to offset the costs of several reporter and editor positions at the newspaper -- by using the easy options below. Gifts processed in this system are not tax deductible, but are predominately used to help meet the local financial requirements needed to receive national matching-grant funds.
Subscribe to the Spokane7 email newsletter
Get the day's top entertainment headlines delivered to your inbox every morning.
---