Sports > WSU football
Recap and highlights: No. 14 Utah holds off Washington State's fourth-quarter comeback with Cameron Rising sidelined
Oct. 27, 2022 Updated Thu., Oct. 27, 2022 at 11:07 p.m.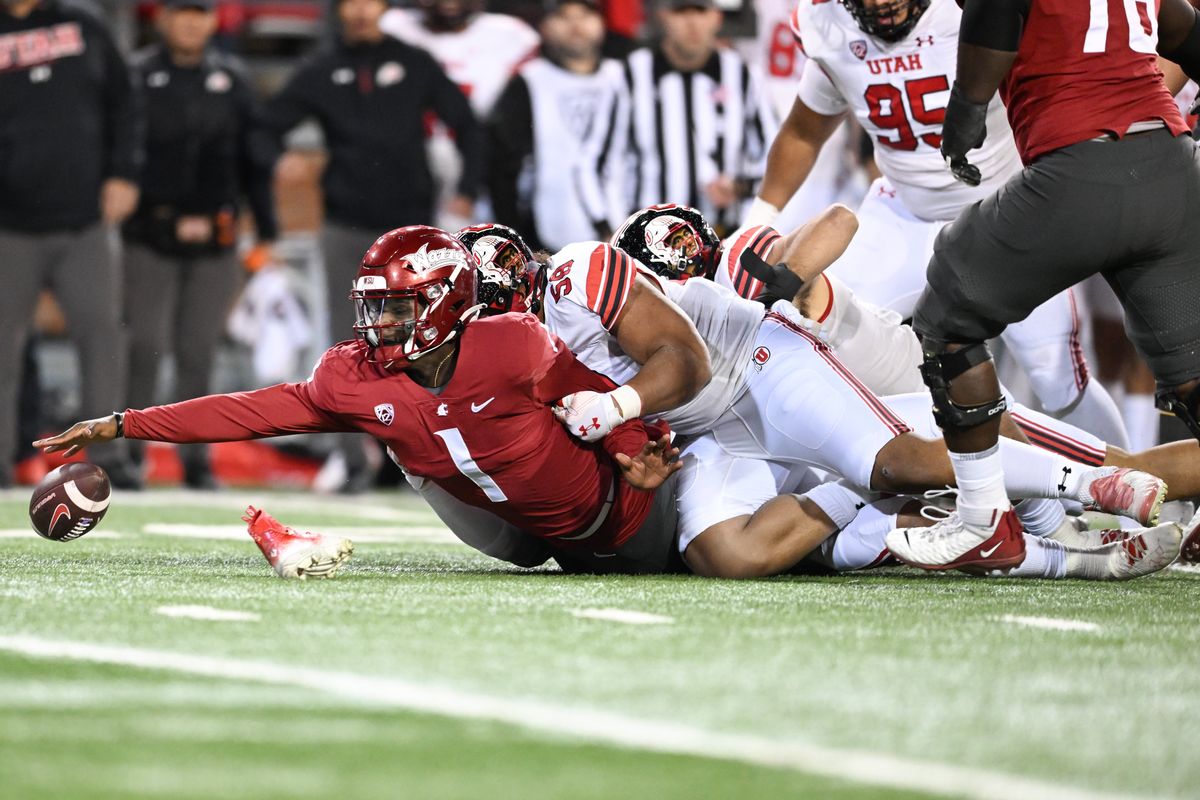 Washington State Cougars quarterback Cameron Ward (1) loses control of the ball as he is brought down by Utah Utes defensive tackle Junior Tafuna (58) as a Utah shoe goes flying in the chaos during the first half of a college football game on Thursday, Oct. 27, 2022, at Martin Stadium in Pullman, Wash. (Tyler Tjomsland/The Spokesman-Review)
PULLMAN – Utah's offense trotted onto the field with its first-team All-Pac 12 quarterback watching from the sideline, setting up a prime opportunity for an upset.
Washington State couldn't rise to the occasion.
The No. 14 Utes leaned on their rushing attack and stifled the Cougars offense en route to a 21-17 win on Thursday night.
Utah (6-2, 4-1 Pac-12) entrusted sophomore walk-on Bryson Barnes with the quarterback duties as Cameron Rising was surprisingly scratched after pregame warm-ups.
Barnes completed 17 of 28 attempts for 175 yards and a touchdown. He was backed by a rushing attack that handled 41 carries for 171 yards and two scores.
Meanwhile, the Cougars (4-4, 1-4) continued an ineffective offensive spell that dated back to the second half against USC on Oct. 8. WSU had scored 17 points over its previous nine quarters leading into the fourth against Utah.
Cougars quarterback Cameron Ward got things going with a 7-yard touchdown run early in the fourth quarter.
The Cougars forced a fumble on Utah's next drive, but the comeback was for naught, as WSU was unable to find the endzone on a drive starting at the Utah 35.
Utah recovered an onside kick after a Dean Janikowski field goal and ran out the remaining 4 minutes of the game.
Ward completed 27 of 31 attempts for 222 yards and one touchdown. The problems mounted for WSU on third down, where they converted 3 of 10 attempts.
Ward was sacked four times, bringing the Cougars rushing total to a meager 42 yards on 19 attempts.
WSU hung with Utah for most of the first half, but muffed a punt late in the second quarter, setting up the Utes for a short scoring drive.
The Cougars nearly held the Utes to a field goal, until Brennan Jackson was charged with targeting on a would-be third-down stop.
Jackson was ejected and the Utes punched in a 1-yard touchdown run to take a 14-7 lead into halftime.
The Cougars have dropped four of their last five games, after starting the season 3-0. They travel to Stanford next week for a 12:30 p.m. kickoff against the Cardinal, with four games to earn two wins and secure bowl eligibility.
Youtube
First quarter
15:00 – UU 0, WSU 0: The Cougars win the toss and defer to the second half. WSU will defend the west goal.
Crowd at Martin Stadium looks sparse as kickoff approaches.
14:06 – UU 0, WSU 0: Surprising start for the Utes offense as usual starting quarterback Cameron Rising is on the sideline wearing a pinnie with his helmet off.
Sophomore Bryson Barnes is in his place. 
8:37 – UU 0, WSU 0: The Utes lengthy opening drive ends with nothing to show for it. Utah goes 56 yards over 14 plays and Jadon Redding's 37-yard attempt misses wide left.
The Utes leaned on their run game with Cameron Rising on the sideline, gaining 31 yards on eight attempts. Bryson Barnes completed 3 of 5 passes for 25 yards on the drive.
Cougars take over on their own 27.
6:22 – UU 0, WSU 0: The Cougars offense doesn't look like it benefited from the bye week.
WSU opened with a 2-yard loss on a wide receiver screen and promptly went 3-and-out on its first possession. It's been a common sight for WSU, which produced 10 points in six quarters leading into tonight's game.
Utah starts on its 40.
4:49 – UU 0, WSU 0: The Cougars defense comes up with a stop and forces a Utah punt, where WSU takes over on its 17.
The Utes picked up a first down, but were stopped on the next three plays after two incompletions from Bryson Barnes.
1:54 – UU 0, WSU 0: Cameron Ward is sacked on third down and the Cougars are forced to punt near midfield.
Ward completed a 21-yard pass to De'Zhaun Stribling to get the drive going, but he held onto the ball too long on 3rd-and-2.
Utah starts on its own 17.
0:25 – UU 0, WSU 0: We've got the makings of a defensive struggle as the Cougars force a 3-and-out and the Utes punt to the WSU 39. 
Cougars will have a chance to take the zeros off the scoreboard in the second quarter.
Second quarter
13:24 – WSU 7, UU 0: Utah's safety falls down in coverage to allow an easy 29-yard touchdown from Cameron Ward to De'Zhaun Stribling.
Ward has completed 7 of 7 attempts, many screen passes, for 71 yards in the early going. Two plays before the touchdown Jaylen Jenkins picked up a pivotal third down conversion, using a burst of speed to take the edge for a 4-yard gain.
9:49 – UU 7, WSU 7: The Utes answer right back with a 7-play 65-yard drive capped by a Ja'Quinden Jackson rushing touchdown.
Bryson Barnes has been mostly inaccurate at quarterback completing 4 of 9 attempts, but made a pretty pass to Money Parks for 31 yards on third down earlier in the drive.
5:06 – UU 7, WSU 7: The Cougars turn down a lengthy field goal attempt and go for it on 4th-and-11, where Cameron Ward takes his third sack of the half – this one a 10-yard strip sack – and Utah starts on its own 44.
2:42 – UU 7, WSU 7: Costly mistake on a punt return as two Cougars run into each other and the ball bounces off a WSU player and is recovered by the Utes at the WSU 25. 
0:20 – UU 14, WSU 7: Jaylon Glover capitalized on a penalty and punches in a 1-yard touchdown right before halftime.
A targeting penalty against Brennan Jackson extended the Utah drive and set the Utes up with a first and goal instead of a field goal attempt. Jackson was ejected.
Halftime
Without its first-team All-Pac 12 starting quarterback, Utah found a way to take a lead into halftime.
The No. 14 Utes capitalized on a couple of Cougars mistakes and leaned on its run game to lead Washington State 14-7 after a scoreless first quarter.
Utah has ran 23 times for 92 yards with Cameron Rising watching from the sideline. Sophomore walk-on Bryson Barnes has completed 7 of 15 attempts for 70 yards in his place.
Washington State opened the scoring with a 29-yard pass from Cameron Ward to De'Zhaun Stribling, but the Utes answered right back with a touchdown drive of their own.
Then right before halftime, the Cougars muffed a punt and set the Utes up for an easy scoring drive. WSU nearly forced a field goal, but Brennan Jackson was called for targeting on a third down stop to extend the Utah drive and set up a short touchdown run with 20 seconds remaining.
The Cougars will receive the second half kickoff.
Third quarter
7:05 – UU 14, WSU 7: On the other end of the field the Cougars come away with a big fourth down stop of their own, as Daiyan Henley drops Ja'Quinden Jackson on a rush up the middle.
Utah comes up empty after an 8-play 53-yard drive.
5:24 – UU 14, WSU 7: Cameron Ward is sacked on first down for the fourth time tonight and the Cougars drive goes nowhere quick.
Utah takes over on its own 40.
1:24 – UU 21, WSU 7: Bryson Barnes completes a 5-yard touchdown to Dalton Kincaid to give the Utes a two-score advantage nearing the fourth quarter.
Fourth quarter
14:17 – UU 21, WSU 14: Cameron Ward runs up the middle for a 7-yard touchdown to cut into the Utah lead.
Ward completed a 39-yard pass to Tsion Nunnally at the end of the third quarter to set up the score.
11:55 – UU 21, WSU 14: This time a targeting call goes WSU's way, ejecting Utah's RJ Hubert and giving the Cougars a first down at their own 43.
9:21 – UU 21, WSU 14: Cougars drive stalls and they punt into the endzone for a touchback. 
7:49 – UU 21, WSU 14: Ja'Quinden Jackson fumbles and the Cougars recover at the Utah 35, setting them up with a prime scoring opportunity.
4:48 – UU 21, WSU 17: Dean Janikowski boots a 42-yard field goal through the uprights. The Cougars will need a stop and a touchdown drive to complete the comeback.
Pregame
Who needs to watch Tom Brady and Lamar Jackson go head-to-head when the Pac-12 is in action?
Washington State hosts Utah on Thursday night for a rare mid-week showdown at 7 p.m. on FS1.
The Cougars (4-3, 1-2 Pac-12) and No. 14 Utes (5-2, 3-1) are both coming off bye weeks, recovering from opposite sides of conference results.
WSU's last outing was a 24-10 loss to Oregon State, where the Cougars offense continued to struggle. Meanwhile, Utah was riding high off a thrilling 43-42 upset of USC.
The defending Pac-12 Champion Utes are looking to repeat for the first time in a full season since Stanford in 2012-13. Utah, along with USC and UCLA have one conference loss apiece, while Oregon is the lone unbeaten in Pac-12 play.
WSU hasn't played a Thursday night game since the 2017 Holiday Bowl – a 42-17 loss to Michigan State – and last played a regular season Thursday game to open the 2014 season against Rutgers, a 41-38 loss. The Cougars are 25-8-2 all-time on Thursdays.
Series history
The Utes hold a 10-9 all-time series advantage over the Cougars, winning each of the last three meetings. The Utes also hold a 5-4 series lead since joining the Pac-12.
Utah won last year 24-13 in Salt Lake City, scoring 17 unanswered points in the second half, after the Cougars held a 13-7 lead early in the third quarter. Utah quarterback Cameron Rising was ineffective completing 13 of 23 attempts for 137 yards. 
Team stats
Individual leaders
Game preview
More on the Cougs
Local journalism is essential.
Give directly to The Spokesman-Review's Northwest Passages community forums series -- which helps to offset the costs of several reporter and editor positions at the newspaper -- by using the easy options below. Gifts processed in this system are not tax deductible, but are predominately used to help meet the local financial requirements needed to receive national matching-grant funds.
Subscribe to the Cougs newsletter
Get the latest Cougs headlines delivered to your inbox as they happen.
---