Single mother of three buys innovative house through new Habitat for Humanity and concrete association pilot project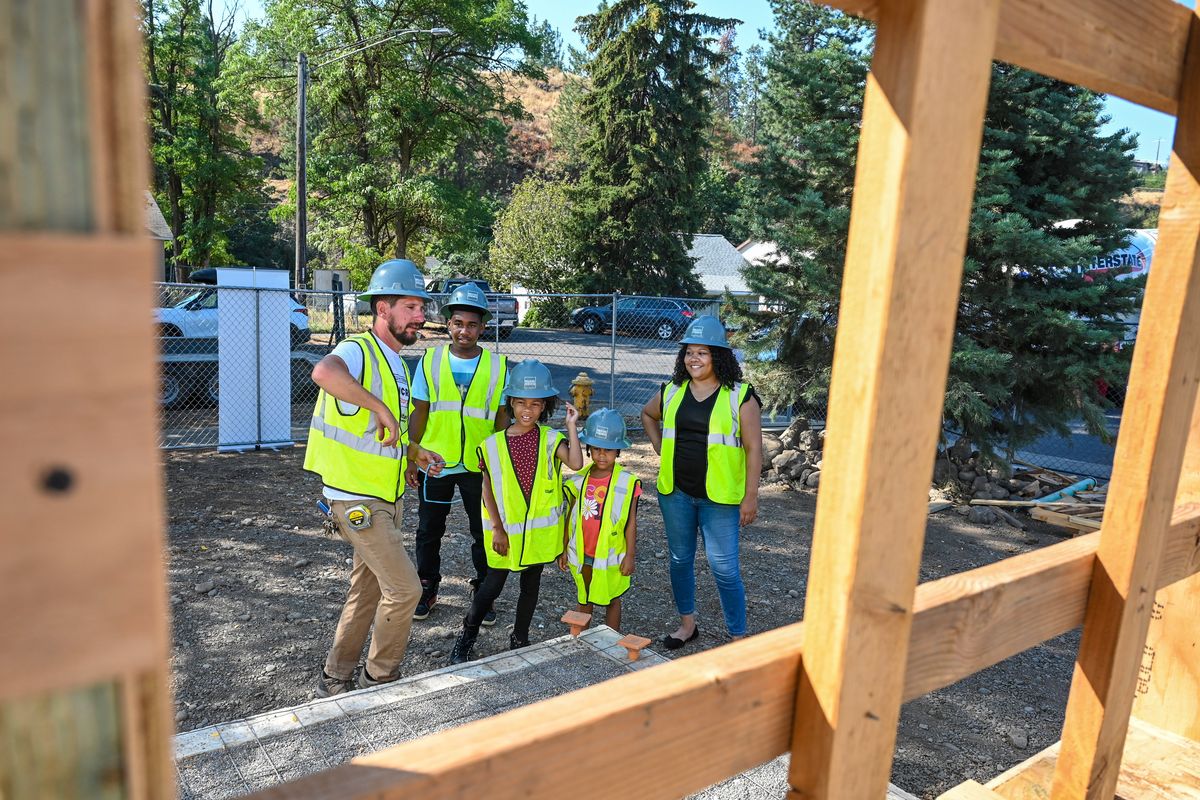 Kelsey McCarthy, a single mother of three, has felt myriad emotions during the year and a half it's taken to become a homeowner through a new Habitat for Humanity project.
"It's excited, it's shocked, it's being humbled and blessed. I don't know, it's like an out-of-body, out-of-world experience," McCarthy said.
In partnership with the National Ready Mixed Concrete Association, Habitat for Humanity-Spokane's Build With Strength Coalition is behind two innovative new homes in Spokane's East Central neighborhood about a block away from Liberty Park, including McCarthy's.
The organizations on Friday hosted a tour of the new homes, featuring a signing ceremony and speeches from project leaders and even some local political figures.
Habitat Spokane Chief Executive Officer Michelle Giradot said the city came to Habitat a couple of years ago and asked if they could do anything with a plot of land in East Central. The house there had burned down and become an eyesore for the neighborhood. But an eyesore for some is a blank canvas to others.
"In 2019, we received a contract from the City of Spokane to do rehab acquisition and revitalization," Giradot said, "Typically, what we've done with those dollars is we purchase a blighted home that was either abandoned or stuck in probate, we work with the banks to try and kind of undo all the legal issues, and then we would rehab the home and sell it to a low- to moderate-income family earning below 80% of the area median income."
The mortgage can't be any more than 30% of residents' monthly income.
Habitat and their partners then set to work to demo the existing house and set up two new ones on the same lot. However, these new houses are drastically different from normal stick-built homes.
"Think of it like a Lego block, and you're filling in those crevices with concrete," McCarthy said, "And then they do foam, and then they do the drywall. So it's gonna be very cost-efficient. Yeah, I'm gonna save a lot of money."
These "Lego" blocks that make up the walls of the house are known as Insulating Concrete Forms. Like Legos, they stack on top of each other, then concrete is poured in the cavities between the blocks.
Gregg Lewis is the Chief Communications Officer for the NMRCA. Lewis says that houses built with concrete and the forms can save homeowners 40% to 60% in "energy expenses associated with keeping their home comfortable."
"The Build With Strength program, in partnership with Habitat International, we are delivering concrete and ICF homes for Habitat families all over the United States. By the end of 2022, we will have at least started 45 Habitat homes in 27 states." Lewis said.
Not only are utilities expenses less with ICFS and concrete, the build time is considerably less.
"The typical Habitat build, the exterior walls, framing the walls for the house will take about three months. So with this system, we're going from a three-month build to like a two day build," Lewis said.
"For a skilled framing crew, that's not that big of a deal," said Eric Lyons, the Chief Operations Officer for Habitat for Humanity-Spokane, "But for Habitat, when we work with volunteers, most of the people coming up to our job sites, they've never seen a nail gun. … They're here with the heart and passion to serve their community. And we're teaching."
Lyons also pointed out the obvious discrepancies when it comes to affordable housing.
"If a house is $435,000, and you need to make $104,000 to qualify. But if you only make $51,000, you're literally renting forever. You're living paycheck to paycheck. If I could build an affordable house, base the house payment on the percentage of your income, not the price of the house, now you have 75% of your paycheck to go do other things," Lyons said.
Spokane City Council member Michael Cathcart reiterated the importance of affordable housing, and being better stewards of the land available.
"Getting somebody housed is such an important thing in our community, because so many folks are just struggling to find something that they can afford, and that meets their needs," Cathcart said.
Cathcart believes the most effective way for anyone to build wealth is owning a home and building equity in that home.
"I just think it's incredible what they're doing with, you know, this different construction technique and materials, you know, creating such an energy-efficient home at a relatively low cost," Cathcart said.
Seven years after becoming CEO, Giradot is excited about the pilot project's potential.
"We take the cost of the land out of the equation, so it stays affordable. We layer it with down payment assistance, so the family can buy down their mortgage. … We want to make sure that it's affordable for the family in the short term and in the long term as well," Giradot said.
For Lyons, the work Habitat and the concrete association have done is good, but not good enough.
"I need more funding, we have to change codes, we need to work with people to adopt certain codes to where I can make a bigger impact," Lyons said, "We are making an impact, don't get me wrong, we are doing good things. But, more could happen. We have to educate the people or make understanding the laws easier, bring them to the areas and show them what we're doing."
While it seems there always is work that can be done, McCarthy and her family are thrilled to move into their brand new home. McCarthy says they hope to move in by late December.
"Everybody that works with Habitat has been amazing," McCarthy said, "And just they feel like family, because they educate me and they tell me how to push my way through this little journey I'm going through with them."
---