Marketing > Sponsored
When patients need help with medical bills, Providence has their backs
Area's leading health care organization provides financial assistance to help everyday individuals in need.
Mon., Sept. 12, 2022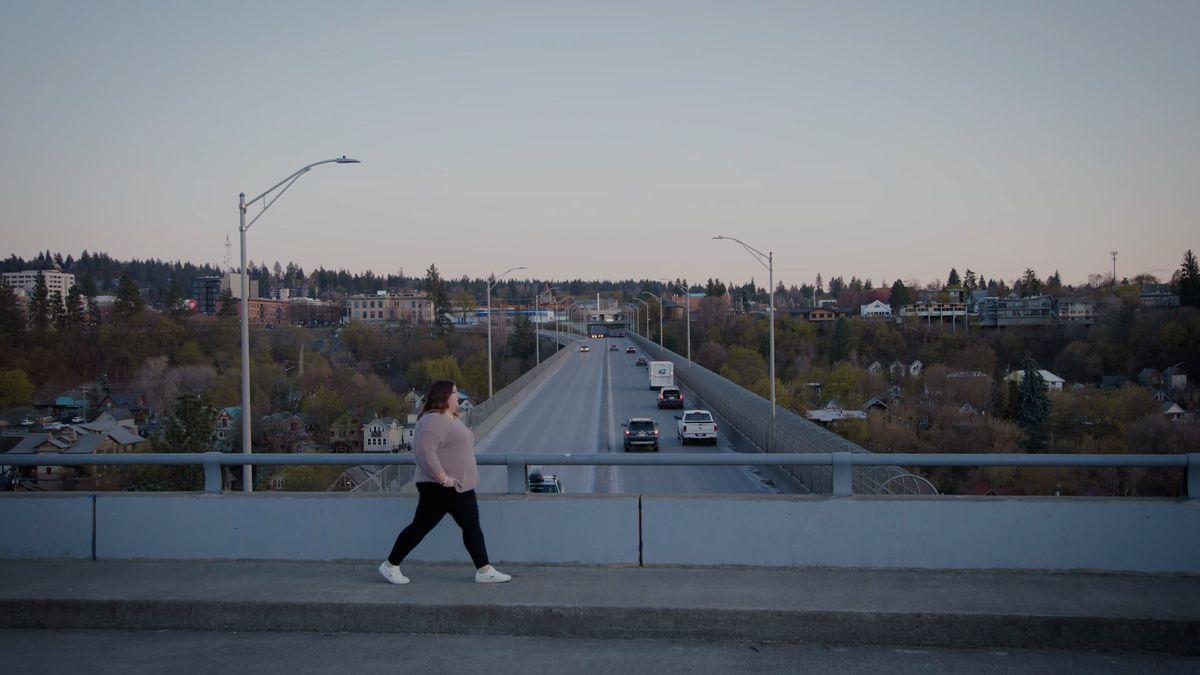 Thanks to Providence's financial assistance, Spokane resident Ali Levine did not have to worry about medical bills after an injury and was instead able to focus on her recovery. (Courtesy Providence Health Care)
After slipping on an icy driveway and breaking her ankle, Ali Levine of Spokane, Wash., underwent three surgeries at Providence Sacred Heart to repair her injury. Her recovery forced her to take nearly two months off work, which meant losing her only source of income.
"I remember getting the bill, opening it up and just crying," said Levine. She worried about paying it, especially with student loan payments also due and the rising costs of everyday living expenses. "It was very scary to think, 'Is this where I lose everything? How do I afford to keep living?"
Levine knew she needed help and Providence's financial assistance program was there for her.
A financial counselor walked her through the application process for financial assistance. Once approved, she never received another bill from Providence for her injury. The cost of her care was covered entirely by Providence's financial assistance program, putting her and her husband at ease and giving them hope for their financial future.
Inflation, rising costs put patients at risk
As inflation grows at record rates and the cost of living continues to increase — particularly for essentials, such as housing, food and fuel — more people like Levine are feeling the impact. This strain is exacerbated when medical bills start rolling in.
According to a recently published Kaiser Family Foundation survey, a quarter of U.S. adults are saddled with more than $5,000 in health care debt. Additionally, the survey found that "in the past five years, more than half of U.S. adults report they've gone into debt because of medical or dental bills." In some cases, people have been forced to take on extra work, been driven into bankruptcy or lost their homes.
As a not-for-profit health system, Providence believes financial means should never determine who can access health care, which is why the organization offers generous financial assistance and charity care.
By your side every step of the way
Providence's financial support is available to patients in need who are uninsured, underinsured or otherwise unable to pay for their medical bills. In 2021, more than 266,000 patients across the Providence family of organizations relied on its charity care program to access the care they needed.
Levine's positive experience is one that Providence strives to provide for every patient who needs financial assistance. Throughout a patient's journey, a team of financial counselors and call center staff connect with patients early and often, so they are aware of the available financial assistance and how to apply.
Together, they identify the patient's financial needs, help them understand their options and walk them through the application process. Last year alone, the Providence family of organizations delivered $271 million in free and discounted care.
The programs that Providence provides include:
Support in applying for financial assistance or medical coverage such as COBRA, Medicaid or the marketplace exchange
One-on-one guidance throughout the application and approval process from start to finish  
Multiple ways to apply for assistance, including Providence's website, in person, by phone or through an electronic medical records system
Interest-free, long-term payment plan options
Easily accessible information in multiple languages and interpretive services
In 2020 and 2021, Providence's financial assistance and charity care programs helped to eliminate approximately $83.6 million every month from patients' hospital bills across the seven states Providence serves.
In Washington state, where Levine lives, more than 58,000 people relied on Providence's charity care program last year. "To be one of the people who received help … there's no feeling other than just being extremely, extremely grateful," said Levine.
To learn more about financial assistance programs through the Providence family of organizations, visit: www.providence.org/financialhelp. 
Local journalism is essential.
Give directly to The Spokesman-Review's Northwest Passages community forums series -- which helps to offset the costs of several reporter and editor positions at the newspaper -- by using the easy options below. Gifts processed in this system are not tax deductible, but are predominately used to help meet the local financial requirements needed to receive national matching-grant funds.
Subscribe now to get breaking news alerts in your email inbox
Get breaking news delivered to your inbox as it happens.
---