News > Crime/Public Safety
Former NATO supreme commander, retired Navy admiral to discuss war in Ukraine at Whitworth forum
Sept. 14, 2022 Updated Wed., Sept. 14, 2022 at 9:50 p.m.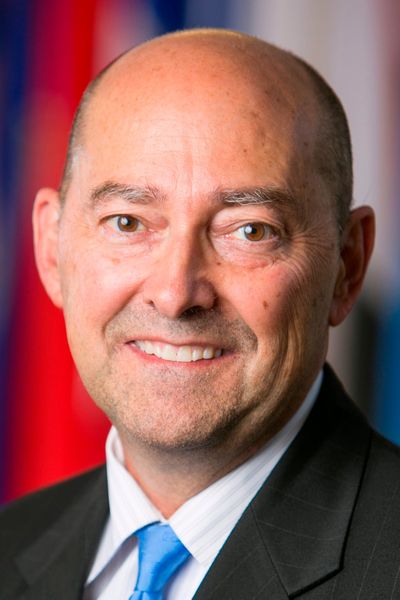 Whitworth University will bring the United States' longest-serving combatant commander in recent history to discuss the war in Ukraine during its fall presidential leadership forum.
Retired Adm. James Stavridis will discuss the conflict in Ukraine, as well as the geopolitical situation with Russia and China in his presentation "Ukraine and China: Geopolitics and the Way Forward" at 11:30 a.m. Tuesday at the Spokane Convention Center.
Stavridis, who served as the 16th Supreme Allied Commander of Europe and the 15th commander of the U.S. European Command (2009-13), has been a frequent critic of Russian President Vladimir Putin's invasion of Ukraine. In an email to The Spokesman-Review, the retired Navy admiral said Ukraine's recent success in driving back Russian forces could be a turning point in the conflict.
"Russian military performance is, fortunately, unimpressive," he said. "Their battle plans were poorly conceived, and their logistics terrible. The Ukrainians, on the other hand, have been well supplied by the west, advised by NATO, and are deeply committed to defending their country. So it is not a surprise that Russia is doing poorly and Ukraine fairly well as the conflict continues."
Ukrainian forces began what the New York Times described as a "surprise blitzkrieg" into Russian-occupied territory in northeast Ukraine beginning last week, recapturing hundreds of square miles, strategic towns and liberating approximately 150,000 people from Russian control. Russian troops have been demoralized by the counteroffensive, Ukrainian officials told the New York Times.
Russia still occupies large swaths of Ukrainian territory in the east and south.
The reconquests will have a major positive impact in the war effort for Ukraine and its European and U.S. allies, Stavridis wrote in Bloomberg column on Monday. The Ukrainian success, however, could push Putin to react more dramatically.
"The Russian president still has cards to play," Stavridis wrote.
For instance, the Russian president could opt to target Ukrainian infrastructure and civilian targets, or he could renege on his agreement to allow grain shipments from Ukraine, he wrote.
"Although the Ukrainians should be proud of their operational skill, determination and combat prowess, their recent successes will – ironically – increase the potential for the war to expand," Stavridis wrote. "At the dark end of the spectrum, the use of tactical nuclear weapons – while highly unlikely – cannot be ruled out, and would probably bring NATO into the conflict with the creation of a no-fly zone."
During his presentation, Stavridis will discuss the United States' relationship with China and Taiwan, which bears similarity to its relationship with Ukraine and Russia, he said.
"Both are nuclear armed, and thus require attention. Russia is much less of a significant strategic competition, while China will be a serious competitor to the U.S. as this century unfolds," Stavridis said.
Stavridis is managing director of global affairs and the vice chair of the Carlyle Group and chair of the Rockefeller Foundation Board of Trustees. When he was the Supreme Allied Commander at NATO, Stavridis oversaw operations in Afghanistan, Libya, Syria and the Balkans and counterpiracy off the coast of Africa. In 2016, he was vetted for vice president by Hillary Clinton, and subsequently invited to discuss a cabinet position with President Donald Trump.
Previously, former Secretary of Defense Robert Gates was at the forum to discuss Afghanistan and the Jan. 6 riot.
Local journalism is essential.
Give directly to The Spokesman-Review's Northwest Passages community forums series -- which helps to offset the costs of several reporter and editor positions at the newspaper -- by using the easy options below. Gifts processed in this system are not tax deductible, but are predominately used to help meet the local financial requirements needed to receive national matching-grant funds.
Subscribe now to get breaking news alerts in your email inbox
Get breaking news delivered to your inbox as it happens.
---