Sports > WSU football
Recap and highlights: First-year Cougars Daiyan Henley, Cameron Ward impress as WSU rolls Colorado State 38-7
Sept. 17, 2022 Updated Sat., Sept. 17, 2022 at 8:35 p.m.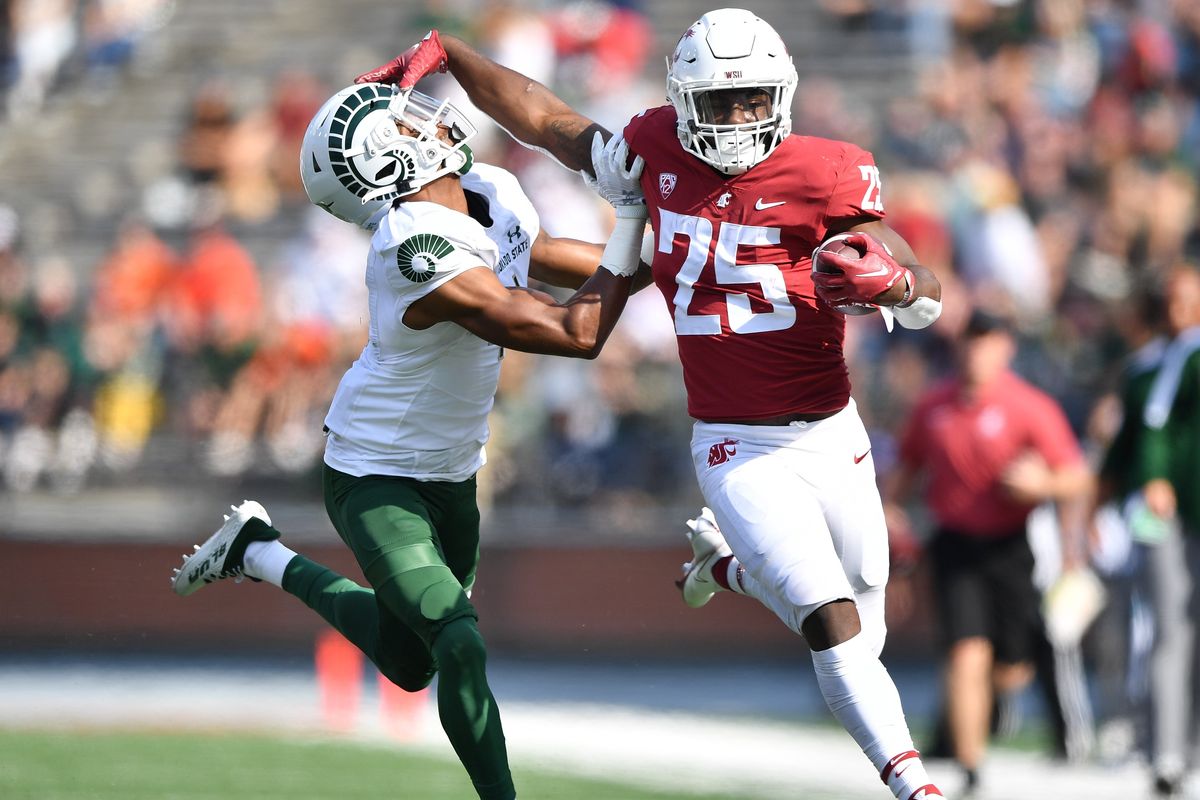 Washington State Cougars running back Nakia Watson (25) shakes a tackle from Colorado State Rams defensive back Angel King (4) during the first half of a college football game on Saturday, Sept. 17, 2022, at Martin Stadium in Pullman, Wash. (Tyler Tjomsland/The Spokesman-Review)
PULLMAN – So much for a hangover.
Washington State scored three touchdowns in the first quarter en route to a dominant 38-7 win over Colorado State on Saturday, a week removed from an upset win over then-No. 19 Wisconsin.
The offense flashed early and stagnated in the second half. Again it was the defense leading the way.
The Cougars (3-0) totaled seven sacks, four three-and-outs and four fourth down stops in the win over the Rams (0-3).
Daiyan Henley is building a case for one of the best defensive players in the Pac-12, if not the country.
Henley has led the Cougars in tackles each game this season. He tallied 13 to go with three sacks and two forced fumbles on Saturday. On the season he has 30 tackles, four sacks, 7½ tackles for loss, two forced fumbles and an interception.
Another first-year Coug, Cameron Ward, completed 26 of 36 passes for 292 yards and four touchdowns. He found Donovan Ollie and De'Zhaun Stribling two times apiece for touchdowns in the first half.
Meanwhile, the Cougars rushing attack was clicking. Nakia Watson took eight carries for 74 yards, leading the backfield that totaled 27 for 148.
The win sets up a marquee matchup against Oregon next week in Pullman. The No. 24 Ducks (2-1) cruised to an upset win over No. 12 BYU 41-20 on Saturday.
First quarter
15:00 – WSU 0, CSU 0: The Cougars won the toss and deferred to the second half. The Rams start on their own 25 after a kick out of the end zone.
13:29 – WSU 0, CSU 0: Daiyan Henley continues his strong start to the season with a tackle on the first play and sack on third down to force a 3-and-out.
The Cougars start on the CSU 46 after a 26-yard punt.
12:26 – WSU 7, CSU 0: Cameron Ward and the Cougars ease down the field for a quick touchdown on a 19-yard pass from Ward to Donovan Ollie to cap the 4-play scoring drive.
Nakia Watson broke off a 23-yard run on his lone carry.
11:14 – WSU 7, CSU 0: The Cougars force another 3-and-out and after a short punt take over near midfield.
The Rams have -5 total yards after two possessions.
9:59 – WSU 14, CSU 0: Another quick touchdown for the Cougars as Ward completes 4 of 5 passes on a 5-play 52-yard drive that ends with a 13-yard touchdown to De'Zhaun Stribling on a fade route.
Cougars are outgaining the Rams 98 to -5 in the first five minutes.
5:30 – WSU 14, CSU 0: Cayden Camper misses a 44-yard field goal after the Rams drive stalls. CSU finally gets some offense going with the 10-play 48-yard drive, but don't get any points to show for it.
3:24 – WSU 21, CSU 0: Cameron Ward finds De'Zhaun Stribling for another touchdown, this time a 19-yard pass over the middle.
Cougars drive 73 yards in five plays and show no signs of letting up. Two plays before Nakia Watson ran for a 39-yard gain to set up the touchdown pass.
Ward is 8 of 10 for 106 yards and three touchdowns in the first quarter. Watson has four carries for 65 yards. The Cougars are averaging 12.2 yards a play.
Second quarter
11:19 – WSU 21, CSU 0: The Rams drive into Cougars territory, but again are stopped and are forced to punt. WSU takes over on its own 18, having scored with ease on its first three possessions.
6:10 – WSU 28, CSU 0: Cameron Ward completes a 2-yard touchdown to Donovan Ollie and the Cougars score on their fourth-straight possession to start the game.
Ward is 15 of 20 with 164 yard and four touchdowns.
4:09 – WSU 28, CSU 0: Another 3-and-out for the Rams, another sack for the Cougars defense, a 53-yard CSU punt and WSU takes over on its own 22.
2:16 – WSU 28, CSU 0: Cameron Ward is stripped and the Rams recover on the WSU 35, setting them up with a chance to score before halftime.
It's the first Cougars drive to not end in a touchdown.
0:03 – WSU 28, CSU 0: Clay Millen is strip-sacked on fourth down by Daiyan Henley and it is recovered by Francisco Mauigoa. The Cougars take a knee to end the half.
Halftime
Washington State dominated both sides of the ball to take a commanding 28-0 lead over Colorado State at halftime.
Cameron Ward completed 16 of 21 passes for 174 yards and four touchdowns to lead the Cougars to touchdown drives on its first four possessions of the game.
Meanwhile, the defense held the Rams to 82 total yards with four sacks and eight tackles for loss. Daiyan Henely leads the team with seven tackles, two sacks and a forced fumble.
CSU is 1 of 7 on third downs, while WSU is 3 of 4. 
The Cougars receive to start the second half.
Third quarter
13:05 – WSU 31, CSU 0: Dean Janikowski's 22-yard field goal is good.
The Cougars drove 70 yards in seven plays, but were unable to score a touchdown from the Rams' 6-yard-line after three incompletions from Cameron Ward.
9:45 – WSU 31, CSU 0: Clay Millen heaves a deep pass on fourth down, which is effectively a terrific punt as WSU's Jaden Hicks comes away with a diving interception inside the Cougars five.
8:16 – WSU 31, CSU 0: The Cougars go 3-and-out and Nick Haberer's first punt of the day goes 62 yards to the CSU 32. 
7:02 – WSU 31, CSU 0: WSU's defense isn't planning on surrendering any points today.
The Cougars force its fourth 3-and-out of the game as the Rams have eight possessions without scoring. Their drives have gone: punt, punt, missed field goal, punt, punt, downs, downs, punt.
WSU takes over on its own 31 after a 34-yard punt.
4:25 – WSU 31, CSU 0: Cameron Ward tries a screen pass to Lincoln Victor on 4th-and-7 and he is wrapped up immediately for a turnover on downs at the CSU 28. 
0:00 – WSU 31, CSU 0: Both teams trade punts leading into the fourth quarter. CSU has the ball on its own 45 facing a 2nd-and-9.
Fourth quarter
11:07 – WSU 31, CSU 7: Clay Millen stands in the pocket in the face of a WSU blitz and delivers the Rams first touchdown of the game with a 9-yard completion to Justus Ross-Simmons.
10:27 – WSU 31, CSU 7: Cameron Ward throws back across his body and is intercepted by Jack Howell at the WSU 40 and returned 19 yards. 
Bad decision by the Cougars quarterback, who were facing a third down and put their defense in a redzone situation.
7:46 – WSU 31, CSU 7: Back-to-back sacks and the Cougars get the ball right back at their own 25.
Daiyan Henely continues to impress in his first season with WSU. The linebacker has a team-high 13 tackles with three sacks and two forced fumbles.
1:07 – WSU 38, CSU 78: Mt. Spokane graduate Kannon Katzer scores a 1-yard rushing touchdown and the Cougars are going to sweep their nonconference slate.
Pregame
Programing note: WSU-CSU will air on Pac-12 Washington and streamed on the Pac-12 app until the conclusion of South Alabama and UCLA.
Washington State walked out of Madison, Wisconsin last week with an upset win. This time it will be Colorado State hoping to play party spoiler.
The Cougars (2-0) cap nonconference play against the Rams (2-0) of the Mountain West Conference today at 2 p.m. on Pac-12 Network. Entering as 17-point favorites according to VegasInsider, a win would secure WSU's fourth nonconference sweep in the past five eligible seasons, excluding the shortened 2020 slate.
The spread has flipped since the Cougars knocked off then-No. 19 Wisconsin in Camp Randall Stadium as 17-point underdogs a week ago. The Rams don't seem to pose the same threat stepping onto Gesa Field.
CSU was battered by Michigan 51-7 in Week 1, allowing seven sacks and scoring drives on 8 of 10 Wolverines possessions.
It didn't get much better in Week 2.
CSU allowed 34 unanswered points to visiting Middle Tennessee State in Fort Collins, Colorado, before losing 34-19. This time they allowed nine sacks and scoring drives on 5 of the first 7 Blue Raiders possessions.
To boot, MTSU was blown out by recently FCS-promoted James Madison 44-7 in Week 1.
Washington State's pass rush should get involved early and set up favorable field possession for Cameron Ward and the Cougars offense to get going after a sluggish start to the season. A dominant win could even see the Cougars crack the top 25 come Monday.
Key matchup
Series history
The Cougars and Rams have met once before in a New Mexico Bowl WSU fans would want to forget.
Second-year coach Mike Leach and the Cougars scrapped to their way to the school's first bowl appearance in 10 years and had the game all-but-won with a 35-13 lead in the second quarter. Instead they'd lose in dreaded "Coug-it" fashion.
CSU scored 10 points in the final minute of the first half, rattled off a 75-yard run in the third and outscored WSU 18-7 in the fourth quarter.
The win sparked a run of five-straight bowl appearances for CSU, which hasn't returned since 2017 and finished 5th in the Mountain West a season ago. The Cougars went 2-4 in bowl games under Leach.
Team stats
Individual leaders
Game preview
More on the Cougs
Local journalism is essential.
Give directly to The Spokesman-Review's Northwest Passages community forums series -- which helps to offset the costs of several reporter and editor positions at the newspaper -- by using the easy options below. Gifts processed in this system are not tax deductible, but are predominately used to help meet the local financial requirements needed to receive national matching-grant funds.
Subscribe to the Cougs newsletter
Get the latest Cougs headlines delivered to your inbox as they happen.
---