News > Nation/World
Queen Elizabeth II's coffin laid to rest in royal vault
Sept. 19, 2022 Updated Mon., Sept. 19, 2022 at 9:02 p.m.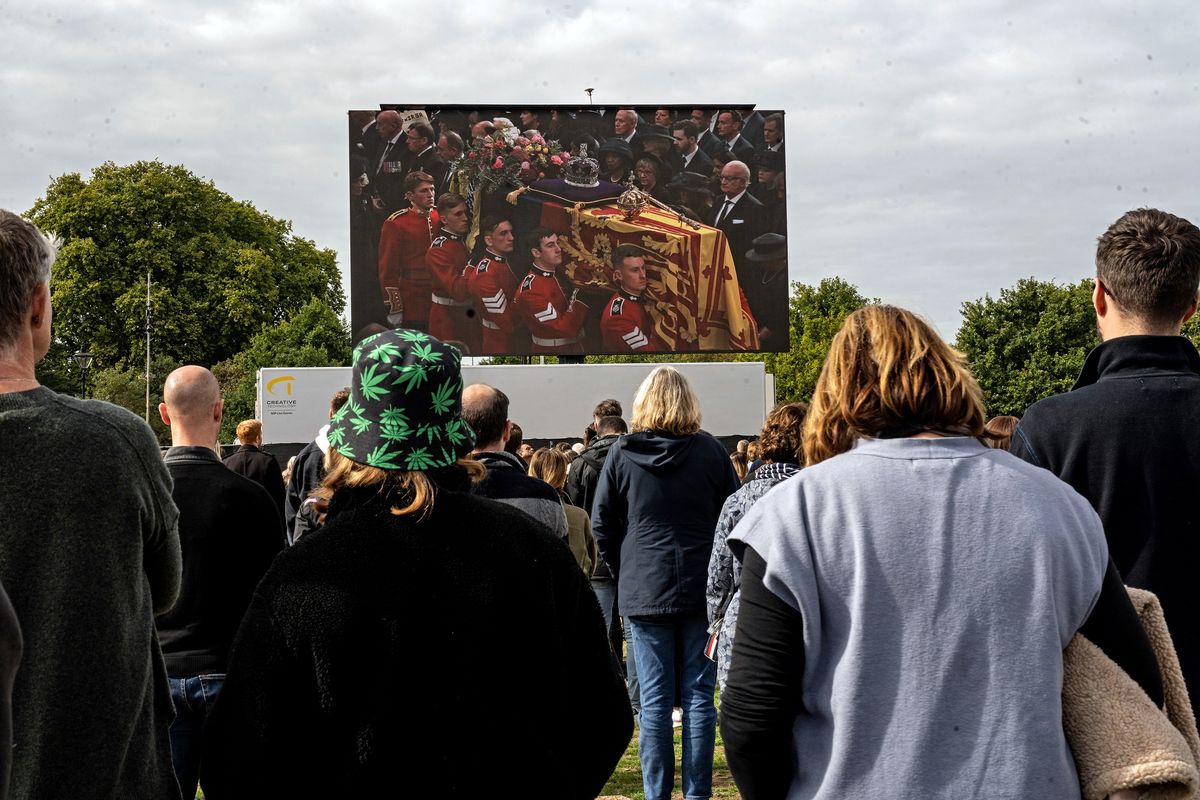 Mourners at Hyde Park in London watch a video feed of the funeral for Queen Elizabeth II on Monday. (LYNSEY ADDARIO/New York Times)
LONDON – The coffin of Queen Elizabeth II, Britain's longest-serving monarch, was laid Monday in the royal vault at Windsor Castle, following service to culminate the public portion of her massive state funeral.
"Here, in St. George's Chapel, where she so often worshiped, we are bound to call to mind someone whose uncomplicated yet profound Christian faith bore so much fruit," the dean of Windsor, David Conner, said during the service. He paid tribute to her role in the nation, Commonwealth and world, but also to her "kindness, concern and reassuring care for her family and friends and neighbors."
The public part of Queen Elizabeth II's funeral has ended. About 7:30 p.m. London time, Elizabeth was buried at the King George VI Memorial Chapel near the remains of her parents, sister and husband, Prince Philip. The small, private event with King Charles III and his family, which took place after 12 days of public grieving, was not televised.
Earlier Monday, more than 90 world leaders, representatives from dozens of royal families, and members of the House of Windsor – including the queen's great-grandchildren George and Charlotte – attended a large service at Westminster Abbey, which was followed by a procession to Windsor along a route lined with dense crowds.
The service and burial marks the end of a long ceremonial journey that took the monarch from Balmoral Castle, the sprawling estate in Scotland where she died, to London and eventually her final resting place.
The queen's coffin was escorted to Windsor Castle by a military procession led by King Charles III, after an elaborate state funeral at Westminster Abbey. Britain's final tribute to its longest-reigning monarch included two minutes of silence nationwide, a mournful song by the queen's bagpiper and a rendition of "God Save the King."
Thousands who camped out overnight along the streets of central London and millions more watching around the globe tracked the queen's ceremonial journey to the royal Windsor estate, just outside London. People had waited as long as 14 hours in what became known as "The Queue" to view the queen lying in state.
As the crowds in London dispersed, Jillian Martin, 51, an educator with the National Trust in Northern Ireland, was searching for a taker for the bedding before her flight back home. She had flown in and bought a pillow and blanket there so she could camp outside for two nights along with some friends. But there was no sleep.
"How am I? Apart from being absolutely wrecked? Great. I met so many people. We won't see the likes of what just happened ever again," Martin said.
Some local organizations were accepting unwanted blankets from the crowds as donations to charity and community groups in London. Others are giving the blankets to organizations sending supplies to Ukraine, the Mirror reported.
The Felix Project, a food redistribution charity, said it accepted hundreds of kilograms of snack foods – cookies, chips, chocolate – that were confiscated from people in line before they entered Westminster Hall, where food and drink wasn't allowed, ITV reported. The surge in food comes days after the organization raised alarm bells that surplus food supplies were not meeting increased demand during the cost of living crisis.
President Biden and other world leaders attended the service in the 13th century Westminster Abbey, church, where the queen's coronation took place almost 70 years ago. About 2,000 guests – including more than 90 world leaders, representatives from dozens of royal families and members of the House of Windsor, including the queen's great-grandchildren George and Charlotte, also attended. Britain's last state funeral was held in 1965 for wartime Prime Minister Winston Churchill.
At the service, the archbishop of Canterbury, Justin Welby, gave the sermon. He spoke of the queen's lifelong devotion, not only to earthly duty, but to following Jesus Christ.
"The pattern for many leaders is to be exalted in life and forgotten after death," Welby told the congregation filled with 500 dignitaries, including world leaders. "The pattern for all who serve God, famous or obscure, is that death is the door to glory."
Few leaders have received the outpouring of love that we have seen, he said.
The archbishop recalled how upon Elizabeth's coronation in 1953, she began with a silent prayer at the high altar in Westminster Abbey. "Her allegiance to God was given before anyone gave allegiance to her," Welby said.
Welby remembered how during the covid pandemic lockdown in Britain, the queen gave a brief but reassuring speech, promising that "we will meet again," and he said he took her meaning as words of hope, for this life and everlasting life.
British Prime Minister Liz Truss and Patricia Scotland, secretary general of the Commonwealth, read lessons – symbolic texts taken from scripture – at the start of Queen Elizabeth II's funeral in honor of the sovereign.
Baroness Scotland read the first lesson, taken from Corinthians 15, in tribute to the queen's lifetime of dedication and service to the 54 countries – most of them former British colonies – that make up the Commonwealth, Buckingham Palace said. "Death is swallowed up in victory," she read. "O death, where is thy sting? O grave, where is thy victory?"
Truss read the second lesson, which was taken from John 14, in which Jesus speaks to his followers of eternal life in heaven. "Let not your heart be troubled: ye believe in God, believe also in me," she read.
Mourners sang the British national anthem, "God Save the King," at the conclusion of the queen's religious service. Then there came one last piece of music, by a lone musician, the queen's piper.
The Sovereign's Piper of the Royal Regiment of Scotland played the traditional lament – a song commemorating a death.
The lament is called "Sleep, dearie, sleep."
It was played by one of the best of the best bagpipers in Scotland, Pipe Major Paul Burns of the Royal Regiment of Scotland, who would play beneath the queen's window for 15 minutes every morning at 9 a.m. when she was in residence at Buckingham Palace, Windsor Castle, Holyroodhouse or Balmoral.
Former president Barack Obama tweeted a message of condolence Monday, saying that he and the former first lady Michelle Obama's "thoughts are with the Royal Family and those mourning her passing." In a video attached to the tweet, Obama draws a comparison between the queen and his own grandmother, whom he claims was "very gracious but also no nonsense."
British officials sent invitations to about 200 nations and territories. Afghanistan, Syria and Venezuela were not on the list, because Britain does not have full diplomatic relations with them. Other notable leaders who did not receive invites include Russian President Vladimir Putin and Belarusian President Alexander Lukashenko, because of their continued aggression in Ukraine. Myanmar was also left out over human rights abuses.
A few nations, including Iran, North Korea and Nicaragua, were invited to send an ambassador but not their head of state. And a handful of invited leaders declined, while designating a high-level surrogate. Turkish President Recep Tayyip Erdogan decided to send his foreign minister in his place after being told he couldn't be in his own presidential car. Vice President Wang Qishan is leading the Chinese delegation; President Xi Jinping has only left the country once, last week, since the start of the coronavirus pandemic. Olena Zelenska, the wife of Ukrainian President Volodymyr Zelensky, is attending, but her husband is not expected to. And Pope Francis, who has been dealing with mobility problems, sent Archbishop Paul R. Gallagher, the Vatican's Liverpool-born secretary for relations with states and international organizations.
British officials said they were not sure whether Saudi Crown Prince Mohammed bin Salman was attending. U.S. intelligence officials have said he was behind the 2018 murder of journalist Jamal Khashoggi, a contributing writer for The Washington Post.
Local journalism is essential.
Give directly to The Spokesman-Review's Northwest Passages community forums series -- which helps to offset the costs of several reporter and editor positions at the newspaper -- by using the easy options below. Gifts processed in this system are not tax deductible, but are predominately used to help meet the local financial requirements needed to receive national matching-grant funds.
Subscribe now to get breaking news alerts in your email inbox
Get breaking news delivered to your inbox as it happens.
---