100 years ago in Spokane: A senator's wife dished on the romantic lives of young folk in D.C., 'the matrimonial center of the nation'
Sat., April 1, 2023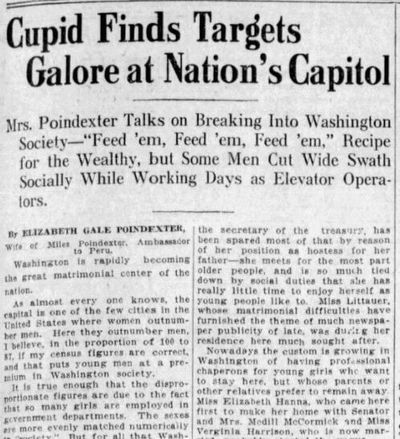 Elizabeth Gale Poindexter, wife of Spokane's former U.S. senator Miles Poindexter, continued to entertain – and sometimes shock – the readers of her syndicated column.
The subject of her latest dispatch was the plethora of young, single Washington, D.C., men.
"Ever so many young men are here, running elevators in the Capitol or the office buildings during the day, going to law school in the early evenings, and blossoming around in society at night," she wrote. "Their elevator shifts are remarkably short, it seems to me – there seems to be a new youth on an elevator every time I go into either House or Senate office buildings. At any rate, they are able to get off for golfing engagements during the afternoon or out motoring with the season's debutantes – in the debutantes' cars. Then they study law or medicine, or foreign trade for an hour or so, before dinner, dance and the theater."
For this reason, Poindexter wrote that "Washington is rapidly becoming the great matrimonial center of the nation." Women outnumbered men, because so many "girls are employed in government departments."
As for the men, she said she had "never seen anywhere so many law schools or law students as there are in Washington."
That made it a decent matrimonial market for young women as well, as long as they came from money.
"When a girl has, in the parlance of the day, been a 'flop' in her hometown society, she still has a good matrimonial chance in Washington, if she comes with the necessary bankroll."
Local journalism is essential.
Give directly to The Spokesman-Review's Northwest Passages community forums series -- which helps to offset the costs of several reporter and editor positions at the newspaper -- by using the easy options below. Gifts processed in this system are not tax deductible, but are predominately used to help meet the local financial requirements needed to receive national matching-grant funds.
Subscribe now to get breaking news alerts in your email inbox
Get breaking news delivered to your inbox as it happens.
---