News > Washington
Chiefs fans fill Spokane Arena ice with painted messages of gratitude for another fun season
Sat., April 1, 2023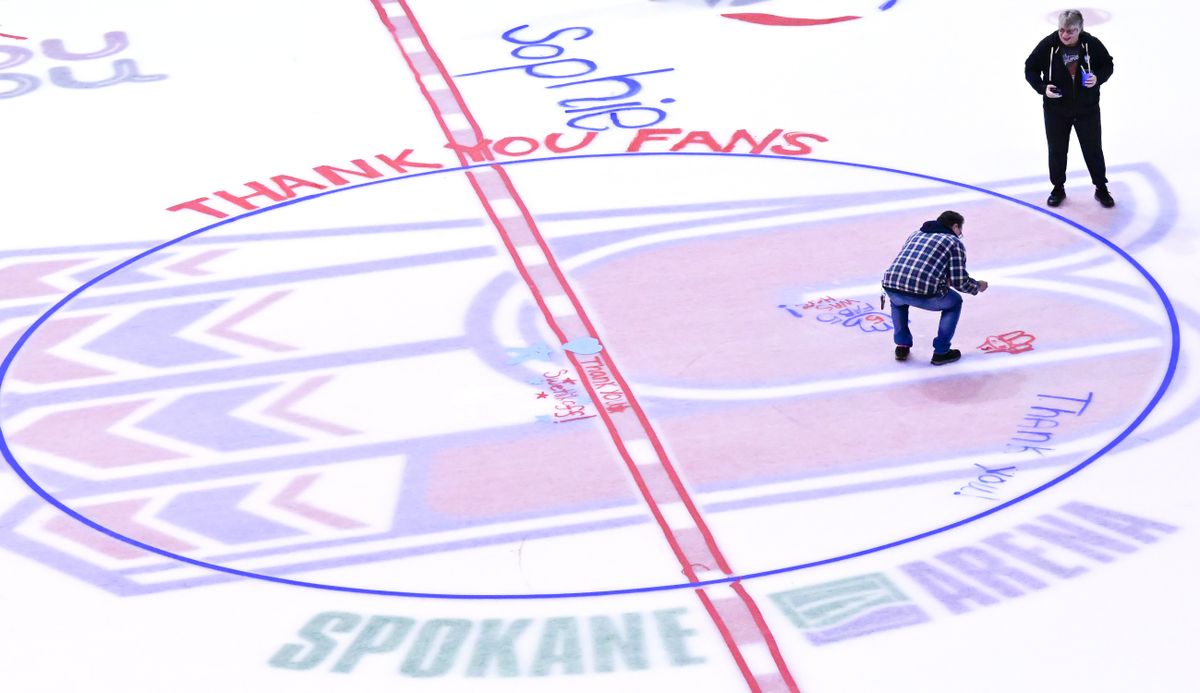 Jean Ripley, right, laughs as her husband, Kurt Ripley, left, paints during an ice painting event as the Spokane Chiefs close out the 2022-23 season on Friday, March 31, 2023, at Spokane Arena in Spokane, Wash. (Tyler Tjomsland/The Spokesman-Review)Buy a print of this photo
Spokane Chiefs fans added their own flair Friday to the Spokane Veterans Memorial Arena hockey rink.
Using blue and red paint in honor of the team's colors, fans of all ages painted messages and signed their names on the ice, thanking the team for another season, which ended last weekend.
Jon Wilson and his 4-year-old daughter, Evie, started her spring break painting a "THANK YOU" message on the ice with their family members' names below.
"They haven't had the best year, but that doesn't really matter because the fan base is always going to support them," Jon Wilson said.
He said they've enjoyed Chiefs games the last two seasons, and sitting rink-side interacting with the players was one of the highlights for his daughter, who wore a red Chiefs jersey Friday.
Jay Stewart, Chiefs vice president of operations, said this was the first "Paint the Ice" event the Chiefs have held. Normally, the ice is immediately removed after the last home game.
Stewart said the family-friendly event was a way to give back to fans and allow them to be on the ice instead of cheering in the stands.
"We've got a great fan base," he said. "We've got some real die-hards that support the team through thick and thin."
Stewart said other hockey teams have invited fans to paint their respective home team's ice, including the Prince George Cougars. He said the Chiefs played the Cougars a few years ago after Cougars fans decorated their ice with paint.
"It looked liked it was camouflage," Stewart said. "They got so many people to show up and paint the ice, and they actually played a game on it, so that was pretty unique."
Anita Stenehjem spotted the Chiefs' painting event on Facebook and thought it would be perfect for her 2-year-old son, Bowie.
"It's a cool opportunity to get on the ice and let him get on the ice," said Stenehjem, noting Bowie likes any sport with a "puck or a ball."
She said she and her husband are Chiefs fans and plan to take their young son to his first game next season.
Stenehjem painted "GO CHIEFS GO" on the slick surface, while Bowie smeared paint on the ice with his hands.
Olivia Brasch, 17, and her 12-year-old nephew, Titan Gardner, wrote "GO CHIEFS GO!" in blue and "WAY TO GO CHIEFS!" in red. Brasch, who played seven years for the Spokane Junior Chiefs, also traced a couple of logos on the ice.
"I thought it would be a fun thing for everybody to get a break and go do something fun," Titan said.
Stewart said the Chiefs might continue the painting session in the future.
"I hope this is a yearly thing because this is awesome," Stenehjem said.
Local journalism is essential.
Give directly to The Spokesman-Review's Northwest Passages community forums series -- which helps to offset the costs of several reporter and editor positions at the newspaper -- by using the easy options below. Gifts processed in this system are not tax deductible, but are predominately used to help meet the local financial requirements needed to receive national matching-grant funds.
Subscribe now to get breaking news alerts in your email inbox
Get breaking news delivered to your inbox as it happens.
---