News > Nation
Fla. Gov. Ron DeSantis tests out Pa.'s political waters ahead of a potential 2024 run
April 1, 2023 Updated Sat., April 1, 2023 at 9 p.m.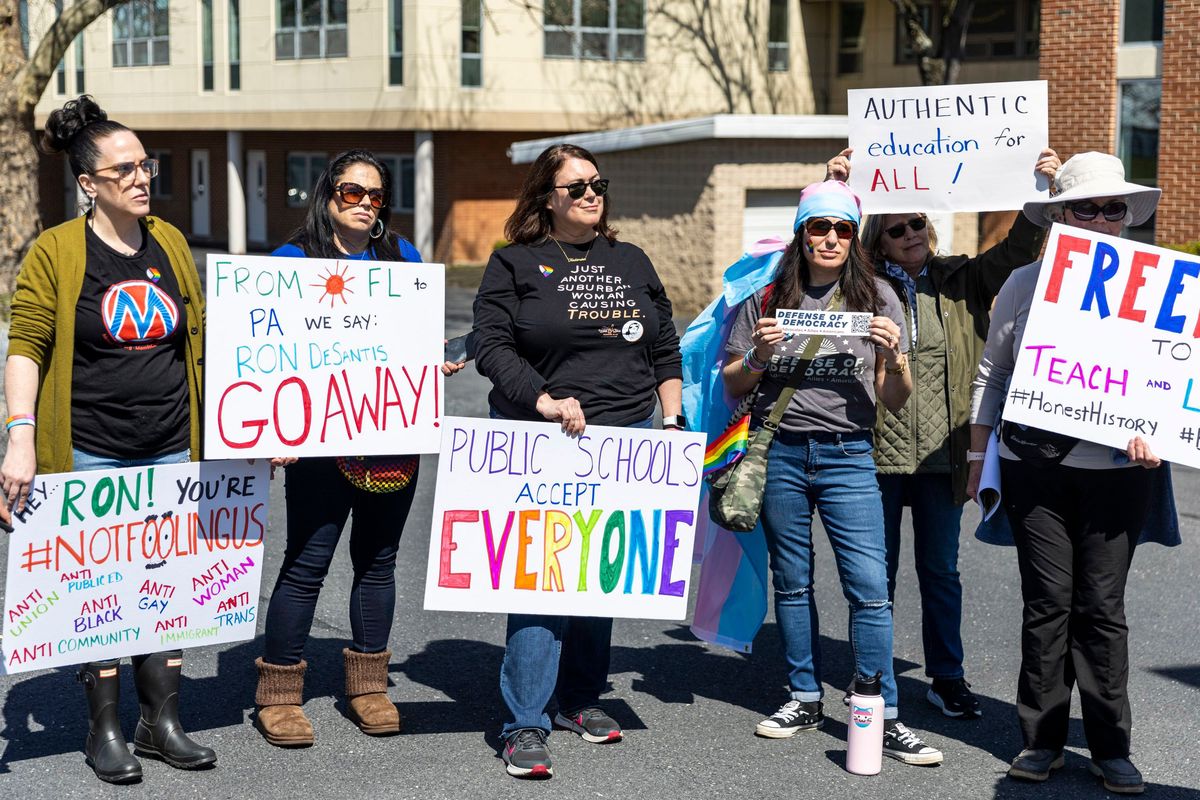 Protesters demonstrate outside the Penn Harris Hotel, where Florida Gov. Ron DeSantis spoke at the Pennsylvania Leadership Conference on Saturday, April 1, 2023, in Harrisburg, Pennsylvania. (Tyger Williams/The Philadelphia Inquirer/TNS) (Tyger Williams/The Philadelphia Inquirer/TNS)
HARRISBURG, Pa. – Florida Gov. Ron DeSantis told a group of Pennsylvania Republicans to stay tuned.
"I'm proud of what we've done in Florida, but we're gonna do more because I have only begun to fight," DeSantis said at a conservative political conference Saturday.
"We are gonna save liberty in this country."
The speech was a preview of an expected 2024 presidential campaign and an opportunity for DeSantis to test the waters in a key swing state where former President Donald Trump had big support in 2016 and lost narrowly in 2020.
DeSantis got a warm welcome from the crowd with a speech that railed against "liberal ideology" and celebrated his dominant re-election in Florida – all with the fighting bravado that has made him a popular conservative champion.
He blasted the Biden administration and praised his state's hands-off approach to COVID-19 pandemic restrictions as well as his hands-on approach to regulating education and restricting transgender rights. Politically, he painted a hopeful picture for Pennsylvania Republicans on how he's helped transform Florida from a swing state to a solid red one.
"I see people that have left Philly come to Florida all the time," he said. "We've served as the promised land for Americans who've been disenchanted with left-wing governments. … We have left the Democratic Party for dead in the state of Florida."
DeSantis also noted his personal ties to Pennsylvania: His great-grandparents settled in Beaver County, and he recalled competing in the Little League World Series games in Williamsport when he was 12.
One name that DeSantis did not say during the course of his nearly hourlong speech was that of former President Donald Trump. DeSantis condemned the former president's indictment by a Manhattan grand jury as part of a larger criticism of progressive district attorneys around the country – without mentioning Trump by name.
"That is when you know that the law has been weaponized for political purposes," DeSantis said.
On Thursday, he said would not help with extradition, though reports have indicated Trump plans to travel to New York and willingly surrender to face criminal charges on Tuesday.
DeSantis spoke from a ballroom outside Harrisburg to several hundred people, mostly conservatives involved in local politics – a much less excitable and colorful crowd than a Trump rally. The crowd at the Pennsylvania Leadership Conference included state and local elected officials, all trying to build their strategy for the next two elections with one clear enemy threatening America's freedom: the "woke left."
Other speakers included former Trump adviser Kellyanne Conway, conservative TV commentators, and former U.S. Senate candidate David McCormick. Most speakers, including Conway, avoided addressing Trump's indictment, while others used it as the butt of a joke.
DeSantis has risen to national prominence over his policies targeting Black American history classes and transgender rights, as well as his support for parental control of involvement in schools and tougher border policies.
He got his biggest standing ovation of the day for comments about banning licensed medical providers from offering gender-affirming care to transgender minors.
"Woke medicine is not real medicine," DeSantis said to cheers.
Being loud and uncompromising in those viewpoints, he said, has won over Florida, where he was re-elected by 20 points in November.
"I am not going to be like some of these Republicans, they just sit around, all defensive," DeSantis said. "They're like potted plants. They don't want to offend the media or the Democrats. No, we're going on offense in the state of Florida."
Democrats fired back, calling DeSantis a danger to unions, LGBTQ rights and public education in a virtual news conference about his visit. State Rep. Malcolm Kenyatta compared DeSantis to State Sen. Doug Mastriano, calling both "carnival barkers" who ultimately don't appeal to most voters in the state.
"We deserve better than these people," Kenyatta said. "And I think that as we continue to tell the truth, the ideology that they're pushing is not going to work. Doug Mastriano tried it, and he lost pretty bad."
Eric Hagarty, a former head of the state Department of Education, said the challenges facing students and educators "are only made worse by the kind of discord and division being sown by politicians like Gov. DeSantis.
"Unlike sunshine and warmer weather, that's not something that I think most Pennsylvanians are looking to import from Florida," Hagarty said.
DeSantis could be an attractive alternative for some Republicans in the state whose support for Trump softened after a 2022 midterm election in which the GOP suffered some big losses.
"The stakes are very high," DeSantis said of the upcoming elections in a ballroom in Harrisburg. "I think what Florida shows is that if you pursue a bold agenda, if you exhibit strong leadership, you not only can take on the left, you can beat the left."
In most polls so far, Trump beats DeSantis in a primary battle. But it's early and unclear whether Trump's indictment and the other investigations he faces, would help or hurt him in a GOP primary.
It's clear Trump sees DeSantis as a potential threat. He's repeatedly attacked the Florida governor on the campaign trail. This weekend a super PAC supporting Trump spent $1.3 million on an ad attacking DeSantis, including in Pennsylvania media markets.
"The more you learn about DeSantis, the more you learn he doesn't share our values. He's just not ready to be president," a narrator says in the ad from MAGA Inc.
Republican Pennsylvania voters at the conference were torn over who they would support should DeSantis join the presidential field that already includes Trump, former South Carolina Gov. Nikki Haley, and entrepreneur Vivek Ramaswamy.
Allen McCormack, a Dauphin County resident who attended Saturday's event, said there are good reasons to support either Trump or DeSantis.
For Trump, it doesn't matter what he says, he still keeps supporters, McCormack said. DeSantis, on the other hand, has shown himself as a strong leader during the pandemic.
"(Floridians) never had an absence of freedom," McCormack said. "Their life was normal during all of this."
Valerie Snook, of Harrisburg, said she's supported Trump in the last two presidential elections, but is now "thinking of other options," including DeSantis.
"I think (DeSantis) is a very viable candidate," Snook said. "I definitely want a good, strong conservative leader."
Suzie Frisch, of Wayne County, said she backed Trump "tremendously" the last two presidential elections, but is also uncommitted to any candidate just yet.
"I think (DeSantis) is strong, but maybe it's not his time yet," she said. "Maybe 2028."
Local journalism is essential.
Give directly to The Spokesman-Review's Northwest Passages community forums series -- which helps to offset the costs of several reporter and editor positions at the newspaper -- by using the easy options below. Gifts processed in this system are not tax deductible, but are predominately used to help meet the local financial requirements needed to receive national matching-grant funds.
Subscribe now to get breaking news alerts in your email inbox
Get breaking news delivered to your inbox as it happens.
---