News > Education
'Project Lift Up' expands to provide mental health care kits to 13 area schools, but seeks an even bigger mission
Sat., April 1, 2023 The boxes of personalized messages, mental health resources and gifts for anxious teens delivered Friday by local nonprofit "Project Lift Up" could not have come at a better time for students at North Central High School.
"I've used them a lot closer to breaks," said Alicia Shenefelt, a counselor who serves seniors at North Central, in her office Friday on the day before spring break began. "Because school is a safe place for a lot of people."
The Project Lift Up initiative was launched in February 2022 and provides local schools with discreet gift boxes that can be distributed by school counselors, like Shenefelt, to students they identify as at risk of depression, anxiety and other mental health problems.
The COVID-19 pandemic and its effect on learners inspired the gift boxes, said Angella Southerly, founder of the nonprofit Light a Lamp that runs Project Lift Up. Now available in 13 schools, Southerly hopes to continue to expand the initiative while tailoring its mission to the needs of local schools.
"When we hear things like what happened in Nashville, I think about that shooter," Southerly said in the parking lot of Highland Middle School on the Five Mile Prairie, one of the schools served by Project Lift Up. "Maybe if somebody could have reached that person at some point, to let them know and give them some sort of support."
The boxes include gift cards and fidget items to assist with anxiety, as well as a list of resources for where to turn if a student needs extra help. That includes information about the new 988 Suicide & Crisis Lifeline run by the federal government, as well as Excelsior Wellness's Teen Text Line that offers a confidential resource for teens to receive substance use and mental health support.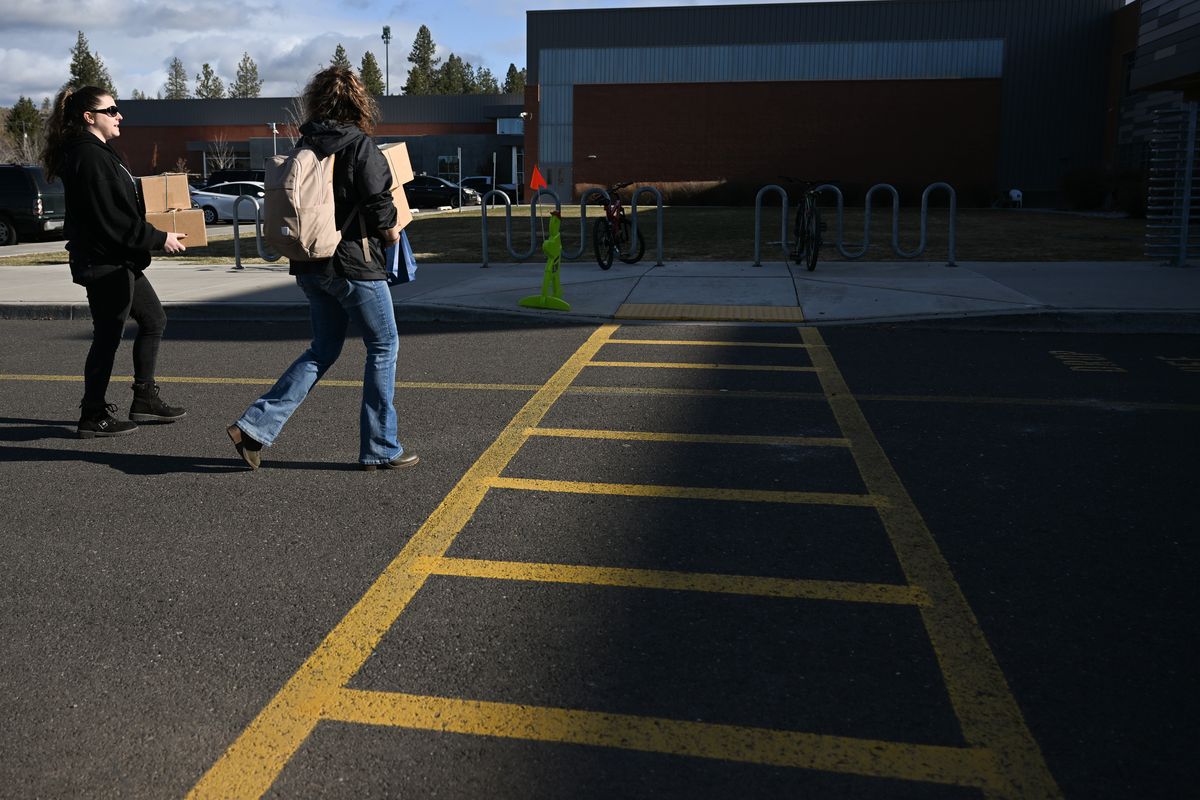 Volunteer Krystal Allison, left, and Angella Southerly, right, with Project Lift Up, carry boxes containing hand-packed mental health care kits on Friday, March 31, 2023, to Northwood Middle School in Spokane, Wash. (Tyler Tjomsland/The Spokesman-Review)Buy a print of this photo
The project is being run at North Central, Rogers and Shadle high schools; Glover, Sacajawea and Salk middle schools in Spokane, and Mead and Mt. Spokane high schools; Northwood, Highland and Mountainside middle schools and Skyline elementary school in Mead. The drivers are also delivering in Colfax, and Southerly hopes to expand to the Spokane Valley districts soon.
Five boxes are handed off monthly by Project Lift Up's team of volunteers, who are each delivering for their own reasons. Maddie Wolff has a 1-year-old and 3-year-old at home, and started delivering in January after hearing Southerly speak at her gym in North Spokane. Her husband lost his father to suicide, she said, and she wanted to provide support to young people that might be experiencing difficulties in their own lives.
"We're giving them really great resources, and the packs include a little card in it," she said. "It's always nice to have a little personal message from someone."
Research has suggested that the pandemic had a profound effect on teenagers' mental health, including the risk of suicide.
A summary of research on suicide rates among young people beginning in January 2020 through July 2022, published last year by the National Library of Medicine, found that 1 in 33 adolescents had attempted suicide during that period, and 1 in 6 had suicidal thoughts. The Centers for Disease Control and Prevention warned in February that teen girls were experiencing record levels of sadness, with researchers pointing to the isolation of the pandemic, as well as cyberbullying, particularly among members of the LGBTQ population.
Shenefelt said at North Central, students were still feeling the lingering effects of the pandemic, and seniors were trying to readjust both to normal school days and the added pressures of graduation and their future . It's particularly challenging in the spring, when students have received their midterm grades and then attend classes for five weeks without a real break.
"I think, for me, it's been students that are kind of crumbling under the pressure," Shenefelt said. She mentioned one senior who'd just moved from a distant state, and was feeling the added pressure of graduating, finding a job and paying for her own living expenses.
While the students who receive the gift boxes are kept confidential, Shenefelt shared a quote from a student about getting her own box with Southerly and another volunteer, Krystal Allison.
"This box that was gifted to me made me feel appreciated and loved," the student, a senior, said. "It makes the hard times easier."
In addition, the volunteers drop off what are known as "follow-up packs," smaller bags that are handed out a month or two later to remind the recipient that someone cares. Those have proven effective for students at Highland Middle School in the Mead School District, said Tammy Rogers, counselor at the school.
"Love the follow-up bags, we take notes and then we get them back in, and we just continue the support," Rogers said.
Rogers said she may go a while before giving out a box, but then there are days when they're sorely needed. She said she gave out three of them within an hour-and-a-half on one occasion.
"I feel like it comes in waves," she said.
Some recipients are inspired to pass the gift on, including one student at Northwood Middle School, also in the Mead district. There, counselor Alana Cummings retrieved a box that was repacked by a female student with a bean bag toy and a personalized message for another student who might be going through difficult times.
"I remember being so depressed and lost. I was going to kill myself, but Mrs. Cummings gave me the Light a Lamp box and it instantly made me cry," the student wrote.
Paying the kindness forward is the purpose of the project, Southerly said. They also offer to come to speak to schools' leadership classes and demonstrate how to celebrate acts of kindness in schools, including handing out some of the items that are available in the gift boxes.
"We just hope to reach somebody on an emotional level, so they don't go down that darker path," she said. "It's like giving them a hug, but not really."
Local journalism is essential.
Give directly to The Spokesman-Review's Northwest Passages community forums series -- which helps to offset the costs of several reporter and editor positions at the newspaper -- by using the easy options below. Gifts processed in this system are not tax deductible, but are predominately used to help meet the local financial requirements needed to receive national matching-grant funds.
Subscribe now to get breaking news alerts in your email inbox
Get breaking news delivered to your inbox as it happens.
---