Sports > NCAA basketball
San Diego State beats Florida Atlantic on a buzzer-beater in Final Four
April 1, 2023 Updated Sat., April 1, 2023 at 7:56 p.m.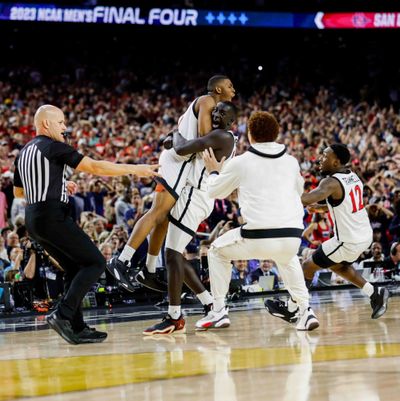 HOUSTON – These were the gate crashers, the unannounced guests of the men's NCAA Tournament. They were the underdogs, the Cinderellas, the weirdness and unpredictability of this year's competition personified. That's how others saw them, at least.
San Diego State, a No. 5 seed, and Florida Atlantic, a No. 9, viewed things differently. The labels, well intentioned as they were, diminished their hard work since last summer. They introduced the element of fairy-tale good fortune, when all the players saw was hard work and the culmination of their skills on the court.
In a tense battle of the Final Four's supposed misfits, San Diego State slipped past Florida Atlantic 72-71 on a buzzer-beating jumper from Lamont Butler, reiterating their case that they belong on college basketball's biggest stage.
A wide-open game, one that Florida Atlantic led by as many as 14 points midway through the second half, tightened up in the closing minutes, with the teams trading baskets and miscues down the stretch.
San Diego State's Jaedon LeDee sank a jumper with about a minute remaining in the game to cut the Florida Atlantic lead to one. On the ensuing possession, Alijah Martin of Florida Atlantic drove along the baseline and made an acrobatic layup under the rim.
Back the other way, LeDee hit a pullup 2 with 36 seconds left. After a pair of timeouts, Florida Atlantic inbounded the ball and found Johnell Davis open for a layup from the left side, but he missed, and the rebound was collected by San Diego State.
That left Butler to sweep down the right side of the court and swish a jumper from midrange as the clock expired, sending his teammates streaming onto the court in joy.
In the championship game, scheduled for Monday night, the Aztecs will be regarded by most again as underdogs against whoever wins the game later Saturday between Connecticut and Miami. It has suited them well thus far.
Local journalism is essential.
Give directly to The Spokesman-Review's Northwest Passages community forums series -- which helps to offset the costs of several reporter and editor positions at the newspaper -- by using the easy options below. Gifts processed in this system are not tax deductible, but are predominately used to help meet the local financial requirements needed to receive national matching-grant funds.
Subscribe to the sports newsletter
Get the day's top sports headlines and breaking news delivered to your inbox by subscribing here.
---