New coordinator Ben Arbuckle looks to guide high-powered offense at Washington State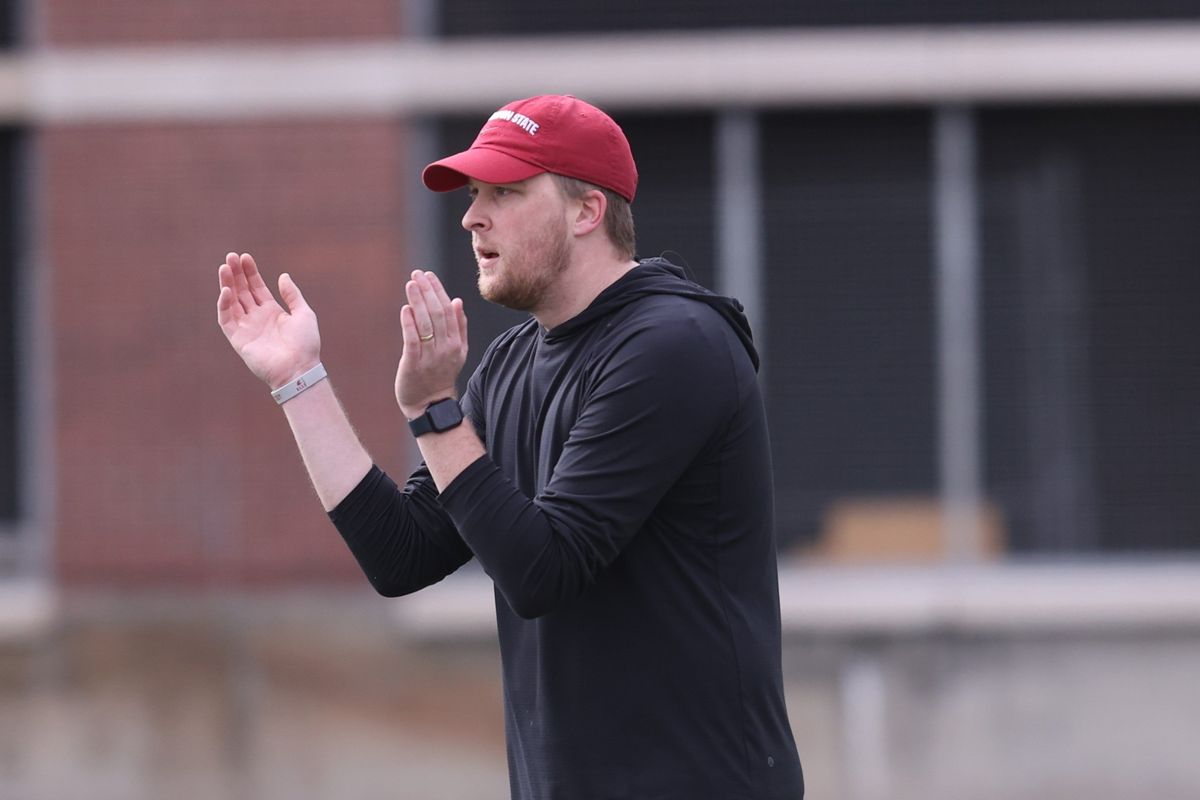 PULLMAN – Asked about the factors that made Washington State an appealing destination, Ben Arbuckle pointed to "history" as one of the major draws.
The Cougars consistently ranked among the nation's most potent offensive teams throughout the 2010s. WSU's new offensive coordinator hopes to restore that tradition and build upon the program's legacy.
"Over the last decade or so, you had explosive offenses throwing the ball through the air," Arbuckle said Tuesday after a spring camp practice. "I wanted to put my stamp on that."
Arbuckle's resume is not loaded with experience, by any means. But the 27-year-old's background should provide encouragement for WSU fans. Arbuckle achieved status last season in his first year as a full-time college coach. Serving as Western Kentucky's co-OC/quarterbacks coach, Arbuckle helped guide the Hilltoppers' offense to a prolific season.
WKU boasted the nation's top passer in Austin Reed, who threw for 4,746 yards. The Hilltoppers finished the season ranked seventh nationally in total offense (497 yards per game) and 15th in scoring offense (36.4 points per game). WKU, which often looked to throw the ball downfield, topped the nation in plays that gained 20 or more yards.
Stretching the field with deep passes is a priority for WSU this season. The Cougars struggled to connect on long balls in 2022, but WSU quarterbacks are letting it fly during spring camp.
"With the quarterbacks, I have a saying in my room: 'Just throw that ball deep and good things happen,' " said Arbuckle, who doubles as WSU's QBs coach. "I like our odds whenever the ball goes in the air."
WSU players and coaches estimate that the team will look to pass on about 70% of its plays this season, but the Cougars will still look to run. The Hilltoppers rushed for over 2,000 yards last year.
"Whether it's 50 rushes or 60 passes, I thought (Arbuckle's) balance per game was very good," Cougars coach Jake Dickert said earlier this year. "We still want to be tough. We still want to be aggressive. We still want to run the football."
Many elements of this new offensive system will be familiar. Arbuckle directs a modified version of the Air Raid. The Cougars' last OC, Eric Morris, did the same, but he accepted the head coaching job at North Texas in December after one season at WSU.
Aiming to keep some continuity on offense, Dickert brought in an OC with a similar approach. Arbuckle is being asked to refresh the offense with his own spin – rather than overhauling the schemes completely.
"It's been really important for me to create stability," Dickert said. "How do we take a step forward? How do we not restart? How do we build upon the pieces and players that we currently have in place? That's where Ben Arbuckle rose up above the rest."
Arbuckle's offense also bears similarities to the pass-heavy system pioneered by the late Mike Leach, who coached the Cougars from 2012 to 2019. Over the past three years, WSU's offense hasn't been as high-powered, but the Cougars are looking to return to their ways under Arbuckle, who is indirectly connected to the Leach coaching tree.
After wrapping up his quarterbacking career at Division II West Texas A&M in 2017, Arbuckle became a quality-control staffer at FCS Houston Baptist under offensive coordinator Zach Kittley – a Texas Tech grad and student of the Air Raid.
Following a one-year stay as OC at Seminole High in West Texas, Arbuckle reunited with Kittley at WKU in 2021. Arbuckle worked with Hilltoppers QBs in a quality-control role while Kittley coordinated the offense – WKU led the nation in passing that year.
In 2022, Kittley accepted the OC job at Texas Tech and Arbuckle was promoted to co-OC at WKU.
"Where it all started, at its core, was with my two mentors," Arbuckle said, referring to Kittley and fifth-year WKU coach Tyson Helton. "When we all got together in 2021, we put (together) the offense we had at Houston Baptist and offensive knowledge that coach Helton has. … It's kind of created what you're seeing out there today."
WSU's base set includes four wide receivers, but tight ends will be a staple . Unlike last year's system, the tight ends will occasionally line up in the slot as extra receivers.
"(The offense) is a little similar to last year, but the changes he's making, I'm loving it," tight end Andre Dollar said. "He's using tight ends in such a great way, keeping us on the field so much."
The Cougars will make good use of an "up-tempo pace," Arbuckle said. Quarterback Cameron Ward will be asked to make adjustments on the fly and get the ball out quickly – common principles of the Air Raid.
"The key strengths are just trying to take advantage of the space and leverage that the defense gives you," Arbuckle said. "Just taking what they're going to give you and executing, and getting the ball to our really good players, really fast. I tell the quarterbacks, 'Nothing good happens if the ball is in our hand for a long time, so get the ball to our players fast.' "
Dickert called Arbuckle an "aggressive" play-caller. His offense wears down opponents with short and intermediate passes to receivers in open field. There are also plenty of run-pass options mixed in with creative screen passes to keep the defense guessing. After several quick-hitting plays, the Cougars might send out a max-protection unit and take a shot deep.
WSU's offense has shown considerable improvement as spring camp has progressed. The unit had a sharp day Saturday in the first scrimmage, connecting on four passes that gained more than 50 yards.
"I think the offense is developing right where it needs to be," said Arbuckle, who is overseeing position battles at wide receiver, tight end and on the offensive line. "Still a lot to get better at, but I'm super happy with those guys."
The Cougars' offense is expected to be more versatile and less predictable than last year's system.
"There's a lot of similarities to last year's offense, but there's a lot more options and freedom in the route-running," veteran receiver Lincoln Victor said.
"The terminology is the same. (Arbuckle) is able to relate to a lot of the quarterbacks. He's been in our position before, so when he speaks, people listen. That's a good trait to have, especially as a young coach. Some people might have the attitude of not listening to a young coach, but I think he relates to the guys very well and he ultimately puts us in the right mindset to come out here and dominate."
Arbuckle is the youngest coordinator at the Power Five level. Dickert said the OC is wise beyond his years and exceptionally confident. Arbuckle brings a youthful spirit to the coaching staff and is relatable to players, Victor added last week.
"It's nice to pick a guy's brain that's really not that much older than you," Victor said. "It shows on the field. You're not tensed up about having an old-school type of way. He's kind of 'go with the flow.' I love it, man. He has that young energy and it trickles down to all of us."
Arbuckle has settled in with his family and grown fond of Pullman since he was hired in early January. The close-knit nature of the community was another draw for Arbuckle, who grew up in the rural north Texas town of Canadian.
"I love the town and the environment," he said. "I'm from a town of about 2,000 people back in Texas, so small-town vibes are my kind of life. Big-time football in small towns – I love it."
---