A&E > Food
In the Kitchen With Ricky: Anaheim chiles and black bean combine for flavorful tacos
April 12, 2023 Updated Wed., April 12, 2023 at 3:49 p.m.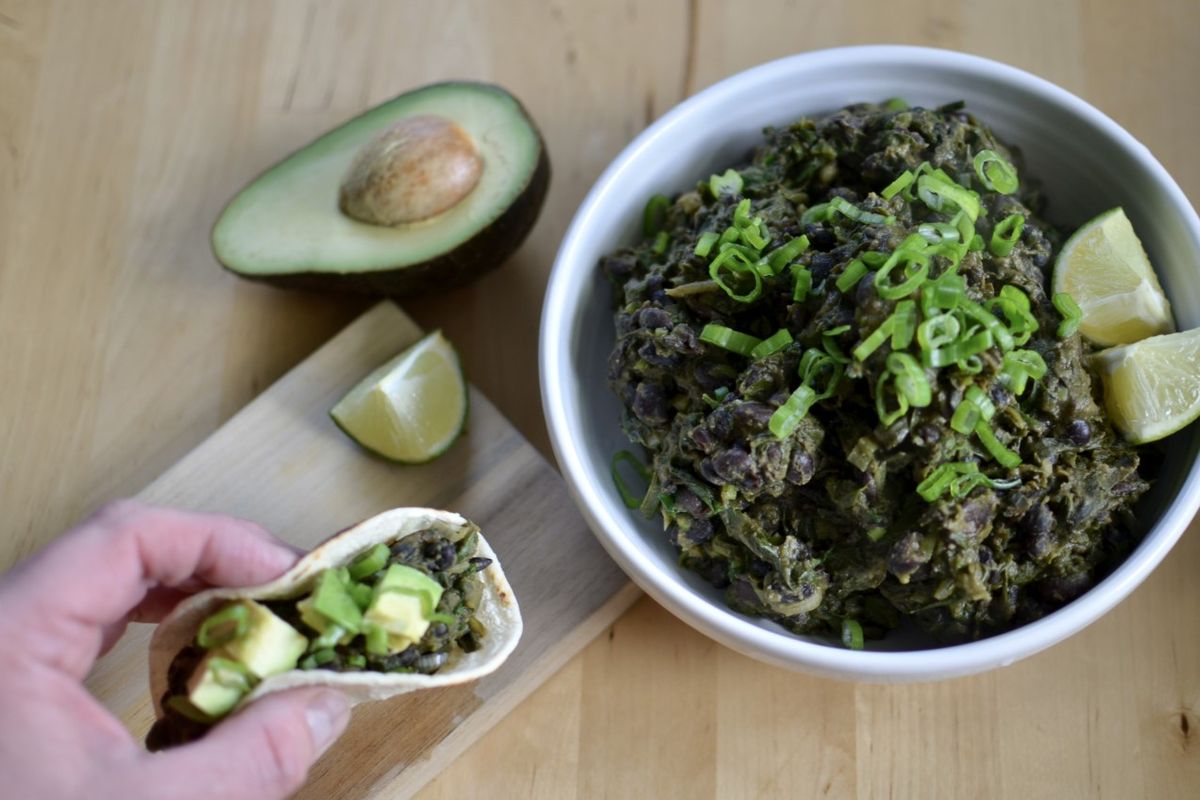 Anaheim chiles, the California-grown version of New Mexico's iconic Hatch chile, is the flavor base of this chili, which which is perfect for tacos.
This week's recipe is inspired by a similar recipe from chef and culinary master, Rick Bayless. If you don't know him, Bayless specializes in traditional Mexican cooking with modern twists. If you've ever seen or tasted the line of Mexican items, Frontera Foods, available in grocery store shelves, those are created and imagined by him. I have long been a fan and follower of Bayless, and a lot of the Mexican recipes I rely on, come from him. They're always reliable and tasty, which is a goal I try to bring to all my recipe readers.
I was walking the produce aisle (a weekly favorite of mine), and I saw some Anaheim peppers. Anaheims originated as a variety of New Mexico chile that was brought to Anaheim, California in the 1980s. You also may know them as the Hatch chile, which is what they're referred to when grown in New Mexico. Anaheims are most often consumed when green, but the chile will turn red as it ages. In terms of spiciness, the spiciest it can get is that of the mildest jalapeño, which is only about 2,500 SHU on the Scoville scale.
As the weather begins to warm and we find ourselves looking for lighter fare, this is a recipe that I feel is healthy and flavorful. Although there's a bit of a process to make the chili itself, the rest of the dish comes together quickly and is great filling for tacos or a delicious base for eggs. Give it a try and I think you'll keep making it through the summer. I'm looking forward to using fresh, backyard picked Swiss chard this summer.
Beans and Greens
4 Anaheim chiles
3 garlic cloves, peeled and chopped
2 teaspoon oregano
1/2 teaspoon black pepper
2 tablespoons vegetable oil
Kosher salt, to taste
2 (15-ounce) cans black beans, drained and rinsed
2 bunches (or 8 loosely packed cups) sliced greens, such as kale, spinach, or Swiss chard
1 bunch of cilantro, washed
1 bunch or green onion
16 tortillas, warmed
Limes, to serve
Avocado, to serve
Heat a large heavy bottomed skillet over medium heat.
Lay the chiles in the hot pan and flip them over when they start to blacken.
When evenly charred, remove from the pan and place into a plastic bag to finish steaming. This helps to loosen the skin, making it easier to peel.
When the chiles have cooled, peel them, and place them into a blender.
Add in the garlic, oregano, black pepper, a large pinch of salt, ½ cup water and half of the bunch of cilantro (including stems).
Blend into a smooth sauce.
Return the skillet to medium heat and add the oil.
When hot, add the green chili sauce and stir continuously until the mixture is bubbling and slightly thickened.
Taste and season with salt.
Stir in the greens, cover and cook until the greens are tender, about 5 minutes.
Uncover, stir in the beans, the remaining cilantro (chopped) and the sliced white parts from the bunch of green onions (reserve the sliced green parts to garnish tacos).
Simmer for about 5 minutes to warm them through, then taste for seasoning.
Heat tortillas and serve topped with remaining sliced green onions, avocado and lime wedges.
Yield: Makes enough for about 16 tacos.
Local journalism is essential.
Give directly to The Spokesman-Review's Northwest Passages community forums series -- which helps to offset the costs of several reporter and editor positions at the newspaper -- by using the easy options below. Gifts processed in this system are not tax deductible, but are predominately used to help meet the local financial requirements needed to receive national matching-grant funds.
Subscribe to the Spokane7 email newsletter
Get the day's top entertainment headlines delivered to your inbox every morning.
---