Death at the rodeo, and a mother's dilemma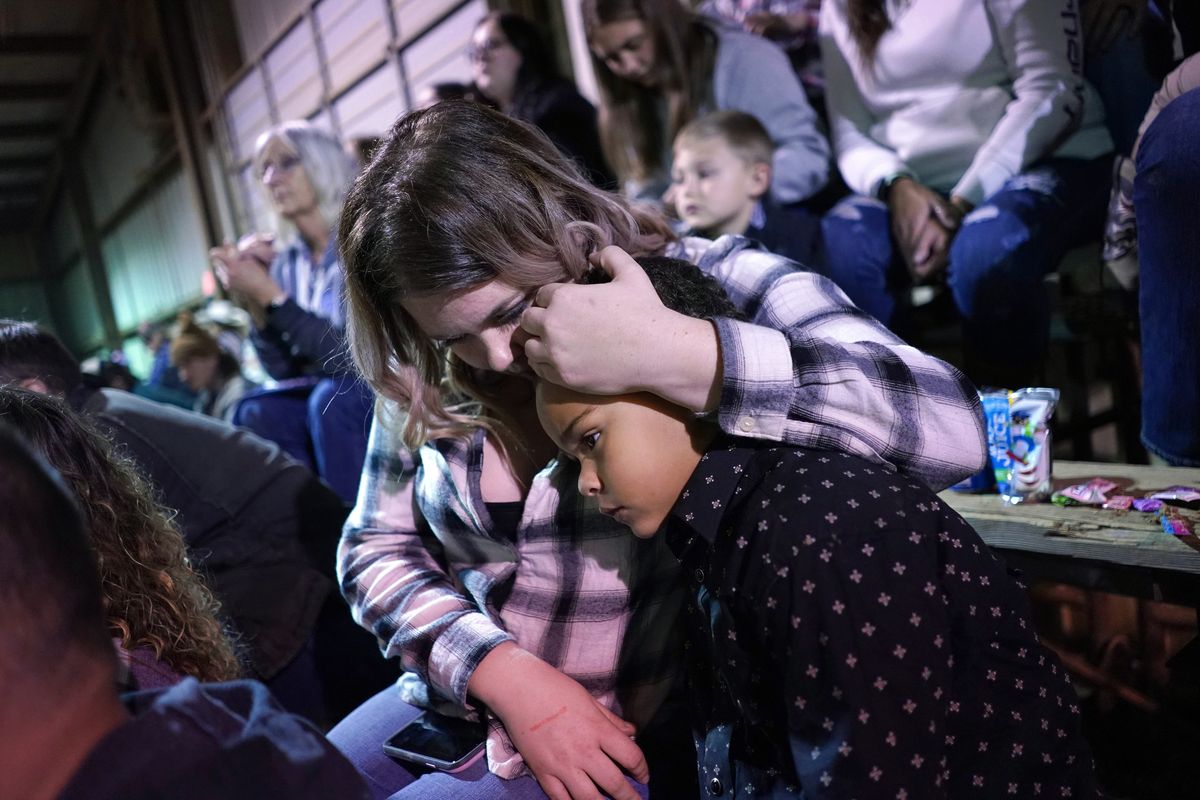 KING, N.C. - Amanda Paquette watched and worried as the cowboys lowered her 7-year-old son onto a roughly 600-pound bull calf that, in a few seconds, would bolt out of the chute and wildly flail in an effort to buck him off.
Filming through the metal bars of the rodeo fencing, Paquette didn't know whether she was about to record her son's first qualifying ride - a feat accomplished if he could hang on for six seconds - or a tragedy that would haunt her. Weeks earlier, a 14-year-old had been trampled to death just a few feet away.
Racked by anxiety, Paquette was sweating. Her hands were shaking. Her stomach was a mess.
Then, the chute gate opened.
Five weeks earlier, Paquette had watched her son, Preston Malvoisin, take his first ride at the amateur Rafter K Rodeo in King, N.C., about 15 miles north of Winston-Salem. Minutes after that inaugural effort on Jan. 28, Paquette, Preston and hundreds of other rodeo fans watched as 14-year-old Denim Bradshaw died during a bull ride that was also his first.
For Paquette and her family, it was a brutal introduction to a sport in which broken bones and other serious injuries are a regular occurrence. She held her breath. She prayed for God to save the boy's life. She wanted to look away but couldn't help but watch, hoping to see a miracle.
It never came.
Denim's death made real to Paquette her dilemma: She wants to let her son pursue his new hobby, become a part of the tightknit rodeo community and learn the self-sufficiency and grit of a cowboy. But she also aches to protect him from its brutality.
"It's heart-wrenching," she said, "but I don't want to put him in a bubble. You have to let them enjoy life."
First ride, last ride
Paquette's family is new to cattle country. In 2021, they moved from Naples, Fla., to escape "the concrete jungle" for clean air and open space.
Paquette and her mother, Dana Torkko, found a place in Independence, Va., on nearly seven acres of land, less than a mile from North Carolina. Now, instead of playing video games like he did in Florida, Preston - along with his 11-year-old sister, Nevaeh Paquette, and their 2-year-old brother, Maverick Malvoisin - goes outside to toss the football, shoot hoops or chase the family dogs.
That's fine by Preston. He was ready to "try new stuff."
Some days, that means feeding chickens, mending fences or picking crops from the family's 3,000-square-foot vegetable garden. In the fall, he helped butcher the two hogs the family raised, Pork and Chop, and slaughtered 16 chickens.
He's also chasing after his new pursuit - riding at the rodeo.
Preston, a first-grader who stands 4-foot-7 and weighs 75 pounds, got into the scene through his grandmother. One of Torkko's co-workers mentioned that her 6-year-old son did mutton busting, which involves small children riding sheep like a bull rider. She invited Torkko's family to check it out.
The next month, they watched the boy compete in the Rafter K Rodeo.
Preston was hooked. He wanted to ride.
"It was cool," he said. "It was fun."
On Jan. 28, Preston got his first opportunity. Because of his age, he rode a bull calf that weighed about 600 pounds. It was a short affair. He stayed on for one second before the calf threw him to the dirt. Soon after his ride, the rodeo moved on to the main event for the older participants - bull riding.
Despite his inexperience, 110-pound Denim Bradshaw was paired with a bull that Paquette estimated was about twice the size of the calf that Preston rode. When the chute opened, it bucked twice, tossing him off. A video of the event shows that Denim landed under the bull, which stomped squarely on his chest. He scrambled to his feet and stumbled a couple steps before he "just dropped lifeless" into the dirt, Paquette said.
Cowboys and rodeo fans tried to save him, but Paquette said he had turned blue long before the ambulance arrived. When paramedics reached Denim, he was unconscious and gray. They couldn't find a pulse.
Denim died that night.
For Paquette, the tragedy crystallized the bare truth of the rodeo.
"Anything can go wrong at any time," she said.
A way of life
The rodeo is part of life in this corner of Appalachia - "the way people do things," Paquette said. Participating has helped her family assimilate into their new community. The rodeo exposes Preston to male role models, something Paquette thinks is important for a boy being raised by a single mother. Eddie Queen, his grandmother's boyfriend, is the most prominent man in Preston's life, but as a long-haul truck driver, he's often away.
In the rodeo, Preston has befriended cowboys, mentors who can teach him how to tie his rope, how to improve his grip and how to move on the calf to give him the best chance of staying on for six seconds - the minimum time to get a score from the judges in the calf-riding event. They taught him the proper way to tie laces around his boots so they don't fly off when the bull calf launches him into the air. They showed him how to address adults with a "Yes, ma'am" or a "No, sir." And when he's on the verge of tears, they tell him the rules of rodeo: No crying in the arena.
"They jump right in and take him under their wing," Paquette said. "Who else is going to teach them how to be a man? I can't. I'm a lady."
To let her son reap the rewards of riding, Paquette must fight the instinct to protect him from its dangers.
In late January, emergency personnel were already on the scene examining another injured rider when Denim was trampled, according to a King Fire Department incident report. That other rider had also gotten stomped, smashing one of his knees, Paquette said. In the weeks that followed, a rider broke his arm, or at least hurt it seriously, and another got kicked in the lower stomach, causing an injury to his intestine, she said.
Rafter K Rodeo did not respond to multiple requests from The Washington Post for comment about what happened to Denim the night that he died, the injuries other riders were said to have sustained or whether it had implemented new safety protocols.
On the night that Denim died, Paquette decided to prohibit her son from riding again, to protect him at all costs. That's what she told her friends in the parking lot after they had left the rodeo arena and, stunned, tried to make sense of what happened. On the car ride home, one of Denim's family members posted on social media confirming the boy had died. Riding shotgun as Queen drove, Paquette turned the radio down to break the news to the kids.
Preston stayed in her bed that night and fell asleep long before his mother. Paquette was certain that it would be his last night at the rodeo. "I remember looking at him and just thanking God, that he just protected him for me," she said, choking up. "And I said, 'He's not going to do this again.'"
But the next morning, as he was getting ready for church, Preston told her that, although he was sad Denim had died, he wanted to keep riding, she said.
Preston had played on his church's basketball team one season right after they moved. He did flag football in the fall. Although he enjoyed both, the practices, led by exhausted fathers just getting off work, were unorganized, Paquette said. No one was really teaching him anything.
"It was more just a bunch of kids were showing up on the field and just playing around," she said.
It didn't feel like that at the rodeo, where bull-riding teenagers and retired professionals were excited to teach the sport to a newcomer like Preston.
So Paquette's resolve softened in the days after Denim's death. She figured that if Preston really wanted to ride, he would find a way to do it anyway, even if it took a few years. By letting him ride, she could make sure he practiced, had the right gear and minded safety precautions.
"I will stand by him," she said. "I want him to do whatever his heart desires."
On the following Saturday, Rafter K canceled its rodeo in honor of Denim.
When it resumed on Feb. 11, Paquette signed up Preston to ride.
Denim's law
Shannon Bowman had watched as her son Denim's first bull ride turned from excitement to horror in an instant.
The youngest of four children, Denim liked sleeping in and riding dirt bikes and for years had wanted to ride in the rodeo, Bowman said. And when he adventured into the world of bull riding, he fell in love with it all: the boots, the cowboy hats, "those big belt buckles."
In the weeks since his death, Bowman has worked with her oldest child, 26-year-old daughter Persephone Bowman, on legislation known as Denim's Law that would require more safety measures at amateur rodeos.
One of the provisions they are pushing would require that all minors riding bulls have six months to a year of training, which a rodeo outfit would need to verify, Persephone Bowman said. Others include mandating that a rider's experience match the bucking power of the animal they're on, that rodeo staff weigh all animals the day of competition, and that EMTs and an ambulance are on-site and outfitted with proper medical equipment.
And, Persephone added, government officials should perform regular inspections to ensure rodeos are complying.
Matt Fleishman, a personal injury attorney in Charlotte, said there's little regulation for rodeos in North Carolina. State law absolves rodeo outfits and other "farm animal activity sponsors" from liability "for an injury to or the death of a participant resulting from the inherent risks of farm animal activities."
Once rodeo riders or their legal guardian sign a waiver acknowledging that what they're about to do is inherently dangerous, which Rafter K Rodeo requires, "it's an assumption of risk, and the government isn't going to get involved in you making that decision."
"You take your chances," Fleishman said, adding that when it comes to regulation, "you're somewhat in the Wild West with these rodeos."
Shannon Bowman said Denim's Law is not meant to break the rodeo so much as rein it in a bit.
"I don't want to shut the rodeo down," she said, adding that, even now, she would probably let Denim ride again if he were alive and the right safety measures were in place. "We just want our children to be safer."
Preston's ride
Paquette said that, aside from the training mandate, she agrees with all those requirements and wishes they were in place now to protect her son. But she's not waiting for them and has let Preston participate in five rodeos since Denim's death.
On his first ride, Preston stayed on for one second. He hung on for two seconds in subsequent attempts and, on Feb. 25, rode for four.
"He's getting a lot better," his mom said. "It builds confidence."
Paquette tried to build more of it leading up to Preston's ride on March 4. Around 1 p.m., she grabbed an Amazon package off the kitchen table and gave it to her son - a surprise gift. He ripped open the plastic. Inside: black leather chaps with dark green fringe.
As Preston stood in front of the couch and watched "Paw Patrol," Paquette knelt at his feet. She tied the new chaps around his waist and spent several minutes adjusting various straps. Then, she prodded him, flashing a smile: "What do you say?"
"Thaaank yooou," he replied, drawing out the words.
"You're more than welcome," she responded. "You're working hard for it."
After taking a quick nap, Preston got to practicing. Straddling the arm of the living room couch, he pretended to ride a calf as he held his right arm up and flashed a smile with a few front teeth missing.
Soon after, one of his family members asked what he was going to achieve later that evening.
He had his answer ready: "A qualified ride."
Hundreds of spectators had already packed the stands by the time Paquette and her family arrived at the arena. The emcee hyped the crowd, pumping music so loud it vibrated the metal fencing that formed the rodeo corral.
For Paquette, the next hour was a scramble. She shepherded Preston past the livestock to an office in the back, where she registered him with the Rafter K folks. Later, they returned to draw a number that determined the calf he would ride - No. 13, the same animal he rode the night Denim died and the only one that makes him "very scared."
Before any ride, Paquette said, she makes sure to buckle and secure Preston's helmet - the kind hockey players wear with a metal face mask added. She grabs the mask so she can look him in the eye and ask whether he's sure he wants to ride. Because, if there's any doubt, there's no point.
At 7:47 p.m., it was Preston's turn. All of the other calf riders had gone, none of them staying on long enough.
"Now, the final calf rider, looking for that first qualified ride!" the emcee announced.
Paquette hooted and hollered, just a few feet away but at that point powerless to stop things if they went wrong. Preston nodded to the cowboys helping him in the chute. He was ready.
The chute gate swung open.
"Our last and final calf rider!" the emcee bellowed.
The calf shot straight out into the arena, bucking nonstop. Preston made it to the fourth jolt before rolling off the calf's right side and tumbling to the dirt. Preston got up slowly and gingerly walked away.
He didn't make it to six seconds, instead clocking a no-score, non-qualifying ride. Not what he'd hoped for. And not what Paquette hoped for either, but also not what she dreaded. She went to her boy, unsnapped and removed his helmet, and the two headed back to the area that the family had staked out in the bleachers.
There were two more rodeos to close out the season; Preston rode in one of them. Once more, he was lowered onto an animal eight times his size. Again, his mother looked on from a few feet away, wondering where her son would land. Although he didn't get a qualified ride, he escaped unscathed.
If Paquette had her way, Preston would play a sport like baseball. Though she could spare herself the agony by banning her son from riding, she won't. Next season on Saturdays, in their new town, with their new community, she'll be at the American Legion Post 290's rodeo arena, making sure Preston has everything he needs and then watching him when he's out of reach. She'll endure the sweaty brow, the shaky hands and the ever-growing anxiety.
So he can ride. So he can learn a cowboy's grit. So he can be a part of something bigger than himself.
Video: Preston Malvoisin, 7, failed to earn a qualified score at the Rafter K Rodeo in King, N.C., on March 4.
---