Journey's Jonathan Cain shares the real-life story behind 'Don't Stop Believin' ' as band prepares for Spokane show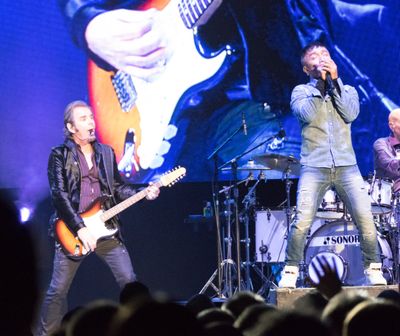 One of the architects of the massive hit "Don't Stop Believin' " almost stopped believing in Journey when vocalist Steve Perry quit the band in 1998. Keyboardist Jonathan Cain was uncertain that the band could continue after Perry left the group. It was understandable, since Journey said goodbye to a singer with such a big set of identifiable pipes that his nickname is "The Voice."
"Steve was the best bandleader you can have," Cain said. "He was magical."
If Journey failed to replace Perry, the group would have called it a day during its 25th anniversary. However, guitarist Neal Schon refused to give up, and Steve Augeri filled Perry's role. Jeff Scott Soto followed Augeri. Neither replacement singer approximated the impact of the iconic Perry. And the band was searching for yet another vocalist in 2007. Cain once again wondered if Journey could continue.
Then Schon witnessed Journey cover band singer Arnel Pineda in 2007 belting out "Don't Stop Believin' " in his native Manila via YouTube. An invitation to audition was offered.
"I was skeptical," Cain said. "I'm a realist. I thought, this kid has never been to America. There will be blowback because of his skin color and his race. I worried about how much of this country would accept him."
But Pineda was embraced with open arms by Journey fans. A quarter century after Perry bid farewell to Journey, the band is nearly as popular as it was during its heyday.
"We could have never have guessed this would happen," Cain, 73, said while calling from Los Angeles. "There is life for us at this point. When I look back at all that we accomplished, it's just amazing to take it all in."
So Cain and the rest of Journey, which includes drummer Deen Castronovo and bassist Todd Jensen, believe. "Don't Stop Believin' " isn't just the name of Journey's biggest hit. It's also the advice Cain received from his father when he struggled as a musician during the '70s.
" 'Don't stop believin' Jon,' is what my dad told me," Cain said. "I wrote it down in one of my notebooks." "Don't Stop Believin' " is also the name of Cain's memoir, which was published in 2018.
Journey, which will perform Friday at the Spokane Arena, was massive during its early '80s peak with Perry, who is an underappreciated arranger of the band's many hits. When Journey was putting together songs for its breakthrough album, "Escape," in 1981, Perry asked Cain for ideas.
"The clock was ticking on us and Steve wanted to know if there was anything in my magic notebook," Cain recalled. "I shared with him the phrase, 'Don't stop believin'."
Cain proceeds to sing the couplet, Don't stop believin'/hold on to that feeling. It's an enduring anthem. The chorus doesn't arrive until the conclusion of the tune, which is rare.
"Steve came up with that idea," Cain said. "He said, 'Make them wait to hear it. That way they'll always want to hear it.' I can still hear Steve yodeling the words to 'Don't Stop Believin'. "
Journey has sold 48 million albums and was inducted into the Rock and Roll Hall of Fame in 2017. "I don't know how to top that," Cain said.
There's often drama and unpredictability over the Rock and Roll Hall of Fame. Mark Knopfler blew off Dire Straits' induction in 2018. After years of complaining that they were dismissed by the hallowed Rock Hall, Kiss accepted the hardware but surprisingly refused to perform at their ceremony in 2014. According to Cain, nobody knew what Perry would do during the night of Journey's induction.
"I was hoping he would perform," Cain said. "I was waiting for him to do so. He didn't perform, but I was ready if he was up to it. On the plus side, Perry was full of grace and humility. He had a one-on-one for 15 minutes with Arnel, who came out and said, 'My God, I met him!' It was an amazing experience."
Journey played "Lights," "Separate Ways" and "Don't Stop Believin'." Speaking once more of the latter, Journey was ecstatic that Sopranos visionary David Chase selected the hit to cap his iconic show.
"That blew us away," Cain said. "David Chase notified us a year before it aired. 'I've chosen your song' is what he told us."
The members of Journey were sworn to secrecy. "We didn't say a thing," Cain said. "It was a feel-good song for Tony Soprano's character. I loved the show and James Gandolfini (who played Tony Soprano)."
While on vacation in Italy in 2013, Cain was checking out of a hotel in Rome shortly before Gandolfini checked in. Just a few hours later, Gandolfini passed away in his room. "I was freaking out when I heard about it," Cain said. "That was just too weird."
But fans might also file Journey adding a cover band singer from halfway around the world as weird. "Who would ever guess that would work," Cain said, "But it has worked out well."
Pineda's tenure with the band has almost matched Perry's period with Journey, which was 21 years.
"We're still going strong," Cain said. "We have more years ahead of us."
Don't stop believin', indeed.
---