A&E > Books
Celebrate literature and the arts at EWU's Get Lit! Festival, featuring local authors and U.S. poet laureate Ada Limón
Sun., April 16, 2023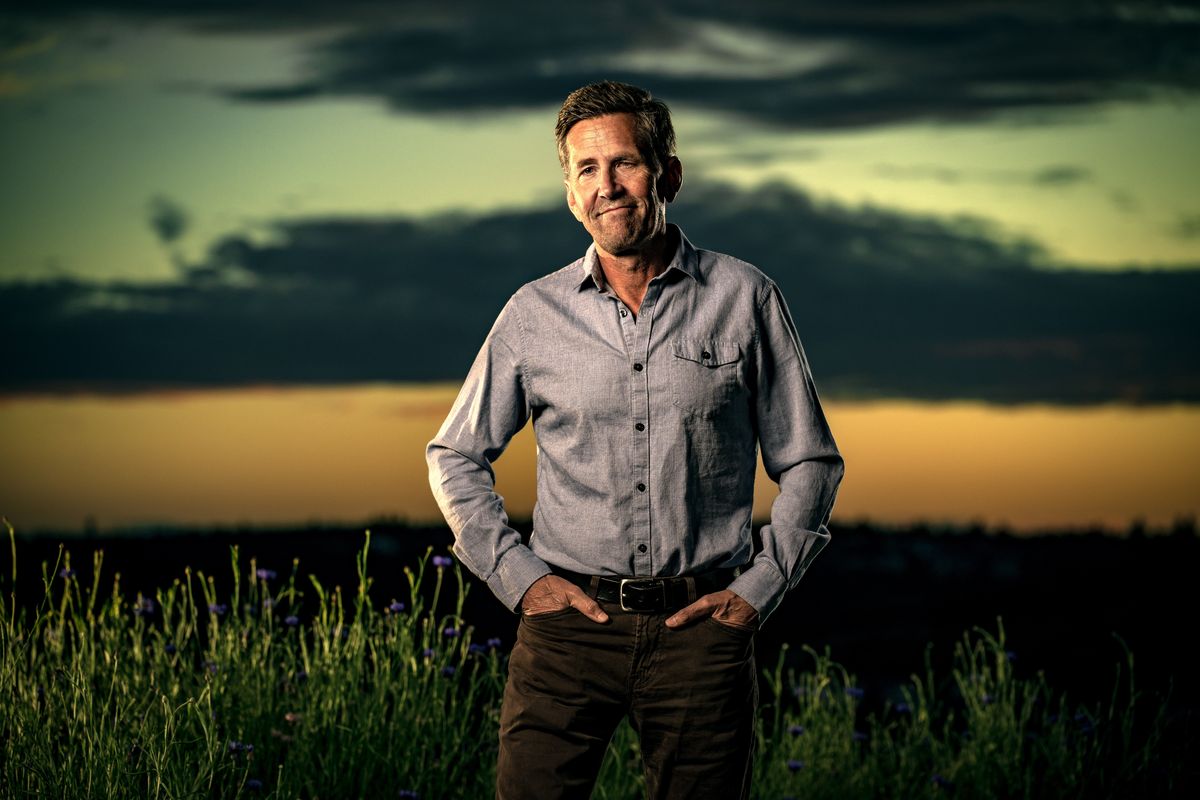 Local author Jess Walter is among the writers participating in Get Lit! this week in Spokane. (COLIN MULVANY/THE SPOKESMAN-REVI)
It's National Poetry Month, and kicking off this Thursday is the 25th annual Get Lit! Festival to "celebrate the arts, amplify diverse voices, and empower creativity," program director Kate Peterson said in an email.
Hosted by Eastern Washington University, the festival, according to its website, will feature "four full days of readings, writing workshops, craft classes, open mics, panel discussions, literary happy hours, and more."
Among writers attending are Leyna Krow and New York Times bestselling author Jess Walter. Walter and Krow will be in conversation with author Sharma Shields for Spokane Stories from 7-8 p.m. Saturday at the Central Library's nxwyxwyetkw Hall, 906 W. Main Ave. The event is free and open to the public.
Walter and Krow have used the Lilac City as backdrops in their novels. Peterson considers their work to have had "a huge impact on (the Spokane) community, from teaching writing to working in our local bookstores and libraries to starting their own indie presses and nonprofits."
Walter is the author of 10 books, including the New York Times bestseller "Beautiful Ruins," the National Book Award finalist "The Zero" and the Edgar Award winning "Citizen Vince." His latest novel, "The Cold Millions," is set in Spokane in the early 20th century. His most recent book is the short story collection "The Angel of Rome."
Krow is the author of the 2022 novel "Fire Season," set against the backdrop of Spokane's Great Fire of 1889, and two story collections, "Sinkhole and Other Inexplicable Voids" and "I'm Sorry, But You Appear To Be Sinking."
"They have really done so much over the years to make Spokane such a supportive community for creative people, especially writers," Peterson said.
According to Peterson, attendees can expect events that highlight "playwriting, poetry, memoir, speculative fiction, podcasting," as well as the tabletop role-playing game, Dungeons and Dragons.
Return of Pie and Whiskey
"The spirit of this event can really only be captured in person," said Kate Lebo, who along with Sam Ligon, cohosts the annual Pie and Whiskey event at the Get Lit! Festival.
Pie and Whiskey returns in-person at 8 p.m. Thursday, after having moved online for the COVID-19 pandemic, with an "army" of volunteers to bake pies and serve whiskey, while 12 readers share their work. Ligon and Lebo said they're "excited to get back after the pandemic hiatus" and "to be sharing food and drinks."
The event has drawn hundreds of people since its formation in 2012. Ligon, a fiction and nonfiction writer who teaches at EWU's creative writing program, is expecting attendance to be similar to prepandemic numbers.
Lebo, who writes nonfiction and poetry and whose pie recipes will be featured at Pie and Whiskey, said ingredients will be locally sourced, including a whole wheat pie crust recipe from her latest cookbook that is currently under revision. Spokane's Grain Shed, which sources its wheat from the Palouse, will provide flour, rhubarb will come from Vinegar Flats, cherries from Cherry Hill farm on Green Bluff and huckleberries will be sourced from Eastern Washington. Dry Fly Distilling is providing two cases of whiskey, a total of 408 shots.
Overall, attendees can expect a good time and lots of laughs, Ligon and Lebo said, along with profane, "edgy and naughty" writing.
"Kids are not welcome," Ligon said. "This is an adult event. That's part of the allure and appeal."
"No one will be boring," Lebo said of the readers.
Chapbooks featuring stories from readings performed that night will be available to purchase for $10. The proceedings help fund Get Lit! The chapbooks are designed by Christine Holbert at Lost Horse Press, printed by Gray Dog Press and are bound by students at EWU.
Pie and Whiskey will take place this year at the Montvale Event Center, 1019 W. First Ave. The event is for ages 21 and older and tickets are on sale at the door for $5.
U.S. poet laureate to attend festival
Ada Limón, the 24th U.S. poet laureate, will be attending EWU's Get Lit! Festival.
"It's really a dream come true to host Ada Limón," Peterson said by email. "She is a poet who I have wanted to book at the festival since I first took the (director) job at the end of 2016."
Limón's poetry has appeared in several journals, including the Virginia Quarterly Review, the New Yorker and the Academy of American Poets, among many others. She has six collections, including "The Carrying," which won the National Book Critics Circle Award for Poetry. Her book "Bright Dead Things" received several nominations, including the National Book Award, the National Book Critics Circle Award, and the Kingsley Tufts Poetry Award. "The Hurting Kind," her latest collection, was published in 2022. Limón's poetry captures the human experience by combining themes that encompass nature and humanity.
"Her poetry can really bring people together and show us how connected we are to each other, and to nature, which is so important right now," Peterson said. "It was really magical that we booked her before we even knew she was about to be the next U.S. poet laureate, it just worked out perfectly so that we could celebrate 25 years with this really exciting event."
Limón will lead a sold-out poetry workshop, scheduled at 1:30 p.m. Friday at the Central Library. Seats are available for $25 for an evening event featuring Limón from 7-8:30 p.m. Saturday at the Bing Crosby Theater, 901 W. Sprague Ave. Washington poets Laura Read and Gabrielle Bates will be present, also.
Looking to attend EWU's Get Lit! Festival? Visit getlitfestival2023.sched.com for a full list of events and more information.
Local journalism is essential.
Give directly to The Spokesman-Review's Northwest Passages community forums series -- which helps to offset the costs of several reporter and editor positions at the newspaper -- by using the easy options below. Gifts processed in this system are not tax deductible, but are predominately used to help meet the local financial requirements needed to receive national matching-grant funds.
Subscribe to the Spokane7 email newsletter
Get the day's top entertainment headlines delivered to your inbox every morning.
---