Gas prices up again in Washington, sending some frustrated drivers across the border to fuel up in Idaho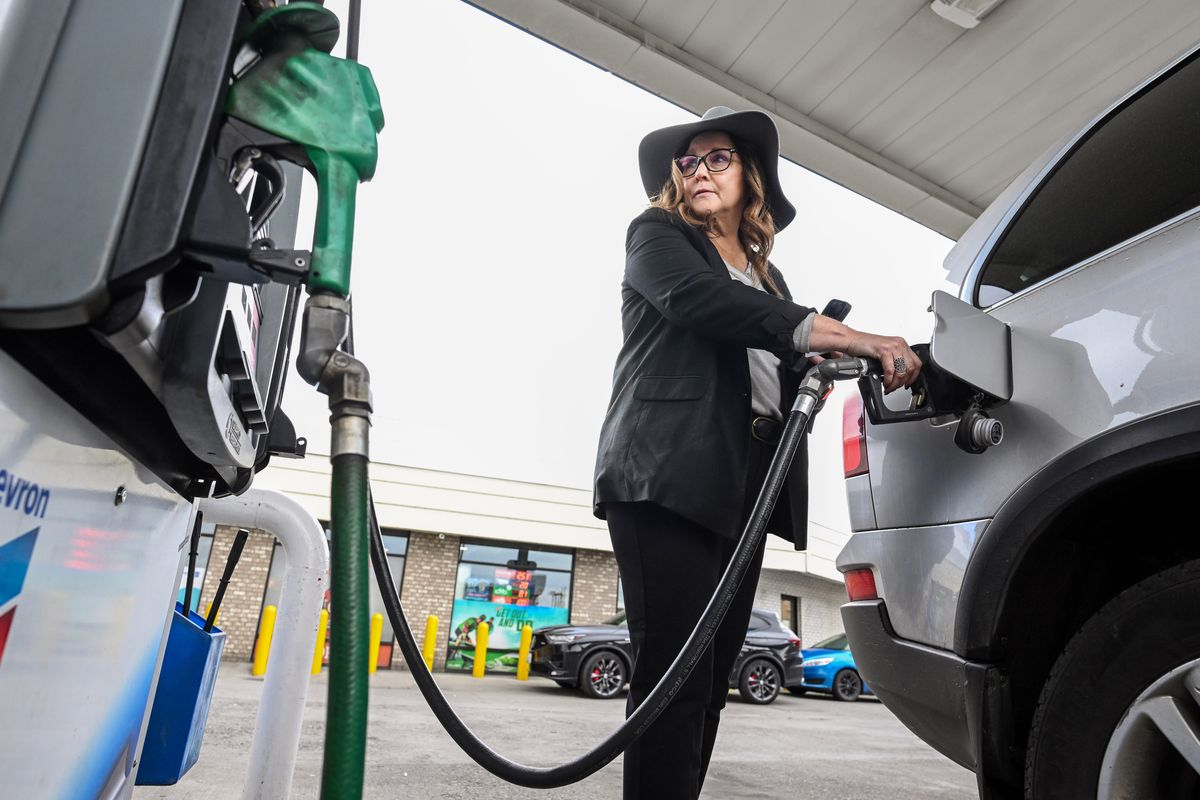 Pain at the pump – again?
Rising gas prices locally have outpaced the national average in recent weeks after OPEC cut oil production and seasonal demand increases.
Spokane has among the lowest average rates in the state at $4.29 per gallon of regular unleaded gasoline, according to AAA. Still, that's up 53 cents from a month ago and matches the price from a year ago, when prices were skyrocketing because of Russia's invasion of Ukraine.
Washington state has the fourth-highest rate in the country at $4.55, up from $4.25 a month ago. On Wednesday, the national average price was $3.68, up from $3.45 last month. That's still well below $4.10 a year ago and the $5.02 record peak last June.
"While the rising price of oil is likely the largest factor in rising gas prices, seasonal impacts continue to also exert pressure on prices," said Patrick De Haan, head of petroleum analysis at GasBuddy. "Oil prices remain a wildcard, but we're likely a few weeks away from seeing the national average peak."
The average price in Idaho is just below the national average at $3.63. The average in Kootenai County is even lower at $3.55.
Washington residents were taking advantage of those lower prices at a Maverik gas station in State Line on Wednesday, where the price was $3.47.
Jim Dickson, who lives in Liberty Lake, said the prices in Washington are "outrageous."
He stopped to fill up while shopping in Idaho. "It's not big deal to come over here," he said.
The upward trend was triggered when OPEC suddenly announced early this month that it would cut daily oil production by over a million barrels. Crude oil is now hovering near $80 per barrel.
"When the cost of crude oil crosses the $80 a barrel mark, that puts a lot of upward pressure on what we pay at the pump," said Andrew Gross, AAA spokesperson. "And as long as oil costs remain at the current level, drivers will likely see incremental price increases for now."
"I don't like it, it's ridiculous," said Sergiy Gsema, who lives in Spokane and tries to top off in Idaho when passing through for work.
He said he used to work at an oil field in North Dakota. "I know we have enough oil for decades and decades," he said.
Vlad Altukhov, who lives in Spokane and made a special trip to fill his tank, shrugged off the higher prices.
"It happens sometimes," he said, "and sometimes you have to go to Idaho."
The Washington state gas tax is 49.4 cents a gallon, while Idaho charges 34 cents.
The U.S. Energy Information Administration forecasts national gas prices will average about $3.50 throughout the summer season from April through September.
Barring any unexpected challenges, GasBuddy's 2023 fuel outlook expects prices will return to normal seasonal fluctuations this year, rising in the spring and dropping after Labor Day into the fall.
Diesel fuel, meanwhile, has ticked down nationally while going up in Spokane.
The average diesel price in Spokane is $4.68, up 10 cents from a month ago. The national average is $4.20, which is down 10 cents from a month ago.
Oil prices remain a wildcard, but we're likely a few weeks away from seeing the national average peak." Patrick De Haan, GasBuddy
---