100 years ago in Spokane: The fugitive accused of shooting a deputy was apparently trying to escape to Mexico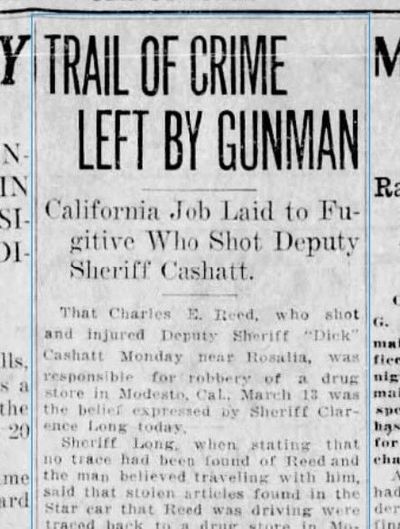 The desperado wanted for shooting a Spokane deputy was still at large, but he left behind a wealth of clues about his string of crimes along the West Coast.
Charles Reed abandoned a Star auto after shooting Deputy Dick Cashatt near Rosalia. The stolen car was chock-full of stolen items. Some were traced back to Spokane burglaries, and some were traced back to a burglary in Modesto, Cal., a month earlier. Authorities found a typewriter, camera, razor and film stolen from the Modesto drugstore.
Reed and a getaway driver were known to have crossed the Snake River at Central Ferry. Then they tried to purchase a train ticket in Walla Walla that would have taken them to Mexico.
A ticket agent apparently refused to sell them the ticket. Their whereabouts since then were unknown.
From the radio beat: KFZ, Spokane's fledgling radio station, was planning a high-brow evening of musical entertainment, including works by Beethoven, Handel and Rachmaninoff.
Nine "receiving stations" (i.e., radios) were distributed to various stores so that junior high winners of a "musical memory" contest could go to the stores and listen in on the concert.
Also on this date
(From onthisday.com)
1932: President Herbert Hoover suggests the five-day work week.
1963: Johnny Cash releases single "Ring Of Fire," written by his future wife, June Carter, and Merle Kilgore.
1995: Oklahoma City bombing, Timothy McVeigh sets a truck bomb at the Alfred P. Murrah Federal Building, killing 168 and injuring 500.
---