News > Pacific NW
Muslim for-hire drivers share challenges of praying at work
Sun., April 23, 2023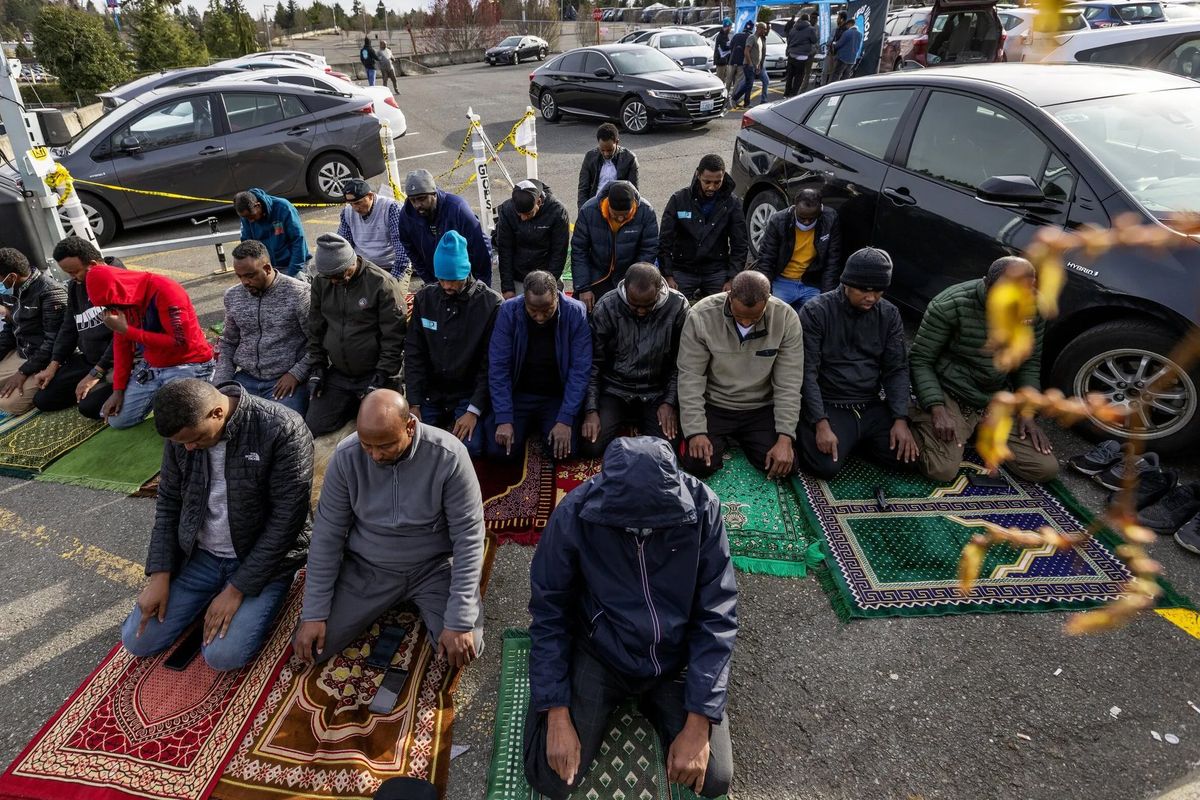 Muslim drivers face toward Mecca and pray during Ramadan at Seattle-Tacoma International Airport's staging and dispatch lots, April 5, in Seattle. Drivers waiting for ride assignments here are calling for access to clean restrooms, running water and a sheltered prayer area. (Ken Lambert/The Seattle Times)
SEATTLE – Ahmed Mohamed drives a little over a mile from the Uber and Lyft parking lot near Seattle-Tacoma International Airport to Abubakr Islamic Center in Tukwila to wash ahead of his prayers every day. But he doesn't stay to pray at the mosque because he needs to get back to work.
More than half of for-hire drivers in the Greater Seattle area are Muslim, according to the Drivers Union, an advocacy group that represents app-based drivers. Many drivers station themselves at the airport because trips to and from Sea-Tac can earn them up to nine times more than shorter trips made driving around the city. But for Muslim drivers who pray several times a day, that comes at a personal cost.
To pick up passengers at the airport, app-based drivers have to wait in a queue of cars that can take up to two or three hours to get to the front of the line. That forces Muslim drivers to choose between staying in the queue to earn that higher rate and leaving the line to pray in an appropriate space.
Muslim drivers and advocates are asking the Port of Seattle to build a prayer room and replace the portable toilets at the ride-hailing parking lot with permanent bathroom facilities to better accommodate drivers' faith-based needs.
Drivers say the temporary restrooms at the packed lot emit a fetid odor, and hand-washing stations frequently run out of supplies from constant use. Using dirty water and being near bodily waste can invalidate the ritual.
"When you're facing God, you want to be clean," said Mohamed of the obligatory washing ritual known as wudu, which cleanses bodily impurities and shows respect. "For us to have a place we can wash up and clean ourselves would be a big relief."
Even those like Mohamed who leave the parking lot in search of cleaner bathrooms often return to unfurl their prayer rugs in the corner of the parking lot and pray on the blacktop to stay within the required radius and avoid losing their places in Uber's and Lyft's long queue.
These issues are exacerbated during Ramadan, one of the holiest months of the year for Muslims, that is marked by abstaining from food and drink from sunrise to sunset, as well as having prayer, spiritual introspection, giving to others and spending time with loved ones.
The Washington Law Against Discrimination affords independent contractors anti-discrimination protections even though they aren't covered by federal nondiscrimination laws.
Under federal and state laws, employers must accept reasonable requests for accommodations unless it causes the company undue hardship. This can include not scheduling Jewish and Christian workers during the sabbath, giving people time to pray during their workday or allowing an employee to wear religious clothing such as a hijab or turban.
Representatives with the Port of Seattle, the agency that manages the Uber and Lyft parking lot and the airport, said the commission approved a project in February that would upgrade the lot with permanent restrooms, but it would not include a sheltered prayer space. Port of Seattle Commissioner Hamdi Mohamed said the agency is exploring options to build a meditation room on the lot, as well as identifying spaces at off-site locations.
A spokesperson for Uber and Lyft did not respond to requests for comment.
For drivers like Ahmed Mohamed, celebrating Ramadan traditions can clash with the demands of attracting customers and making a profit per trip, in an increasingly competitive industry. When he leaves the airport's queue, he risks losing all or half of his daily earnings, resulting in a potential deficit between $800 and $1,000 per week for his family.
Working near the airport is typically more profitable for ride-hail drivers than in other areas of Seattle and surrounding cities, said Mohamed, who estimated he earned at least $35 to $45 per ride at the airport. In other areas of Seattle, he said he may sit in his car for hours for a couple of $5 trips.
"If you're worried about making money, that will disturb your Ramadan rituals," said Mohamed, who anxiously drives to the mosque to wash up. "By the time you come back, you have to wait another two to three hours just to get a trip. Even if it means for me to sacrifice and lose the spot – I have to do that.
"But deep down inside, it hurts me, because I don't have the (resources) to do the things that I wanted to do."
These challenges bring additional stress to workers and can make it difficult for them to celebrate Ramadan, said Mohamud Adan, a representative for the Drivers Union.
"It puts the believer in a very difficult place because you have to choose between God and your bread," Adan said. "This is a very important time for Muslims, and if this is interrupted … they really end up losing this momentum and opportunity. And then it can even cause psychological pain."
Throughout the month of Ramadan, which ended Friday, observers eat a predawn meal and then break their fasts with iftar, an evening meal. The holiday culminates with Eid al-Fitr festivities. For Mohamed, that means breaking his fast in the parking lot instead of at home with his family.
"If I don't make enough money that day, sometimes I'm forced to do that," said Mohamed, who has driven for Uber since 2015 and is active in the Drivers Union advocacy group. "I eat one or two dates that are in my car and drink water. When I make enough money, I can go home and eat something. It is hard for me, and that's with every driver."
Some drivers who spoke with the Seattle Times said they are so worried about losing their spot in the queue, they use water bottles to clean themselves there, or they leave their phones with a friend to save their place in the queue as they depart to use the bathrooms outside of the lot. Uber driver Abdirahman Ali echoed the feeling that having access to proper facilities would alleviate these worries.
"It would mean a lot to not only me but to other drivers," Ali said. "When they come to work, they don't have to turn off the app and find a place to pray."
Getting religious accommodations at work can be especially difficult for Muslims with blue-collar or hourly jobs, according to Imraan Siddiqi, the executive director of CAIR's Washington chapter. Siddiqi added that this is often exacerbated by socioeconomic disparities.
"There's not this level of leeway or understanding that's been given to them," Siddiqi said.
Ahmed Mohamed began driving Uber eight years ago to support his three sons and wife. He said driving with Uber gave him the flexibility to take his sons to soccer and swimming lessons. For Mohamed, having access to a place to pray, especially during Ramadan, would make him feel more appreciated on the job.
"Ramadan is a very spiritual month for us, and we don't want anybody to do their rituals in sadness," Mohamed said.
"We're here to serve people and make sure that people get to their destination … but at the same time, there are certain things that we need for us to function well as a human being."
Local journalism is essential.
Give directly to The Spokesman-Review's Northwest Passages community forums series -- which helps to offset the costs of several reporter and editor positions at the newspaper -- by using the easy options below. Gifts processed in this system are not tax deductible, but are predominately used to help meet the local financial requirements needed to receive national matching-grant funds.
Subscribe now to get breaking news alerts in your email inbox
Get breaking news delivered to your inbox as it happens.
---