Dave Boling: Seahawks continue to defy NFL draft experts, pick players that fit John Schneider and Pete Carroll's needs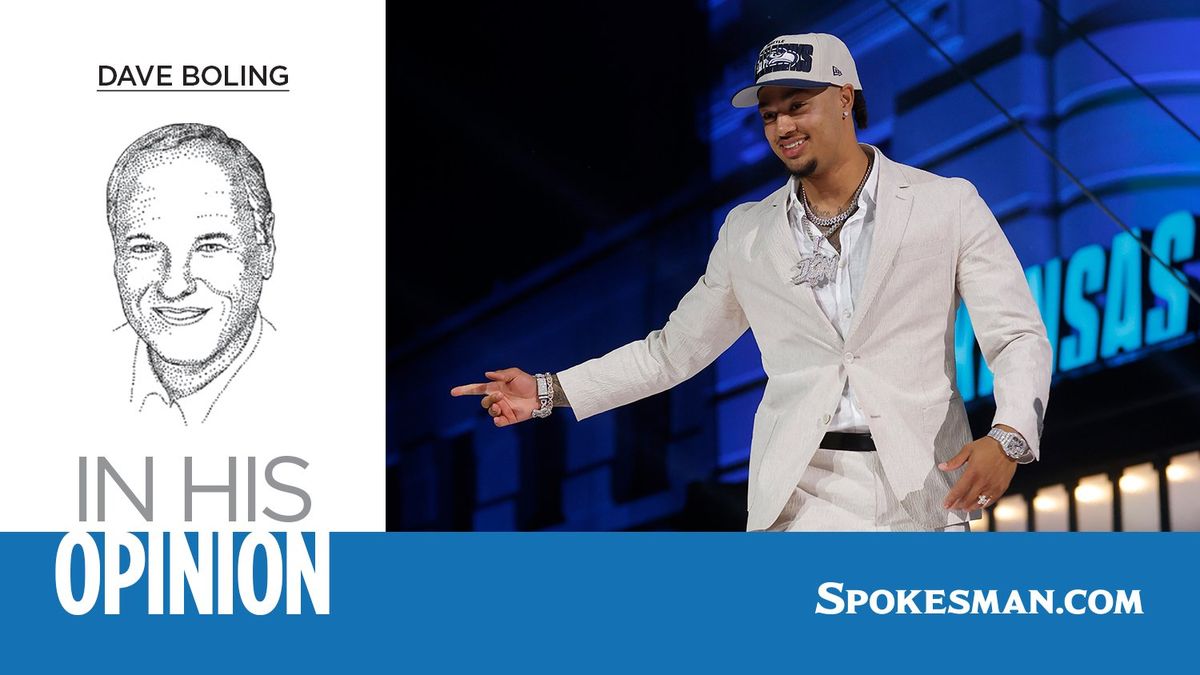 RENTON, Wash. – John Schneider and Pete Carroll love being contrarians. Messing with everybody, doing the unexpected, the counterintuitive.
Surely they read the mock drafts and experts' opinions and scoff. Ho-ho-ho. Fools!
Sometimes it works spectacularly; sometimes less so.
The NFL tricksters were at it again on Thursday night.
With the fifth overall pick in the 2023 NFL draft, Schneider and Carroll passed on some highly regarded defenders who seemed the most obvious choice to fill the Seattle Seahawks' needs – a powerful interior lineman, or one of the top edge rushers so precious in recent drafts.
Instead, after filling the secondary larder with a pair of talented, young cornerbacks last season, the Seahawks unexpectedly added Illinois cornerback Devon Witherspoon.
Yes, they pulled one of the great steals of the 2022 draft, getting Pro Bowl corner Tariq Woolen in the fifth round after landing last year's Thorpe Award winner, Coby Bryant, in the fourth.
So Witherspoon obviously jumped out at them. Everybody's highlights are a series of valentines, but Witherspoon's display extraordinary quickness, anticipation and surprising force for a 180-pounder.
In a couple of clips, Witherspoon showed the closing speed and a degree of detonation at the ball-carrier that resembled a taller and thinner Earl Thomas. That's big stuff – a safety's punch in a corner's body.
Coach Lovie Smith called Witherspoon the toughest player, pound-for-pound, on his Illini team – as a freshman. Witherspoon also made a dramatic, chase-down tackle of a Wisconsin running back at the goal line to set up an huge upset of the highly ranked Badgers that year.
So, he's a gamer, a big-play maker, the kind who lives by the old Legion of Boom mandate to "defend every blade of grass."
Potentially adding safeties Jamal Adams, Quandre Diggs and Julian Love to corners Woolen, Bryant, Witherspoon (and Michael Jackson?) and the secondary will be extremely well-armed against the passing attacks they'll face.
Actually, Witherspoon looks sound in run support, too.
"That's just always been me," Witherspoon said. "You just have to want to
tackle. This game is about tackling, defending the run. It's everything. That's always been me."
He said Thursday night that he would classify himself as "feisty and aggressive." That's probably what Carroll and Schneider would call themselves, too, if they were to be completely honest.
But what about stopping the run, last season's greatest weakness? The Hawks surprised the experts last season when they made the playoffs with nine wins despite being considered one of the weakest teams in the preseason.
They easily could have won several more games if they could have defended competently instead of surrendering more than 200 rushing yards to four teams and 150-plus eight times.
Why, then, did they forgo Georgia defensive tackle Jalen Carter with the fifth pick?
Carter had stunning film for the national champion Bulldogs. But he was involved in off-field misadventure and showed up at the combine and pro day in less-than-impressive condition.
For a potential high draft pick, the most crucial time for physical improvement is between the end of the season and the combine and pro day. This is when the money is made, where a player convinces prospective employers how much he wants to be a great pro.
The Seahawks obviously were unimpressed.
Cornerbacks selected in the top five are rare. Hall of Famer Deion Sanders was the No. 5 pick in 1989. Charles Woodson was the No. 4 pick in 1998. The Hawks picked Ohio State's Shawn Springs with the third overall pick in 1997.
Sanders, Woodson, former Hawk Richard Sherman … what do all the great cornerbacks have in common?
Athleticism, obviously, but also a combative attitude, weapons-grade confidence.
In a pro day meeting, Schneider and Carroll schooled Witherspoon on the secondary legacy in Seattle. "They told me about the culture they have there," Witherspoon said. "The Legion of Boom, and the history."
He added an assurance that is a testament to his attitude. "I know what it takes to be great."
That will be expected of him, given the pick they've invested in him.
With the 20th pick, the Seahawks again ignored the available run-stoppers in favor of a big-play wide receiver from Ohio State, Jaxon Smith-Njigba, who missed most of last season with a hamstring injury but caught 15 passes for 347 yards and three touchdown passes in the Rose Bowl win over Utah.
The theory, apparently, is that run-stuffers and pass-rushers will be available on Day 2 and 3.
The only thing we might be sure of is that the players the Seahawks eventually pick will be both feisty and aggressive, and will be firmly in opposition to conventional wisdom.
---