A&E > Entertainment
It's no mid-life crisis for Ryan Montbleau
April 27, 2023 Updated Thu., April 27, 2023 at 2:24 p.m.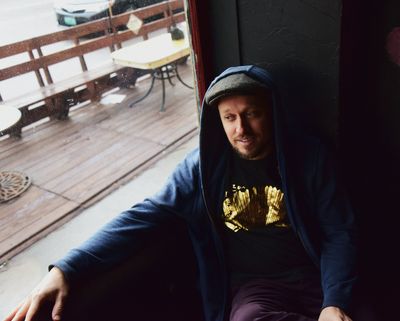 Many singer-songwriters are vocal about how they suffered through the pandemic. However, Ryan Montbleau sings a different tune.
"So much came together for me during lockdown," Montbleau said while calling from Syracuse. "I was always on the run, always on the road. I needed the down time to get my life together."
Montbleau, 45, moved in with his girlfriend and her daughter in Burlington, Vermont and embraced stability, which had eluded him throughout much of his life. "It's always been about work, which is music," Montbleau said. "I've put in my 10,000 hours on the road with shows. But there had to be something more. I found that with my girlfriend and her daughter, who did things like paint my nails and we all just hung out and it felt so good."
Music flowed from Montbleau. Love songs, such as "Who Made You" – inspired by his girlfriend – are part of Montbleau's latest collection, "Wood, Fire, Water and Air," which was released in February.
The project is the four EPs Montbleau released during the pandemic. "They're like snapshots of my life," Montbleau said. "It's a good time right now since more people are coming out to see me and experience these songs."
Montbleau's audience has grown thanks to his cover of the Tracy Chapman smash "Fast Car." Montbleau, while backed by the terrific band Tall Heights, fleshed out the '80s classic with strings and harmonies. Spotify picked up their version and much has changed for Montbleau 90 million streams later.
"Musicians have different views on Spotify," Montbleau said. "Some musicians don't like it but Spotify put me on a playlist with 'Fast Car' and it helps me pay my mortgage. It's taken the edge off touring. It's helped me focus on writing. Spotify has been a blessing since so many people have discovered me."
Montbleau, who crafts an amalgam of rock, folk, R&B, Americana and funk, has been a touring recording artist since his 2003 debut "Begin" was released.
Montbleau has 11 albums to draw from when he hits the stage with his band or as a solo artist. The suburban Boston native, who will perform at the Lucky You Lounge on Wednesday, likes to mix it up live.
"I can't play a show just one way because I want to make people cry since I'm a folk singer at heart," Montbleau said. "But I also want people to move their bodies at my shows. I like it both ways."
Local journalism is essential.
Give directly to The Spokesman-Review's Northwest Passages community forums series -- which helps to offset the costs of several reporter and editor positions at the newspaper -- by using the easy options below. Gifts processed in this system are not tax deductible, but are predominately used to help meet the local financial requirements needed to receive national matching-grant funds.
Subscribe to the Spokane7 email newsletter
Get the day's top entertainment headlines delivered to your inbox every morning.
---