Betsy Wilkerson, Kim Plese advance in Spokane City Council president race; Dillon and Treloar, Klitzke and Moore top vote-getters for council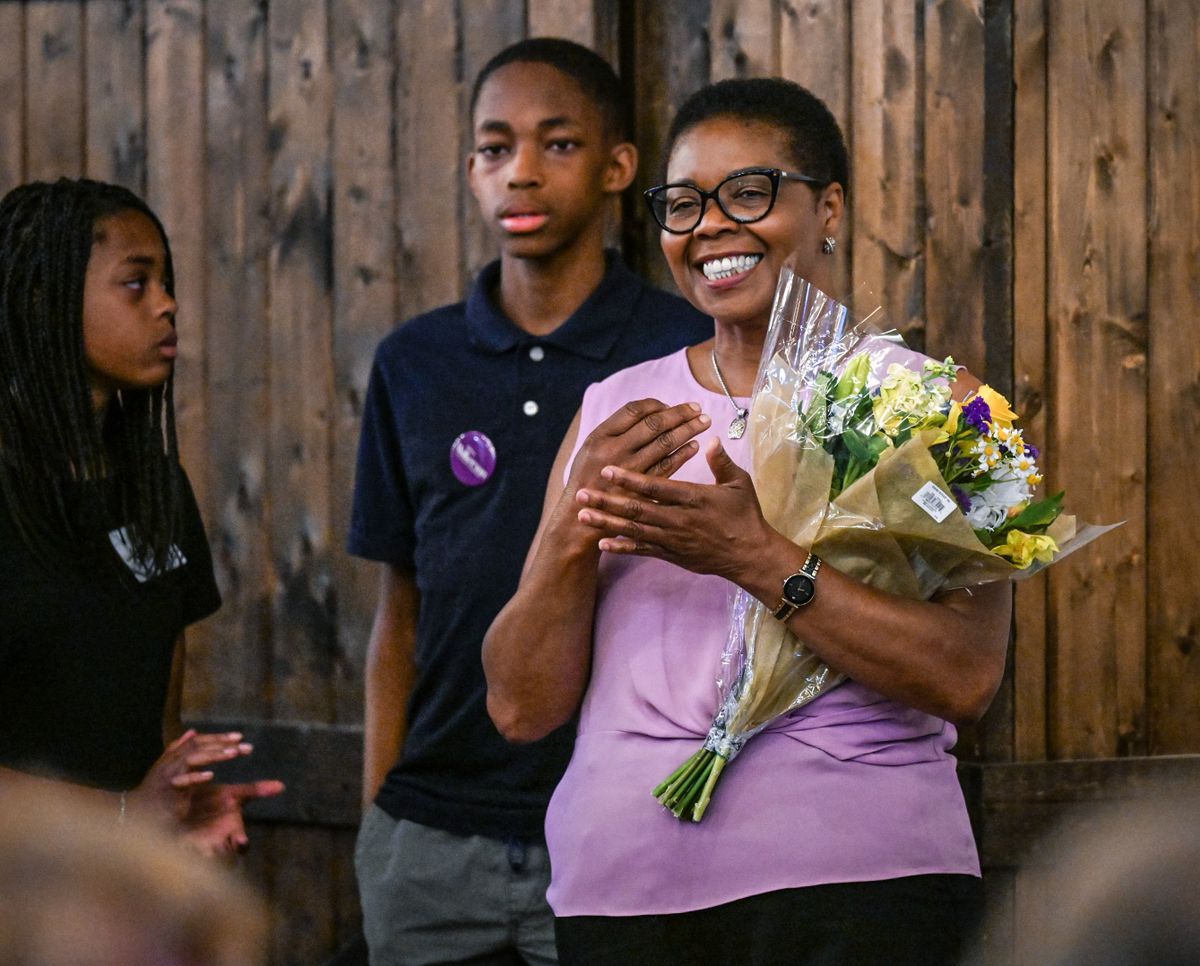 Voters will have the choice between a sitting City Council member and a former private business owner to lead Spokane's legislative body for the next four years.
Betsy Wilkerson, who was appointed to the City Council three years ago, will face Kim Plese, a former Republican candidate for Spokane County Commission, to serve as Spokane City Council president in the November election.
Wilkerson, who appeared Tuesday night with mayoral candidate Lisa Brown at a downtown watch party, earned 48.1% of the vote. Plese, who earned the endorsement of Mayor Nadine Woodward, earned 36.3%.
Wilkerson credited her work at city hall for her showing in the primary.
"My experience has prepared me, because I have been making relationships with leaders in other cities," she said. "My ability to work with people of all walks and all political beliefs is my strength. It's going to be a learning curve for me to adjust from being a councilwoman to being the president."
Retired U.S. Air Force Lt. Col. Andy Rathbun finished third after votes were tallied Tuesday, but had already conceded the race in an email sent out on Election Day that also criticized Wilkerson. He earned 15.4% of Tuesday's votes.
Plese, appearing at an event with Woodward, expressed confidence after Tuesday's results.
"I was a solutions-provider, and that's what I'm going to do when I take over and I get sworn in," Plese told her supporters. "I wish it was tonight, because I just want to get to work for the city, and for you, and the businesses here that don't get the attention they deserve in our town."
Both Wilkerson and Plese have significant campaign contributions to fund a general election contest that is likely to mirror the debate about housing, homelessness and public safety issues expected to drive the mayor's race.
District 2 (Downtown, South Hill and East Central)
An activist and outspoken critic of Woodward's administration will face a retired schoolteacher to represent south Spokane voters in the November election.
Paul Dillon was the top vote-getter in the primary for Lori Kinnear's seat on the council, with 41% of the vote counted Tuesday, followed by Katey Treloar, with 33.3%.
Dillon gathered with a few dozen supporters at Wishing Tree Books in the Perry District. The crowd began to cheer after the results came out, and Dillon hugged friends and family.
"We didn't just make it through the primary, we won the primary," Dillon said. "This is a good night."
Treloar gathered with about 30 supporters at 22ROOMS downtown.
"I'm going to keep connecting with people in our community, and talking about how important it is to engage in local government and keep asking them what they need," Treloar said.
Cydni Donahue earned 17.2% of Tuesday's vote, while Mike Naccarato earned 8.3%.
Dillon had earned Kinnear's endorsement in the four-way race for the seat, while Treloar has earned the financial backing of the Spokane Association of Realtors.
District 3 (Northwest Spokane)
Six candidates hoping to occupy the seat that will be vacated by term-limited Councilwoman Karen Stratton split the vote of Northwest Spokane on Tuesday, with Kitty Klitzke and Earl Moore emerging as the top vote-getters.
Klitzke is a longtime advocate for public transit and land-use reform at the municipal and county level, having served with the nonprofit Futurewise to promote policies aimed at reducing sprawl. She earned 36.2% of Tuesday's vote in a crowded field.
"I think people want to talk about the nuts and bolts of what's going on in our city," Klitzke said Tuesday night. "We'll keep talking to voters and see if their priorities have changed. It seems like what we're talking about is working."
Moore, a Republican precinct committee officer who'd expressed solidarity with Spokane Police Chief Craig Meidl, had been the top fundraiser for the seat. She earned 21.6% of the vote.
Moore said she'd represent all her constituents if elected in November.
"I don't care if you're rich or poor, Black or white, Democrat or Republican, straight or not, I don't care. What I care about is good decisions can be made at the City Council level that benefit all the people, all the people, not one or the other," Moore said.
Esteban Herevia finished fourth in ballots cast Tuesday. The former president of Spokane Pride had faced allegations of fostering an inappropriate relationship with a student facing housing insecurity while working at Whitworth University. Herevia earned 15.5% of Tuesday's vote.
Christopher Savage, who serves on several volunteer boards and commissions throughout the city, earned 17.4% of Tuesday's vote, finishing between Moore and Herevia. Savage said he was still hopeful he could make up the gap between himself and Moore.
Darren McCrea, who'd been running on a platform focused on lessening the effects of climate change, had 4.5% of the votes counted Tuesday. Randy McGlenn has the lowest vote total of announced candidates, with 4.3% of the ballots counted Tuesday.
Staff writers Trevor Picanco, Isabelle Parekh, Roberta Simonson and Liam Bradford contributed to this report.
---