A Motown lover's guide to Detroit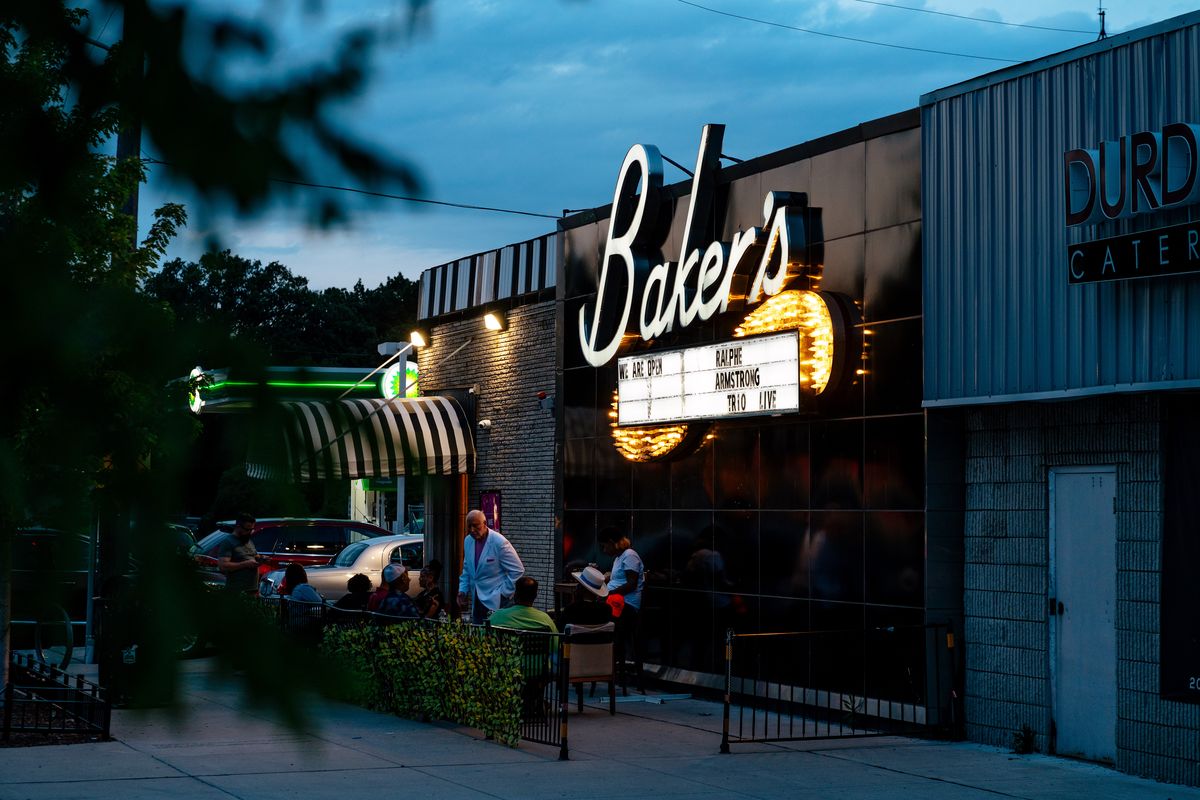 You can feel the lasting impact of R&B and soul artists all over Detroit. Downtown, a colorful mural of a smiling Stevie Wonder – who signed with Motown Records when he was 11 – towers at least four stories high. Aretha Franklin Amphitheatre shines from the Detroit River bank. Live music venues with sparkling marquees dot the wide streets.
Within the past few years, there has been a surge of Black-owned restaurants and cocktail bars in the city, breathing new life into the downtown core. Most recently, the Motown Museum has seen improvements as part of a $55 million, 40,000-square-foot expansion that offers more new and exciting ways for fans to immerse themselves in everything Motown.
"It was demand from our audiences," Motown Museum chief executive and chairwoman Robin Terry said of the expansion. "Not only did we have a small footprint, but we also saw a record number of younger visitors coming in with their kids, [unsettled] by the social unrest and uncertainty in the world. People were drawn to something certain, something culturally authentic that represented unification and hope."
When Berry Gordy founded Motown in 1959, he created a timeless legacy synonymous with joy and unity. His company of predominantly Black artists transcended racial and social boundaries at a time when segregation ran rampant nationwide. The music of Motown artists like Stevie Wonder, Marvin Gaye and the Miracles have always reflected hope in America, providing anthems for Vietnam War protests, civil rights movements and the need for simply "dancing in the street."
"(The Motown Museum) is a space that inspires the human spirit," Terry said. "It gives people a sense of community and possibility, and we have never needed that more than today."
As with many others, Motown music has been a major player in the soundtrack of my life. My father told me that Stevie Wonder's "Isn't She Lovely" was about me, and for far too long, I believed him. My earliest memories are of dancing around the house with my siblings to Mary Wells, my dad belting the Jackson 5's "I Want You Back" into the broom handle and my mum humming "I Heard It Through the Grapevine" in the kitchen. I walked up the aisle to Stevie Wonder's "For Once in My Life."
Motown's monumental musical influence is still felt all over Detroit, brimming with outdoor stages for pop-up performances, historic keyboard lounges and electrifying live jazz bars. If you're a music lover like me, here is how to immerse yourself in the sound that made Motor City.
The Motown Museum
The Motown Museum unveiled its big expansion last year, giving fans greater access to even more artist memorabilia (think original costumes, personal calendars and instruments), interactive exhibits and a multimedia performance space – all in a new area located behind the original Hitsville, U.S.A. house.
This major project started with Hitsville NEXT, a contemporary studio extension built for young singers, songwriters, producers and engineers to participate in workshops, mentorship programs and summer camps. Inspired by the days when Motown artists hung out at the studio, this space will support local talent, fostering new collaborations.
Next came Rocket Plaza, a green, inviting outdoor space that blasts Motown's greatest hits among park benches and a pop-up stage. Every weekend this summer, Rocket Plaza will host free family events for the community such as aerobics, game days and celebrations. The plaza is primed for impromptu performances from artists new and old.
The final phase, Motown's new modern performance space, is scheduled to open in late 2024.
Info: 2648 Berry Gordy Jr. Blvd. (2648 W Grand Blvd.); motownmuseum.org
Cliff Bell's
This historic jazz bar has hosted many Motown alumni – and still presents an annual "Amplify" singing contest. Performing here is a rite of passage for any up-and-coming blues or jazz musician.
"You've got to go to Cliff Bell's," says the doorman at my hotel, the Shinola, when I tell him I'm in Detroit on a Motown pilgrimage. "It is a classic Detroit music experience."
Walking into Cliff Bell's is like entering a 1960s time warp, where carpet, red leather booths and small circular tables with white tablecloths are the height of sophistication. The crowd is dotted around the venue, all facing the circular stage where jazz musicians explore beats, bass and piano riffs with such expertise and passion, guests can't help but smile and nod.
The food and drink menus are classic and small (think oysters Rockefeller, steak and pork chops) but the music, the vibe and the musicians themselves all make Cliff Bell's an enchanting experience.
Info: 2030 Park Ave.; cliffbells.com
Willis Show Bar
This live show bar is in Detroit's historic Cass Corridor and maintains its vibrant, bohemian feel. Expressive vocals, smooth bass and an infectious high hat reverberate along the velvet high-top stools lining the bar and through luxurious two-tiered seating.
A popular jazz club hosting the city's most exciting musical acts from 1949 to 1978, this space was restored to its art moderne style and relaunched as a live performance venue in 2018. The main stage is behind the bar with additional risers on the side, ensuring that rhythms envelope every corner of this intimate venue. Willis Show Bar continues to present Detroit's most talented singers and musicians performing R&B, funk, soul and pop.
The mixologists here are some of the best in the business, creating new and exciting cocktails on the fly: Give them your favorite ingredients and flavors, and watch the wizardry.
This lively yet cozy venue is popular, especially on weekends, so definitely book in advance.
Info: 4156 Third St.; willisshowbar.com
Baker's Keyboard Lounge
Since 1939, Baker's Keyboard Lounge has hosted some of the most famous jazz musicians in the world, including Miles Davis, Charlie Parker, Ella Fitzgerald, Billie Holiday, Louis Armstrong and Nat King Cole, among many others.
Musicians of all genres have stopped by the lounge for an impromptu performance on the 7-foot Steinway or just to soak in the talent that has played between these walls. Self-proclaimed as the longest-running jazz club in the world, this venue is an essential part of Detroit's historic music scene and continues to provide a classic lineup of respected blues and jazz musicians. Baker's also offers karaoke should patrons feel inspired to give their own rendition of Aretha Franklin's "Respect."
Baker's Keyboard Lounge still boasts their famous keyboard-shaped bar and serves classic soul food such as catfish, collard greens or the house-favorite fried pork chop.
Info: 20510 Livernois Street; bakerskeyboardloungedet.com
Aretha Franklin Amphitheatre
Recognized as one of the top 100 concert venues in the world, the Aretha Franklin Amphitheatre (formerly the Chene Park Amphitheatre) sits on the banks of the very busy Detroit River, facing the Canadian border. This modern, open-air space underwent a major renovation in 2021, now accommodating 6,000 people and catering to those who wish to take in a concert from the comfort of their boat.
This stage is a popular destination for many international artists including Robin Thicke, Manhattan Transfer, Joss Stone and Run-D.M.C. as well as Motown legends like Smokey Robinson, Diana Ross, the Isley Brothers, Erykah Badu and Brian McKnight.
Aretha Franklin was not signed to Motown, but Gordy considers her a member of the "Motown family."
Info: 2600 Atwater St.; thearetha.com
Savannahblue
This Black-owned restaurant and cocktail lounge downtown serves Detroit-influenced soul food, with a focus on freshness. The seasonal menu is a single page; braised oxtail, catfish fritters and warm crab dip are all fan favorites.
Co-owner J.D. Simpson said the lack of diversity in Detroit's city center inspired them to open a venue that not only addressed African American legacy in hospitality, but celebrated Black culture in Detroit.
"We grew up with the Motown folks and their kids. Gladys Knight took me to football practice and Marvin Gaye lived around the corner," Simpson said. "Out of all that came a style that we all had to emulate. Motown style was part of life, business, entertainment."
A curated soundtrack of blues and Motown hits flows through the softly lit, comfortable dining room. A baby grand piano sits in the corner for occasional, impromptu performances from local talent.
Info: 1431 Times Square; savannahbluedetroit.com
Willow Bar
Black-owned speakeasy Willow Bar opened quietly in an alley adjacent to Savannahblue last year with only a willow tree painted on a gold door as an indicator of its location.
This inviting space reflects the untold, unrecognized contribution of the Black bartender in American culture. For example, Fannie Ward No. 2 is a rum-based concoction that recognizes the original Fannie Ward, a cocktail invented by Black bartender Tom Bullock. There is also the Rural Martini, which incorporates collard greens jus, and the Michigan Blossom that features Black-owned tequila brand Anteel.
"Pre-slavery, the Black bartender was one of the most influential, accomplished people in town," said Simpson, also a founder of Willow Bar. "And we wanted to see the diversity behind the bar and in front of the bar again."
He credits bar managers Lynsai Barnes and Lisa Posey with developing their unique menu and bringing the soul of Detroit into the space. "Our menu is very inclusive," Barnes said. "Everyone on our team brings something of themselves."
The lounge has an atmosphere of vintage luxury, draped in heavy curtains and luscious greenery, with portraits of influential Black Detroiters and legendary Motown artists covering the walls. The spirit of Detroit is strong here.
Info: 1431 Times Square; willowdetroit.com
Shinola Hotel
Located in downtown Detroit, this 129-room boutique hotel is built in two restored hardware stores and mirrors Detroit's historic architecture. Subtly trendy and classically cool, the luxurious Shinola prides itself on attention to detail from the moment one enters the lobby to the unique floor plan of each room.
Perhaps most importantly, the staff here knows the hippest joints in Detroit on any given day. They can point you to the best live gigs in the city. The Shinola also has two restaurants and two cocktail bars, one with a live DJ on the weekends.
Info: 1400 Woodward Ave.; shinolahotel.com
---