Washington's high gas prices make it the best state in the nation to go electric, study says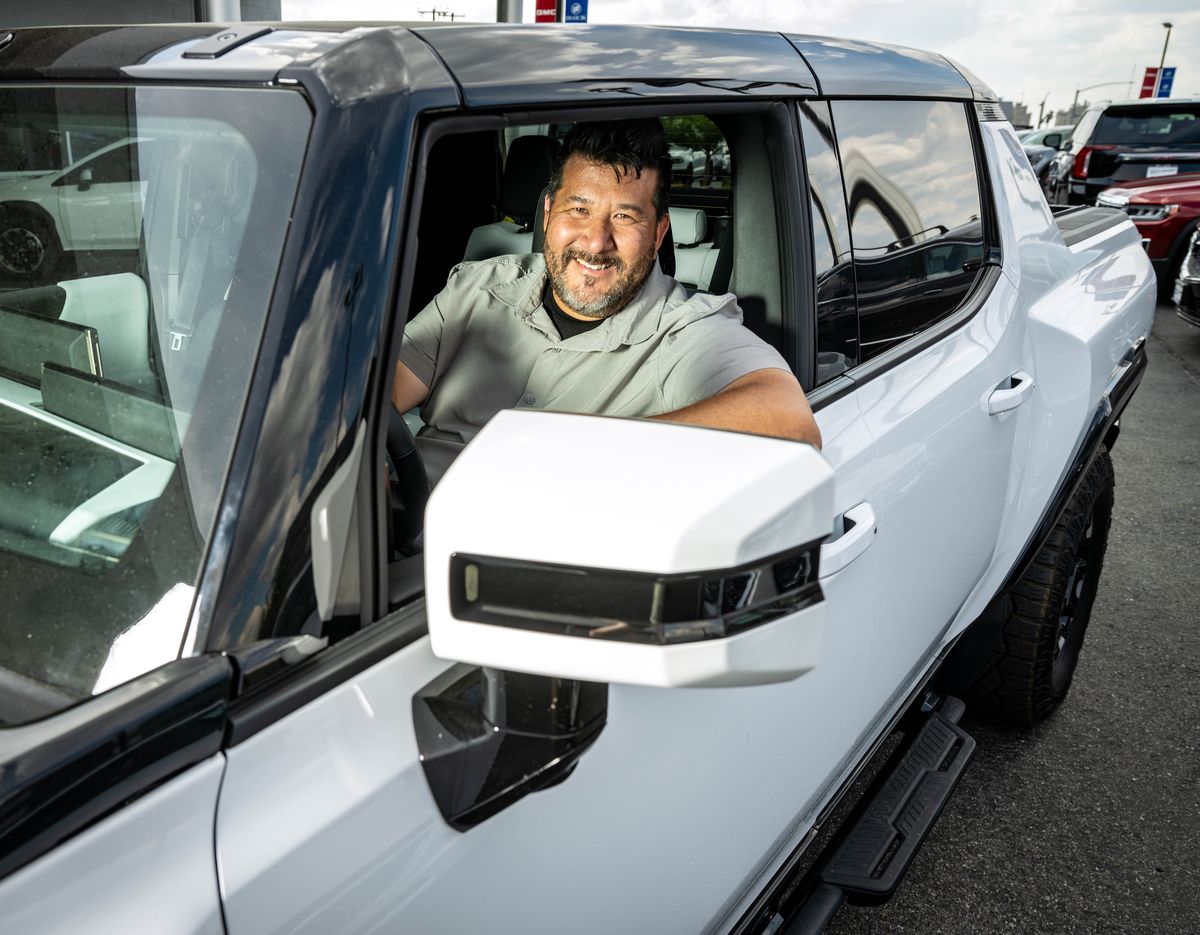 With high gas prices and lower electricity rates, Washington drivers may benefit more than those in any other state by switching to an electric vehicle, according to a study from the nonpartisan think tank Energy Innovation.
As gas hover at just under $5 a gallon, it costs just shy of $80 more to fill a Ford F-150 with gas than the Ford Lightning with electrons in Washington, according to the study which was reported on by the Washington Post.
Savings for SUV models between the Honda CRV and the electric Ford Mustang Mach-E amount to almost $50, and savings among sedans are over $56 between the Toyota Camry and the electric Chevy Bolt.
The Biden administration's Inflation Reduction Act of 2022 gives further financial motivation to switch by offering a $7,500 tax credit to owners of an electric vehicle newer than 2023.
Though electric vehicles are often around $5,000 more expensive, according to the Kelley Blue Book parent company Cox Automotive, the mounting financial incentives are proving not enough.
In August 2018, Spokane County was home to 755 electric and plug-in hybrid cars, according to the state Department of Licensing. As of last year, that figure had increased to 2,661, an increase of 252%, but still only 0.8% of Spokane County cars. The upward trend has continued. As of July, 3,418 electric cars were registered in Spokane County. Washington will require all new cars sold in the state by 2035 to be electric, hydrogen-fueled or hybrid.
After hearing of this news, Mickey Norisada decided to make the switch.
As a car salesman at Becker GMC in Spokane, he was interested in the first edition 2022 GMC Hummer EV, of which fewer than a thousand have been made.
He waited online until the second it was available. He entered his personal information and submitted a credit card deposit to complete the purchase. Limited in inventory, the vehicle sold out in 10 minutes, according to the salesman.
The purchase replaced his 2019 GMC Denali, a diesel pickup. He said the savings have been substantial.
"When I sold it, diesel was about $6 per gallon and it was a 36 gallon tank. Compared to a few cents for every kilowatt it costs now – I'm saving a ton."
Especially for everyday commuting, Norisada recommends making the switch to electric.
"For daily travel, the savings are there, plus it's more convenient to just plug it in when you get home and forget about it."
In addition to gas costs, he prefers his electric truck because it boasts two times the horsepower and is much quieter and smoother, even "calming to drive," he said.
Though Norisada adores his electric vehicle, so much so that he plans to buy a newer model, he claims there are drawbacks to going gasless.
As a bigger vehicle, the Hummer requires a level three charging station to fully charge its battery in a timely manner.
Also called a supercharger, level three chargers are the quickest because they deliver 480 volts of electricity, compared to a level two charger that delivers 240 volts, similar to an oven or clothes dryer outlet.
According to the GMC website, a level two charging station would fully charge the 2022 Hummer EV in 16.5 hours.
For Norisada, level three chargers , which are scarce in less populated areas, are a must.
"We go out West all the time and there's not enough of those big chargers from here to Portland or Yakima, so it takes a while."
The scarcity of level three chargers is an issue for Andy Keys, the General Sales Manager of Wendle Ford. As part of a customer service initiative, the Spokane dealership is working to implement three level three chargers available to Spokanites at all times.
"There are plenty of level three stations in places like San Francisco or Seattle, but there just aren't many in the inland areas," he said.
Until 2021, the dealership's electric car inventory included only the Nissan Leaf, which accounted for about one transaction every month.
Now the dealership is ramping up its electric fleet and typically sells four Nissan Ariya, seven Ford Mustang Mach-E and four Ford Lightning models every month.
Though they account for only a small portion of its sales, Keys said the dealership is attempting to be proactive as the demand for electric vehicles slowly grows.
"Come 2030, there will have to be more stations, and there are more and more every day, especially along I-90. But we just wanted to be ahead of the game."
Wendle Ford is working with Avista Utilities to construct the chargers that are expected to be completed in October, according to Keys.
Though for many, the financial aspect is motivation enough for making the switch, Director and founder of the Gonzaga Center for Climate, Society, and the Environment Brian Henning said the environmental implications are especially great in Washington, which utilizes hydroelectric power as opposed to other, nonrenewable sources.
"It's not even close that electric vehicles are better for the environment and climate in Washington where the grid is clean and getting cleaner. It's a lot more complicated in places like Wyoming where much of the electricity is produced with coal."
Henning speculates there are not many electric cars on the road because they are simply too expensive for many drivers.
"Many people are as motivated as I am to consider the environmental consequences, but in general, people are looking at their pocketbook, and electric cars are often out of the reach of lower-income individuals."
Henning believes change is difficult for some.
"The Model-T is just coming out, but the horse and buggies are still darling to people. Yeah, we still mostly sell horses and buggies, but the Model-T is going to catch on. How long it'll take, how fast it'll be, how bumpy it'll be is still a little bit of an open question."
---