Experience the National Parks at the Knitting Factory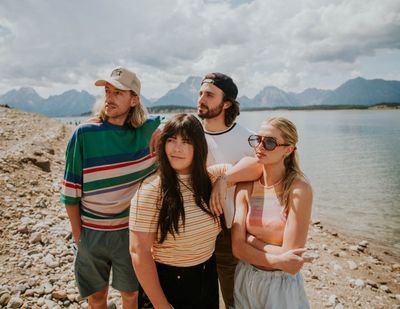 The title of the National Parks' latest album, "8th Wonder," can mean anything to anybody, said the band's vocalist-guitarist Brady Parks.
"It's not about a specific place or thing," Parks said from his Salt Lake City home. "Everybody has an eighth wonder. Something that blows them away."
For Parks, 33, and his wife, the National Parks violinist Megan Parks, their "eighth wonder" is their toddler son, Jagger. Having experienced a previous miscarriage, Parks gave birth to their boy 3 years ago. The experience moved Brady Parks to craft the catchy tune "History Channel." "Everything changes when you have a child," Parks said.
The National Park's moving "Angels" was inspired by (what else?) a national park, Utah's idyllic Zion National Park. After hiking 1,500 feet to the top of Zion's Angel's Landing in 2022, Brady Parks was moved to write the song after being blown away by the view.
"I was just knocked out by what I saw," Parks said. "Zion is one of my favorite parks. The great thing about living in Utah is that you don't have to go far to be blown away by natural beauty."
The band, which formed a decade ago in Provo while Parks attended Brigham Young University, wasn't named after the National Park Service.
"I really didn't think about that when we came up with what we're called," Parks said. "The name of the band has more to do with my last name. But the National Park vibe happens to fit our group. The incredible beauty of Utah has certainly impacted our band."
The imagery of the Beehive State is all over the band's five albums, which will be showcased when the National Parks perform Saturday at the Knitting Factory.
"It's funny how most people don't know how beautiful Utah is but then again, I bet a lot of people don't know how beautiful Spokane is either," Parks said. "The bonus being in a band is that we get to see and experience so many of the cool places in our country."
While growing up in also very scenic Denver, Parks became a music fan and picked up the guitar at 13 after going to his first show, a concert co-headlined by Weezer and the Foo Fighters.
"That show was amazing," Parks said. "I started learning Weezer covers after that."
As a teenager, Parks loved pop-punk acts such as Jimmy Eat World and Taking Back Sunday. However, Parks became enamored of melancholy singer-songwriters by the time he graduated high school. "At that point I was very much into Damien Rice and the softer Death Cab for Cutie," Parks said.
The band, which also includes keyboardist Sydney Macfarlane and drummer Cam Brannelly, started out as folk-rockers. But the National Parks evolved. "Places," the band's third album, released in 2017, featured some pop-rock. "We don't want to make the same songs over and over again," Parks said. "I hope we're morphing from one album to the next."
Expect Parks to be inspired by his son, who is altering his life. "I'm sure he'll have an impact on the songwriting," Parks said. "He amazes me every day. He has had an impact on us in terms of touring. Initially it was easy for us to go on the road with him but at this age, he has his opinions, which we have to deal with. But it's a good thing. Who knew when I saw Weezer and the Foo Fighters when I was a kid that I would be doing this. It's amazing."
---