Dave Boling: Former Seahawks coach Mike Holmgren deserves a spot in Pro Football Hall of Fame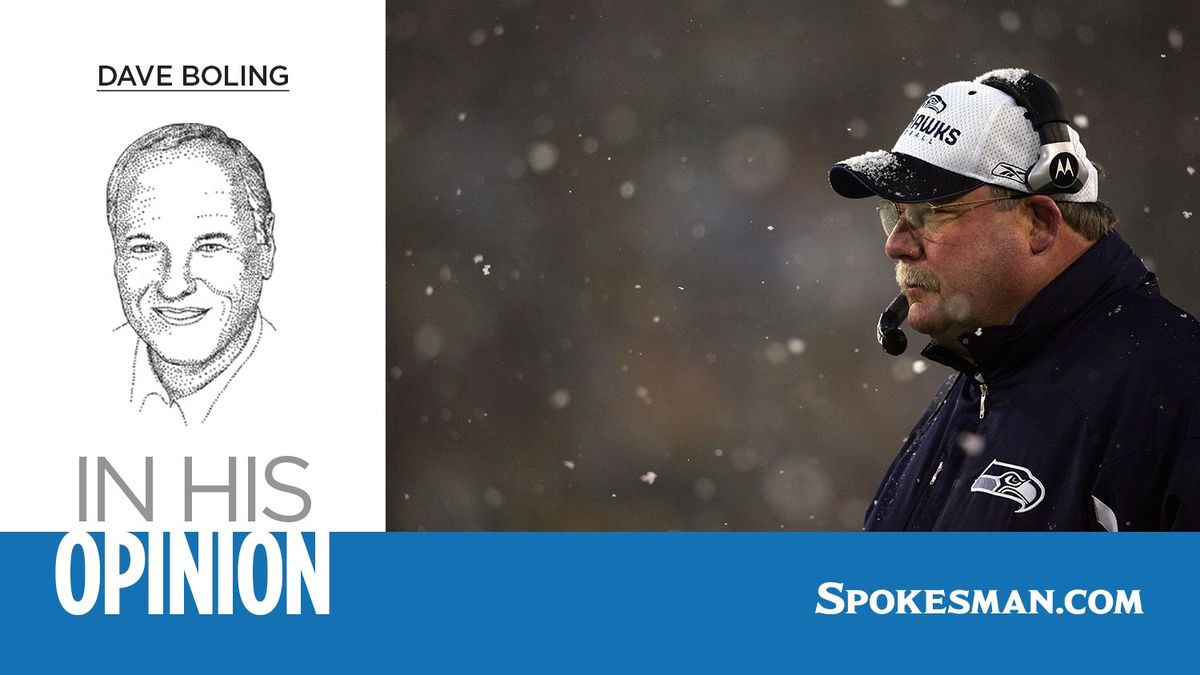 Over dinner with a former Seahawks employee, the topic turned to former coach Mike Holmgren and his candidacy for the Pro Football Hall of Fame in the coach/contributor category.
My impression was that Holmgren was such a powerful leader, intelligent and personable and authoritative, that he could have been successful in almost any field: business, industry, law, banking, education.
Even military, since his grandfather was at one time commandant of West Point.
My friend, who had worked closely with Holmgren many years, raised the ante on my assessment: "He could have been president."
Of the Seahawks?
"Of the United States," he said. "And he would have been a damned good one."
After some thought, I agreed. He would have gotten my vote.
Holmgren faces a more immediate election this week, as Pro Football Hall of Fame voters meet to discuss which of the 12 finalists in that category will be honored among the 2024 inductees.
If I had a vote, I'd cast it for him there, too.
Everybody on the finalist list is deserving, so I'll just focus on Holmgren's data rather than making comparisons that are not meant to dismiss others' worthiness.
In 17 seasons as an NFL head coach, he suffered through only three losing seasons – and those who watched his sideline intensity would attest that "suffered" is the correct description for Holmgren's relationship with losing. He had a deep and profound hatred for the very concept. He expected his players to share that trait.
There is further context that escalates the value of his already impressive (174-122) career record. He took over two moribund franchises and not only made them instant winners, but he also built a strong foundation as the base for continued successes.
The Green Bay Packers had one winning season in the previous nine (33-61-1), but Holmgren arrived in 1992 and steered them to six playoffs and two Super Bowls (one championship) while going 73-36. He expunged the lingering post-Lombardi malaise, and left a healthy franchise in his wake.
Seattle, meanwhile, had one winning season in the previous 10, with no playoff appearances in that time. Holmgren got the Hawks into the playoffs in his first season (1999) and eventually guided them to the franchise's first Super Bowl appearance.
For all the marvelous things Pete Carroll has accomplished in Seattle – and I believe he will have a ceremonial Gold Jacket with his name on it, too – it was Holmgren who laid the foundation.
The Paul Allen ownership of the Seahawks would have appealed to Carroll, but would he have left USC for Seattle if Holmgren hadn't first proven that the franchise could be a big winner? If they had continued to be a middling team, or worse, it's possible Carroll would have passed on Allen's largesse in favor of a more competitive club.
Further consider Holmgren's works with some of the all-time greatest quarterbacks in the NFL, as an assistant at San Francisco (Joe Montana and Steve Young) and as a head coach in Green Bay (Brett Favre) and Seattle (Matt Hasselbeck). Montana, Young and Favre are Hall of Famers, each extensively crediting Holmgren's tutelage.
The branches on his coaching tree are too numerous to list in a print product, but include two-time Super Bowl winner Andy Reid.
The Hall of Fame selection process is a little mysterious, but there may be an unspoken criterion not always related to a candidate's raw win-percentage.
Aside from an extended period of excellence and an influence on the game, there seems to be a sensory-based judgment that comes into play.
To those whose focus is the NFL, when they hear a name mentioned in the context of the Hall of Fame, the name alone either immediately conjures the image of a valid candidate or it doesn't. It simply sounds right and logical for some people, and they nod their heads and go, "yeah, that guy belongs."
Mike Holmgren? Oh, yeah, the gold jacket fits.
Aside from his deserving the honor strictly on his coaching merits, I'm eager to see Holmgren inducted from a more personal perspective. In 40 years as a sportswriter, I never dealt with a more interesting and considerate coach. He understood our job and respected it.
He is a decent man and charitable humanitarian, spending extensive time and money on aid projects around the world with his wife and family. You may remember that his wife and one of his daughters couldn't attend the Seahawks' Super Bowl in 2006 because they were on a previously scheduled medical aid mission in Africa.
On the field, Holmgren revered the game and was, in most cases, old school in the Lombardian sense, demanding perfection in practices and in games. If you came up short, he let you know – without ambiguity.
His media conferences were master classes in communication. As aggrieved as he seemed on the sidelines, he would appear calm for the post-game interrogations, and almost professorial in his explanations of what had happened. He never condescended to reporters or hurled revenge snark at anybody who had criticized him in print.
At times he would dodge an uncomfortable question by bringing up a different topic that was so good no one minded his avoidance of the first.
He employed a couple reliable narrative devices. He connected to the fans' passionate feelings by recalling an elderly woman in Green Bay who would approach him in the grocery to let him know that the quality of her life was entirely dependent on his ability to beat the Chicago Bears.
If someone questioned his play calling, he might bring up his youngest daughter, Gretchen, who also critiqued his decisions. Suddenly, the image of a dad catching grief from his daughter for calling that predictable draw play on third-and-long again made him relatable, and softened his image.
He might let us in on a conversation he had with his wife, Kathy, as they were on their treadmills that morning. Her advice was always insightful. Clearly, she served as his external conscience.
Somewhat amusingly, for a man of monolithic proportions, 6-5 and burly, one of his greatest concerns was upsetting his mother. If someone mentioned in print that Holmgren had exploded and cursed out a player or official, he would be put out because he knew his mother read the papers and would surely phone him in rebuke.
None of these later observations will or should be considered by HOF voters. But they're reasons why Seahawks fans can feel good about pulling for him. He represented the franchise at the highest level.
I saw him and his wife walking their dog within the last few years and we chatted briefly. I congratulated him on his Hall of Fame contention. He downplayed it. "What do they say on those awards shows? It's just nice to be nominated," he said.
It was a political answer, maybe even presidential, but that's the kind of honor that rewards a person's entire career, his life's works, which makes it the most fulfilling award of all.
Holmgren is entirely deserving.
---