'Constant celebration.' Ex-Gonzaga walk-on Connor Griffin reflects on Finals run, comical moment with Nikola Jokic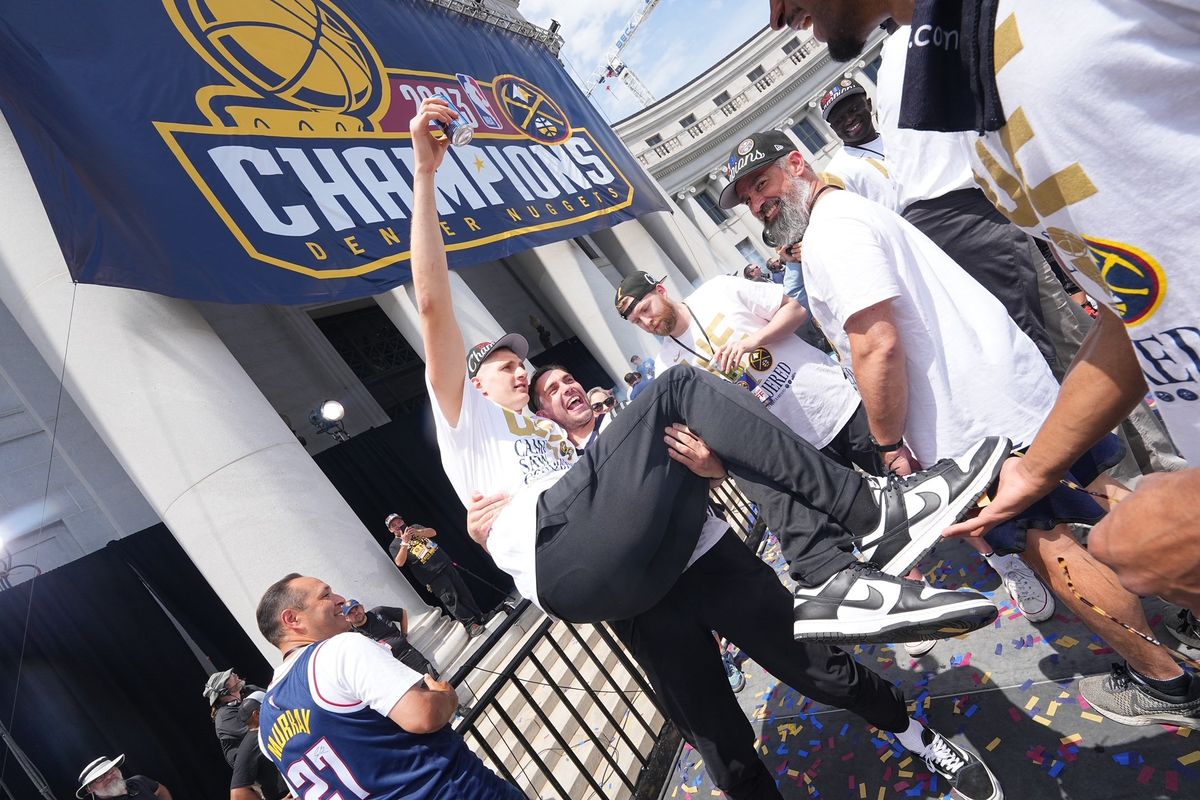 LAS VEGAS – It's one of the most underrated images from Denver's championship parade – an assistant video coordinator cradling Nikola Jokic on top of a confetti-dusted stage at Civic Center Park while the Nuggets' MVP center holds a bright blue can of Montucky Cold Snacks beer into the sky.
The story behind the snapshot is worth hearing as well.
Connor Griffin, the aforementioned video staffer, came prepared for the June 15 parade that moved through the streets of downtown Denver, drawing an estimated 750,000 fans.
The former Gonzaga walk-on basketball player, who just completed his second season with the Nuggets as a video coordinator and player development coach, procured a beer belt for the occasion, reloading the contraption attached to his waist with cold beverages throughout the day.
But Griffin, who started the day with "six beers holstered" to the belt, was running low on liquid ammunition by the time Jokic and other Denver players finished speaking to a massive crowd at Civic Center Park. He'd pledged his last beer to a friend in the crowd and stored it in his pocket, out of sight.
That's when the reigning NBA Finals Most Valuable Player, fresh off averaging 30.2 points, 14 rebounds and 7.2 assists against Miami in the Finals, came lumbering over to Griffin.
"Sure enough Joker runs over to me after he's done with his speech, starts grabbing for my belt and he doesn't feel any beers," Griffin said, recalling the moment from NBA Summer League in Las Vegas. "He goes, 'Brother, do you not have a beer?' And I had the one beer in the pocket and I'm like, I can't not give this to him."
He would, but only under one circumstance.
"I pull out my Montucky, I hand it to him and I go, 'If I give this to you, I have to do one thing,' " Griffin said. "He's like, 'What's that?' I'm like, 'You have to let me pick you up.' "
A local photographer captured Griffin, all 6-foot-4, 212 pounds of him (according to Gonzaga's 2014-15 basketball roster), picking the 6-foot-11, 285-pound Jokic off the ground.
"I credit myself there," Griffin laughed. "I put my work in the weight room, too."
Jokic did most of the heavy lifting as the Nuggets cruised past the Heat in five games for the organization's first championship, but Griffin, who played for the Zags from 2013-15, had a hand in preparing Denver for each of its four postseason matchups, splicing video clips, sending in-game cut-ups to coaches on the bench and scouting every potential opponent the Nuggets could've seen during a two-month playoff run.
"It's been insane, just constant celebration," Griffin said. "Probably a little bit too much. It was much deserved, so it's been amazing. … Honestly, I have to be reminded about it. It's not like I walk around knowing we did that. Obviously I'm aware we won and very appreciative, but people come up to me and they're like 'Hey, congrats.' I'm like, 'What the heck?' It's kind of fun.
"We got our ring sizes today, so that made it a little more real."
Work obligations have cut into Griffin's offseason celebrations, but the Lake Oswego, Oregon, native has been more than willing to make sacrifices with career aspirations in mind. He got a short break after the title run before rejoining the Nuggets a few weeks later for NBA Summer League in Las Vegas.
Assistant coaches are often elevated to head coaching roles during the Summer League circuit and that concept trickles down to other team personnel members. Griffin, normally a video coordinator who works out of Denver's locker room during regular-season NBA games, sat on the Nuggets' bench and adopted an assistant coaching role at Summer League.
"To be able to get that experience, be in front of the team, present a game plan, help make adjustments in game, talk about the personnel," he said. "Everything of that nature, it's invaluable for guys like myself so as much work as we've been doing all season, the little time we got to prep for this, this is still a good experience to kind of actually get the coaching experience."
During an off-day for the Nuggets in Vegas, Griffin was still sitting front row at COX Pavilion compiling a scouting report of their next opponent, the Utah Jazz, while wearing a T-shirt bearing Jokic's likeness, a Serbian flag and text consisting of popular slights against the Denver big man. Among those: "flopper," "out of shape," "can't jump," "poor defender."
Some critics raised questions about Jokic, and to a larger extent Denver's chances of making a title run, when the playoffs started in May, particularly after the Nuggets dropped five of seven games to finish the regular season.
Griffin wasn't surprised to see the team put it all together in the playoffs and the Nuggets blazed through series against the Timberwolves, Suns, Lakers and Heat, losing just four total games.
"Obviously as a staff we'd been preparing for weeks now, but the way our guys kind of just got locked in to personnel tendencies, game plan discipline, everything of that nature," Griffin said. "It was amazing. We had all the vets quizzing the young guys as to where are the shooters, where are their hot plays, everything like that."
While pressure mounted on Denver's players, Griffin's days actually became shorter, and in some ways less stressful, once the Finals arrived.
As the regular season began to wind down, he started scouting the five teams Denver could theoretically face in the opening round of the playoffs. As the Nuggets took a commanding 3-0 series lead against the Timberwolves, Griffin got to work on the Suns and Clippers knowing Denver would face one of those teams in the Western Conference Semifinals.
"It would be game day and all the way up until our game, I'm scouting all the other teams," said Griffin, who left Gonzaga's basketball team in 2015, walked on to Washington's football team the next year, spent time as a practice player on the Huskies' basketball team and finished his degree at NAIA Vanguard University, where he averaged 16.9 points on the Warriors' basketball team. "I've already done all my work for this series that we're in, I'm looking toward the next one."
What would a normal game day look like for Griffin during the Finals?
"I'm just looking at our past games, kind of checking in on personnel tendencies, seeing if all the guys are doing what we need," he said. "My actual role, when the game's going on I'm in the locker room coding our game. So essentially I'm sending clips out to the bench and so coach will look back to coaches on the bench and say, what went wrong on that ball screen and with what I'm coding in the back our coaches have access to that, they can pull up all these different clips and use it to teach the players."
After working through Denver's extended postseason run, helping the Nuggets prepare for the NBA Draft – where they selected a fellow former Zag, Julian Strawther, with the 29th overall pick – and taking assistant coaching duties during Summer League, Griffin normally would get a few months of vacation before preseason training camp.
Instead, he took a few days to go hiking and camping back home in Denver before meeting up with the Canadian national team, which is employing Griffin as a video coordinator for the FIBA World Cup.
Griffin isn't Canadian, but he has a relationship with national team coach Jordi Fernandez, who was an assistant coach in Denver from 2016-22. Griffin, who's always wanted to dip his toes in international basketball, said it was a "no-brainer" when Fernandez called to offer a spot on his staff.
The Canadian team could've featured three former Zags, but only one, Kelly Olynyk, will be with the team at the FIBA tournament. Kevin Pangos was dropped from Canada's roster due to complications with his professional contract, according to Sportsnet, and fellow former GU guard Andrew Nembhard declined an invitation.
"I was bummed Andrew wasn't part of it," Griffin said. "We still have a bunch of talented guys."
In reflecting on the last few months, Griffin kept coming back to the dedication and hard work Denver's players and staff poured into a historic season. And the parade that followed.
"I joke around about how we had absolute immunity that day," he said. "Fans were throwing beers to us, we're tossing beers to fans, people are just cracking beers over their heads. … It was amazing just to celebrate with everyone we've been working with for so long and get to reap the benefits with them."
---