With 9,500 acres burned and 185 structures gone, Medical Lake residents reel at the destruction of the Gray Fire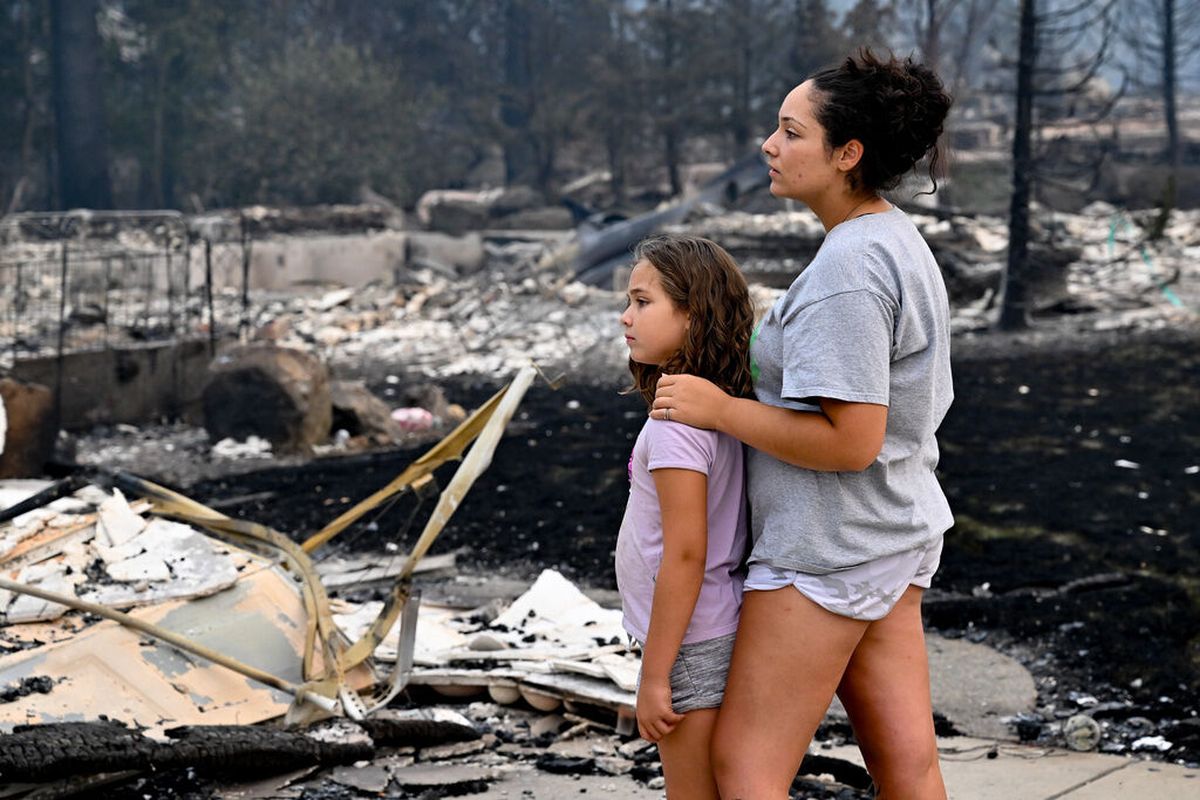 From staff reports
Two wildfires that ravaged different parts of Spokane County on Friday afternoon destroyed 300 structures, including homes and outbuildings, and torched 18,000 acres of homes, scrublands, farm fields and forests. At least one person is dead.
The fire that burned through Medical Lake razed at least 185 structures and blackened more than 9,500 acres. Called the Gray Fire, the blaze was 0% contained as of Saturday night, according to the Washington State Department of Natural Resources.
The other fire burned 8,300 acres and razed dozens of homes and other structures near Elk in north Spokane County.
The devastation in Medical Lake came into sharper focus Saturday morning as fire officials began the grim task of assessing damage.
Residents also began trickling back, often finding nothing but rubble.
Many of the homes on Evergreen Drive in Medical Lake were decimated. The heat warped workout equipment, burned the paint and tires off of cars and turned heirlooms to ash.
In front of Jazmine Talley's childhood home, the only thing left in tact Saturday evening were the colorful seashells her mother used to decorate the yard.
"Nice to see something made it," she said.
She brought her 7-year-old daughter, Marley, with her Saturday evening to see the remnants.
Talley was taking her kids into town on Friday to register for school when she spotted smoke. She didn't think much of it. When it was time to return home, she knew things had become serious.
Talley called her mom, who was home alone, to ask if she needed help.
"She was like 'There's no time.'"
Her mom gathered a few family photos and her dog and left.
After hours of wondering, they saw a photo that showed the home reduced to rubble. Still, Talley felt drawn to come see the house as soon as possible.
"It was hard to believe if it was or not," Talley said.
Thousands of people remain evacuated. Many from the Medical Lake area are at the Red Cross evacuation shelter at Spokane Falls Community College. Evacuees from the Elk blaze, called the Oregon Fire, were provided shelter at Riverside High School.
The scale of disaster led the Spokane County Commission to declare a state of emergency to speed funding and deployment of extra resources.
Gov. Jay Inslee then declared a statewide emergency, along with plans to travel to Medical Lake on Sunday.
At a news conference Saturday morning, Spokane County Fire District 3 Chief Cody Rohrbach said the Medical Lake fire began about 3 miles southwest of the town of 5,000 and spread rapidly northeast toward buildings. It then made a 7-mile run of destruction to the east, all the way to the town of Four Lakes. The fire left buildings and vehicles smoldering on both sides of Interstate 90, which remains closed in the area.
The cause of the blaze remains unknown.
Conditions remained extremely active overnight Friday, Rohrbach said, with more than 400 firefighters and support staff trying to contain the spread and save property.
Many homes and other structures are still inside the fire's perimeter.
The shift in winds pushed the fire along Salnave Road and along both sides of Interstate 90, toward the southern end of Clear Lake on the north and toward Granite Lake Road to the south.
Smoke from the fire, along with massive plumes falling south from the catastrophic fires in Kelowna, British Columbia, brought Spokane's air quality into the hazardous range as light ash dusted the region.
The smoke also made it difficult for water-dropping aircraft to fly safely.
Spokane County Sheriff John Nowels asked people to stay away from the evacuated areas.
"We will let people know when it is safe to come back to their homes," he said.
For people worried about the security of their homes, Nowels said there's a heavy police presence in the evacuated areas.
He said he witnessed the devastation driving through parts of Medical Lake Friday night and had "never seen anything like it in my entire life.
"This has been a terrible event. We will recover from it, but it's going to take a lot of time and a lot of cooperation."
Spokane County Fire District 8 posted overnight video of fires continuing to burn Friday into Saturday as thousands of people were forced from their homes and into shelters or the homes of friends and family.
If people are struggling to reach loved ones in the fire area, they should call Crime Check at (509) 456-2233 and make a missing persons report.
Among the ruins, people recounted helpful neighbors and close calls with the fire.
Travis Starkovich, 41, was moving the last of his stuff into his new home at a trailer park off East Campbell Street near Hallett Elementary School when he spotted smoke.
A couple hours later, police officers were knocking on his door telling him to evacuate.
He decided to stay and defend his trailer, not trusting someone else to do it for him.
The fire burned through the elementary school grounds up to the trailer park's back fence.
Starkovich was sure trailers in the park would catch fire, but the wind shifted and helicopters began dropping buckets of water, saving both the trailer park and school.
"That's what saved us," he said.
Saturday, he left to get some essentials from Walmart and picked up free water from the local Harvest Foods. The power came back on about 1:30 p.m.
"I looked at Hawaii and I felt so bad for those people, and then it hits home when … it's your home," he said of the recent devastation from wildfire on the island of Maui.
Kelly Maguire was on a family vacation in Montana when neighbors called to tell him his home across from Medical Lake Middle School was on fire.
Not long after, he learned his home was spared, but his friend up the road had lost everything.
"It's an emotional rollercoaster," Maguire said.
A group of newer homes on Jim Darby Drive East looked normal, with cars in driveways and toys in lawns.
Some houses in the cul de sac met a different fate, with thick smoke curling up from the remnants of the idyllic suburban homes. The fire took properties haphazardly – two homes with cars were consumed by flames, but next door a house was untouched.
While many people anxiously awaited word on their homes, others began trying Saturday to find horses and pets that were set free to escape the fire. Large animals in need of shelter can be taken to the Spokane County Fairgrounds.
People attempting to evacuate livestock and other large animals can call 911 to be connected with someone from the Spokane Livestock Emergency Evacuation Team (SLEET). The volunteer team has trailers and can assist with evacuating anything from reptiles to cows, said Heather Kitchens, program manager.
Fire officials, including Rohrbach, continued to worry about the potential for worsening conditions, such as gusting winds Saturday afternoon and evening. Because of a shift in the wind, the eastern edge of the fire between Four Lakes and Medical Lake was looking better Saturday morning.
At Clear Lake, most of the homes seemed to have survived .
Some showed minor damage but still stood. In one section of nearby forest, a red pickup truck was turned pink by a dump of fire retardant.
Overnight temperatures in the region fell into the low 50s, a respite from the sweltering temperatures that primed the region for Friday's disaster.
At the western edge of Four Lakes, Chris Moore checked Saturday morning on his grandparents' house, which was spared, while the neighbor's house across the dirt street was destroyed. Only the brick walls and chimney were still standing above the ashes and rubble.
Drooping power lines blocked half of the driveway.
Moore unspooled his grandparents' garden hose and doused hotspots in the neighbor's yard.
He had been there Friday afternoon, helping them escape. His grandfather broke a hip in the process.
"It was pretty bad," he said. "The cops were here running down the roads getting everybody out."
The blaze melted part of the vinyl siding on Randy Wing's house next door – 10 feet from his neighbor's scorched yard.
Wing said he watched from his car as the fire approached and darkness fell, refusing to leave until police forced him to.
"I sat over there and I just cried," he said. "You work all your life for something and you could lose everything in a matter of seconds. How scary."
Emma Epperly, James Hanlon and John Stucke contributed to this report
---