More than 230 evacuees camp and shelter at Riverside High School as Oregon Road fire rages on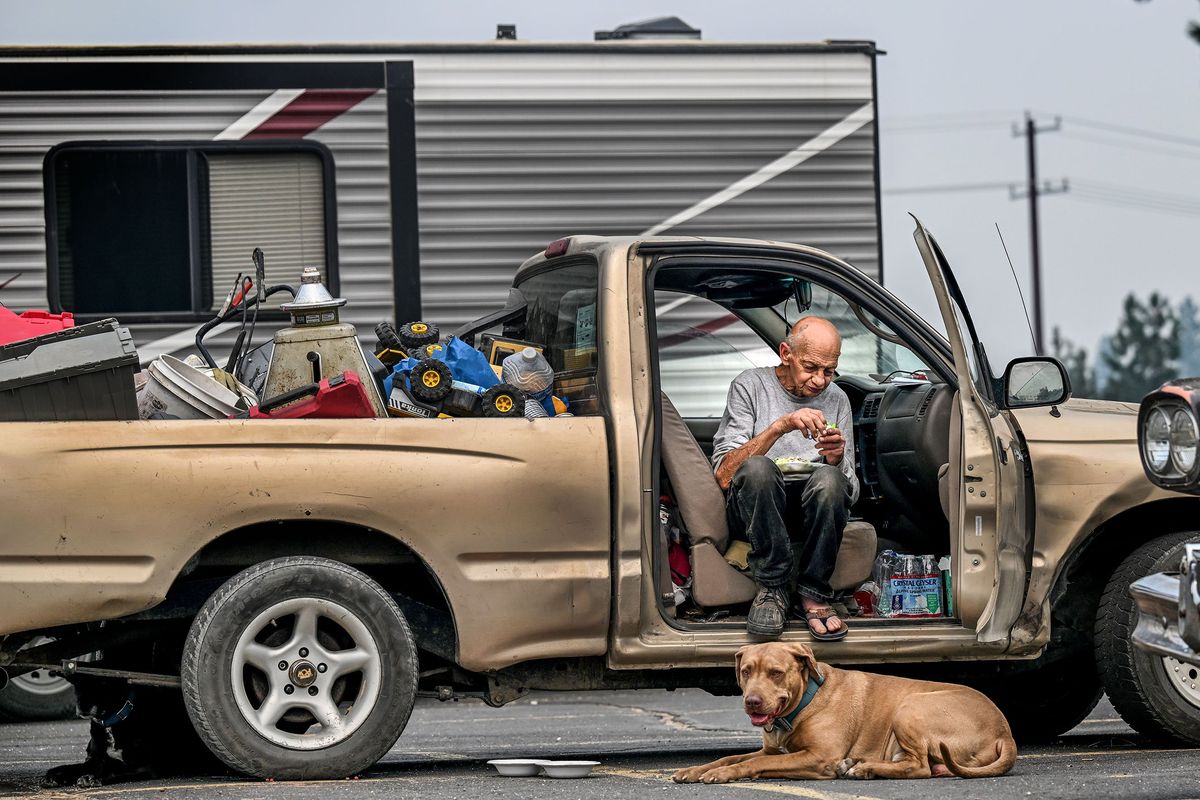 An estimated 200 evacuees are camped in the Riverside High School parking lot, while another 30 have sought shelter inside. All are waiting for the Oregon Road fire near Elk to be contained so they can return home. Or at least comb through the wreckage of their property.
Some are in trailers or motorhomes, but many are sleeping in their cars. They are staying outside to keep an eye on their animals and belongings packed into their vehicles.
Harold Carlson is in his small pickup with his two dogs, Sebastian and Shadow.
"They kept me warm," he said.
The fire doesn't appear to be near his home where he has lived for 28 years, but the wind could suddenly change.
"I'm patient," Carlson said. "One day at a time."
Those in the parking lot can still go inside to use the bathroom or grab something to eat and drink.
Glenn Lockwood, a senior volunteer and shelter organizer who has worked with the Red Cross for 49 years, expects more evacuees in the coming days.
"It is a very upbeat experience because the community is so much behind it," Lockwood said. "It's very gratifying to be a part of."
Dozens of high school students and staff wearing red "Team Riverside" shirts volunteered to help at the shelter.
The football team, having their practice canceled because of air quality instead got up early to pitch in.
School starts next week, on Aug. 30.
Superintendent Ken Russell said an arrangement has been made to keep the shelter going long term if needed.
"Out here in Elk and Chattaroy, we don't have as many facilities," he said.
Once school starts, the shelter will move out of the gym to an adjacent building where the district's homeschool partnership program is based. Residents will still have access to showers in the evenings when the students are gone.
"We can still make it work," Russell said.
Friday afternoon, Gina Fopiano loaded up her four barn cats, two indoor cats and two dogs in her truck and went to the high school after she couldn't find a hotel.
She left behind her chicken coop, though her fiancé snuck back the next day to rescue 15 baby chicks.
From a plastic bin with straw and feed, the chicks chirped in cheerful circles Sunday afternoon.
Fopiano said she has to turn her truck on throughout the night to power a red heat lamp to keep them warm.
Thankfully, the other animals are getting along with each other in the close quarters.
She is worried about her chickens, but more so her trailer house, which is uninsured. The fire was reported as half a mile away from her house Sunday afternoon.
"The school has been so helpful," she said. "Thank God we have somewhere to go."
A shower every day is a relief from the smoke and hot weather. Otherwise, there's not much to do all day. She can't really drive around because of all of her animals.
She plans to go back to her physical therapy job on Monday, where she'll try not to think about her home. Her parking lot neighbors will look after them while she is at work.
"I feel like I'm homeless," Fopiano said. "This is what homeless people must feel like."
---