Jim Meehan: Spokane's Wendy Ward brings renewed competitive edge to U.S. Senior Women's Open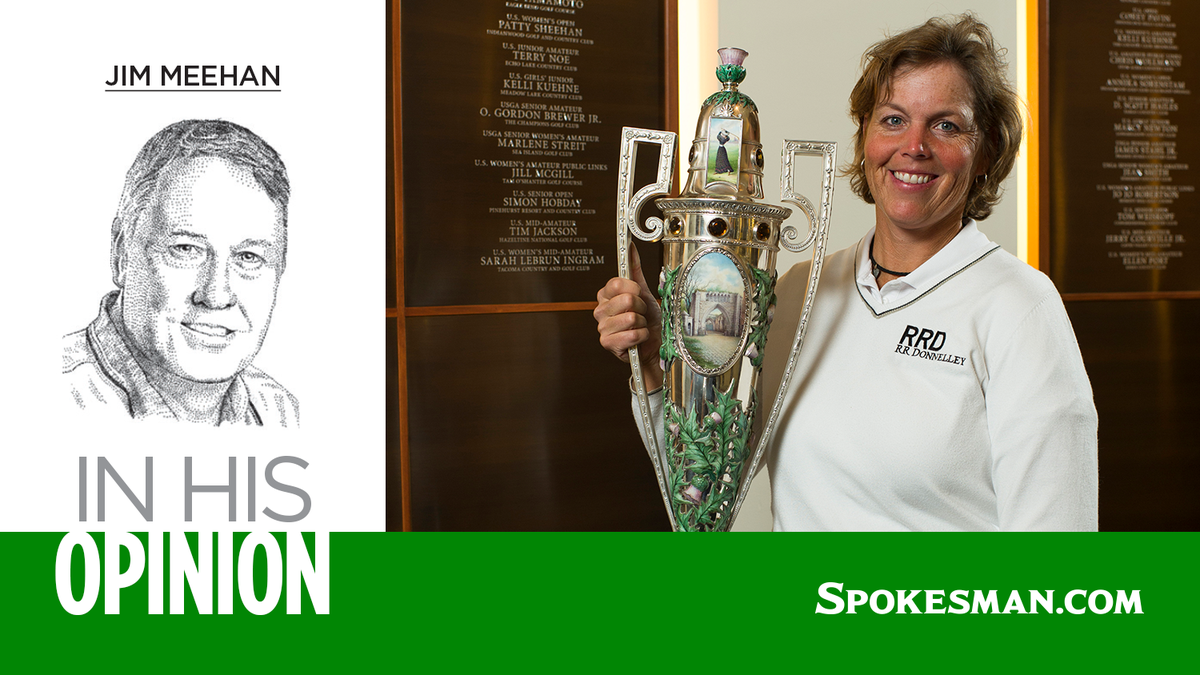 Tee times for the U.S. Senior Women's Open were released Tuesday morning and, in a cool nod to United States Golf Association (USGA) history, Thursday's 7:59 a.m. group includes Spokane's Wendy Ward and defending champion Jill McGill.
Their paths have crossed for decades during their LPGA, collegiate and amateur careers. In 1993, USC's McGill captured the U.S. Women's Amateur over Sarah LeBrun Ingram, who had edged Ward 1 up in the semifinals.
In 1994, it was Ward's turn. The rising senior at Arizona State won the 34th and 35th holes for a 2&1 victory over McGill in the final.
Ward, a four-time winner on the LPGA Tour and three-time Solheim Cup participant, will be chasing her second USGA title at Waverley Country Club in Portland. McGill's victory last summer was her first since the 1994 U.S. Women's Amateur Public Links. She joined five others – Arnold Palmer, Jack Nicklaus, Tiger Woods, Carol Semple Thompson and JoAnne Carner – with three different USGA crowns.
"She came up to me last year and said, 'You know you're in (the U.S. Senior Women's Open) field next summer,' " Ward recalled. "I said, 'What?' She said the USGA wanted to honor its past champions. That's the unique thing about golf: You're a competitor and you want to see everybody do well.
"Seeing somebody like Jill when she won last year, I'd played alongside her since I was 16. She's rallied and come back around. I thought, 'I kind of have the itch to do this.' "
That desire has been growing the last few years in Ward, who stepped away from the LPGA in 2013 following nearly two decades on tour. At that time, she was burned out and her body was feeling the effects of a lengthy career. Ward is careful not to use the word "retired," but she didn't play competitive golf for about five years.
Ward and husband Nate Hair settled on their cattle ranch in Edwall, roughly 35 miles from Spokane. She became an instructor at Qualchan and has spent the last five years teaching at Manito.
She started playing in LPGA Legends events five years ago. More fuel was added to Ward's competitive fire when she completed the certification process in the LPGA Professionals program, allowing her to compete in either the Championship or Senior Division tournament in July.
Ward picked the Championship Division, competing against numerous players roughly half her age with solid college and professional credentials. She finished eighth, claiming the last exemption into the 2024 KPMG Women's PGA Championship at Sahalee Country Club next June in Sammamish, Washington.
"I just started in the last couple years feeling like I wanted to be competitive again," Ward said. "I was really burned out, I wasn't enjoying it. As I stepped away, I'd lost some of that competitive edge."
Ward and Hair gave up the cattle ranch three years ago and relocated to Spokane. She's worked hard on her game, which didn't slip much during her break from golf. She put in the time to get stronger and address past injuries with assistance from Kelly Risse and Dylan Palmer at Physical Therapy Associates. She's spent countless hours with sports psychologist Debbie Crews.
Ward's teaching sessions also played a role. She demonstrated not-so-easy drills or shots so naturally, it left wide-eyed students asking why she wasn't playing anymore.
"It doesn't take much. Once a competitor, always a competitor," Ward said. "I don't think physically my game was that far off, but mentally I wasn't as tough as I needed to be."
Ward and 119 other players will be tested at scenic Waverley C.C., situated along the Willamette River. Ward is a rookie at the U.S. Senior Women's Open after turning the minimum age of 50 in May.
"This is a big deal for me," said Ward, adding that she's grateful for a three-year exemption into the event thanks to her 1994 U.S. Women's Amateur championship. "With the proximity to Spokane, there's a whole crew coming over and some of them have never seen me play before."
That's extra motivation for Ward to play well. Her goal, as always, is winning when playing in any competitive setting.
"Debbie and I talk about it all the time," Ward said. "I'll even say, 'Is that realistic?' And she'll say, 'Yes it is.' But then you have to buy into it and what's it going to take to win, staying focused on things I can do. It doesn't take perfect golf to win a tournament.
"All of us here aren't used to playing 72-hole events. You can do the one shot at a time, but my dad, who is no longer with us, used to say, "four quarters, kiddo." Each round was a quarter."
Jim Meehan can be reached at jimm@spokesman.com.
---